I can't wait to share this recipe with you because it is healthy, easy, quick and includes a recipe for my homemade barbecue sauce. I've been like a mad scientist the past few months trying to perfect this sauce and it is right where I want it. Plus, have you looked at what is in store bought barbecue sauce lately? It ain't pretty so that is why I have been on a quest to create my own recipe. It sounds involved but it takes just 10 minutes and is totally simple. I've got salty, sweet, vinegar-y, and spicy all playing together nicely and it hits your palate in all of the right places. Sound good? Great, read on for more below!
I told my mom how I recently made up a homemade barbecue sauce recipe and it reminded her that my nana used to make her own back in the day. I have yet to get my hands on the recipe, but I know that it involves red peppers in place of ketchup. Once I learn how to make it I'll be sure to share it with you!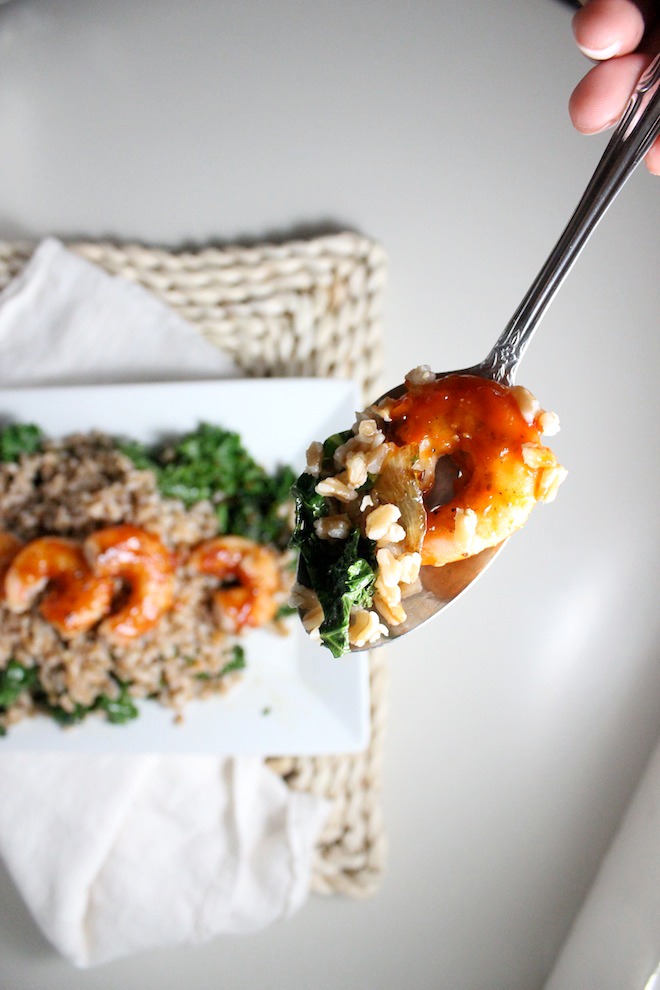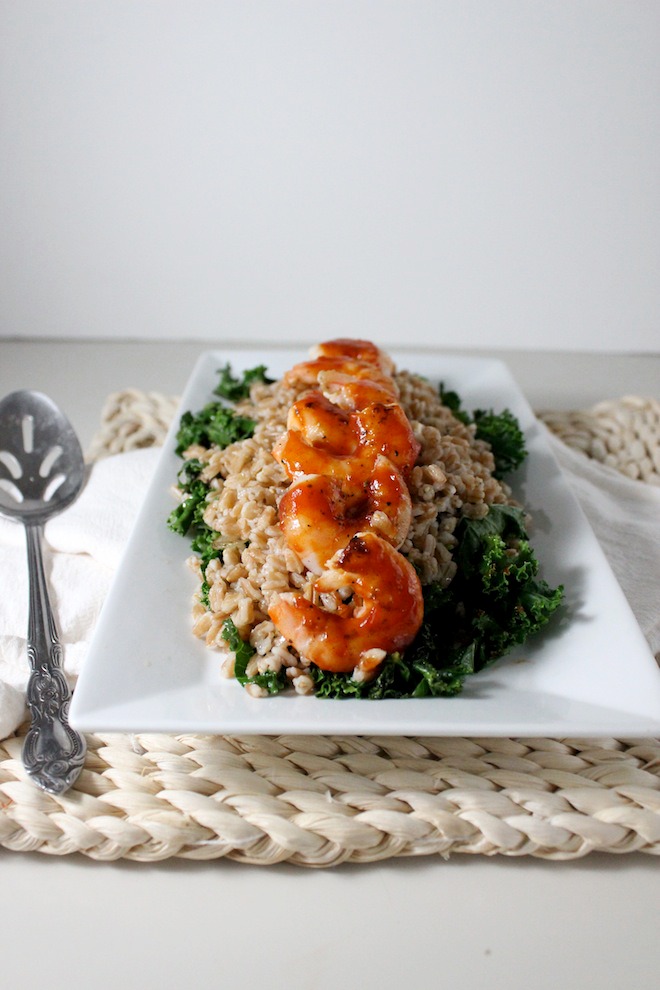 I broke out the bag of Bob's Red Mill farro that I had left over from this recipe because I wanted something with the shrimp other than pasta. I absolutely love barbecued shrimp so the mildly flavored farro and garlicky green kale paired well with the shrimp and let it shine in each bite.

IHealthy Farro with Sauteed Kale and Barbecue Shrimp
Author:
Keys to the Cucina
Ingredients
1 c Bob's Red Mill Farro
3 c water (can sub vegetable stock for more flavor)
20 shrimp, peeled and deveined
2 c kale, chopped
½ onion chopped
2 cloves garlic, minced
2 tbs extra virgin olive oil


Barbecue Sauce
¾ organic ketchup
3 tsp brown sugar
½ tsp salt
½ tsp pepper
½ tsp garlic powder
½ tsp smoked paprika
¼ tsp cayenne pepper (add more if you like it spicy)
1 tsp red wine vinegar
3 dashes worcestershire sauce
1 tbs water
Instructions
Rinse the farro in a colander. Place it in a pot with water and bring to a boil. Reduce to medium low then cover for 30 minutes. Drain any excess and set aside.
In a large saute pan, combine evoo, garlic, onions and kale. Saute on medium for 5-7 minutes or until kale is just wilted. Remove from the pan and set aside.
To make the barbecue sauce, place all of the ingredients, from the ketchup to the water in a small pot and simmer on low for 10 minutes, stirring occasionally.
Season shrimp with salt and pepper. Coat the same saute pan with a little bit of evoo on medium heat. Place shrimp in pan, and cook on medium for about 90 seconds per side. They will let you know when you need to flip them because they will curl up a bit and turn pink.
Once shrimp is cooked, brush with barbecue sauce.
To serve, plate kale, then the farro then top with shrimp. Serve warm and enjoy immediately.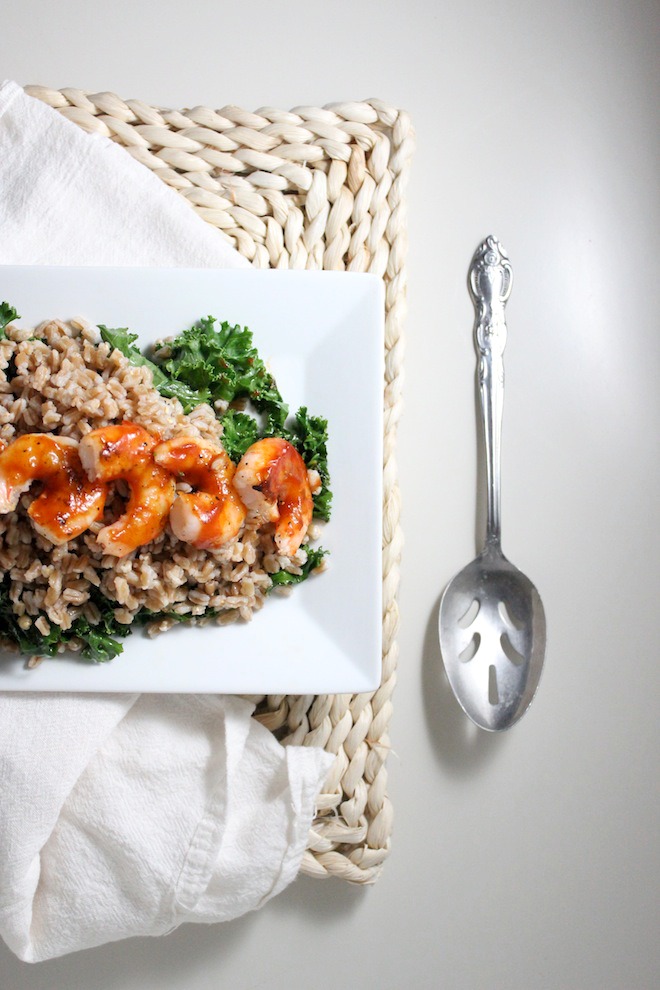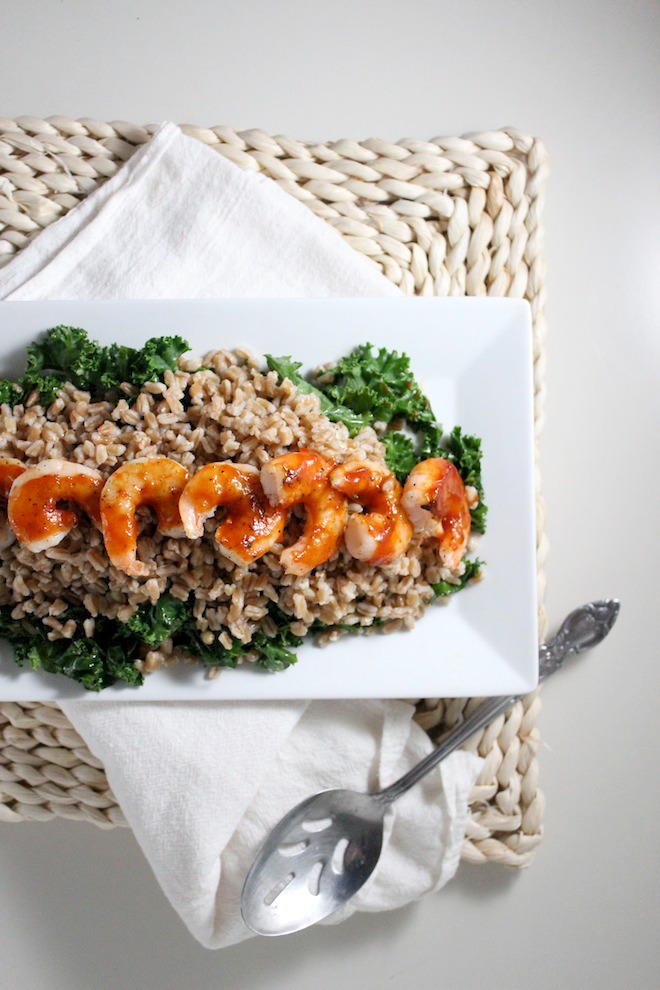 I've been listening to the Good Will Hunting soundtrack ever since I heard the news of Robin Williams' passing. This soundtrack takes me back to riding in Lindsay's Jeep Wrangler at 13 years old and thinking I was the coolest chick on the block. "Fisherman's Blues" is one of the more upbeat songs from the movie and I can still hear us singing/yelling out the chorus while cruising down Olley Lane on a summer night in Virginia.