Easy lemon caper butter sauce. Sounds fancy as hell, but it comes together in a flash. I realize my blog might be turning into a seafood-focused one but it is truthfully the way I eat for the majority of my week so I gotta stay true to me. Maybe it's my southern Italian roots or the fact that I can take frozen fish out when I get home from work and be just 30 minutes away from dinner that makes me choose this protein. Either way, it is a weeknight winner in my book.
The fish is totally interchangeable. If you like something a little lighter and flakier go with flounder. If you're into salmon then swap it in. The last piece of cooking advice I will leave you with is to cook your fish for 10 minutes per inch of thickness. This will yield a medium doneness that flakes delicately with a fork and is just irresistible. Happy fish making!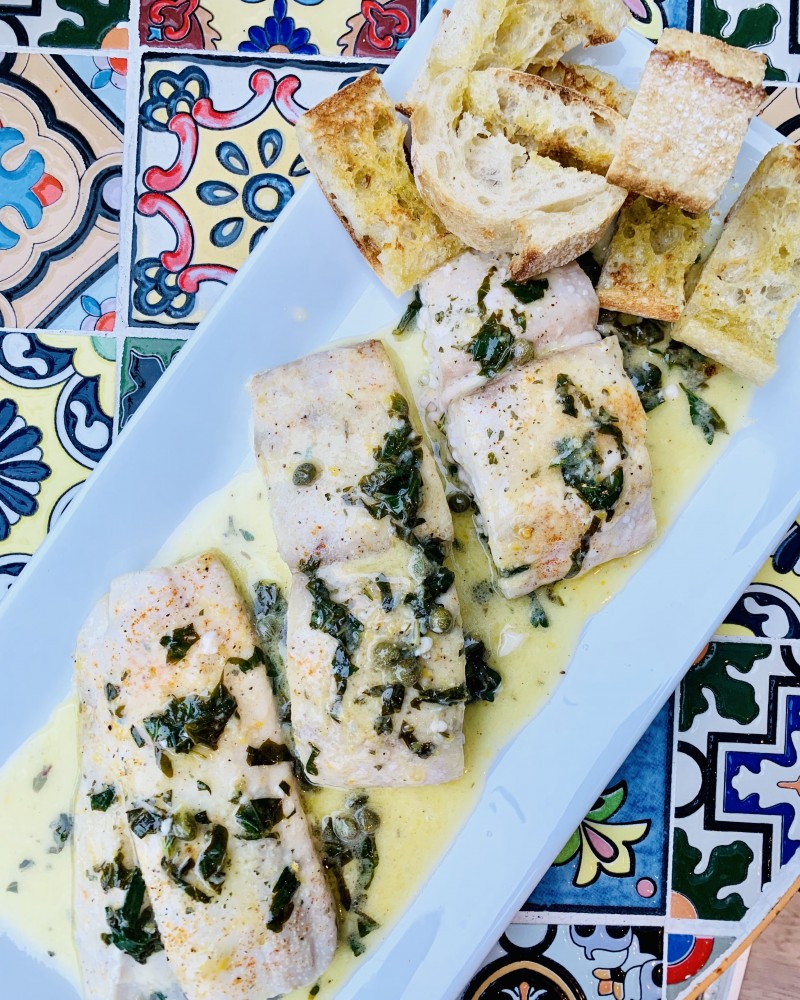 Baked Mahi Mahi with Easy Lemon Caper Butter Sauce
Author:
Keys to the Cucina
Ingredients
4 filets of mahi mahi
½ tsp salt
¼ tsp pepper
¼ tsp garlic powder
3 Tbs butter
1 clove garlic, finely grated
Juice of half a lemon
Lemon zest from one lemon
1 tsp capers
8 basil leaves, chopped
¼ c parsley, finely chopped
Instructions
Preheat the oven to 350.
Season the mahi mahi with salt, pepper, and garlic powder. Bake for 13-15 minutes.
While the fish is cooking, melt the butter in a large sauce pan on low heat.
Add in the garlic once the butter is melted and cook for 3 minutes.
Add in the lemon juice and zest and mix together.
Lastly, toss in the capers, basil, and parsley and season to taste with salt and pepper. *I added a couple tablespoons of water to my sauce to thin it out, feel free to do this step.
Add the fish to the pan then spoon the sauce over the fish and serve with crusty bread.