Ask anyone in my family what I always order at a restaurant, and (I hope!) everyone will answer, "mussels." To me, a big bowl of mussels with a chunk of crusty bread and fries on the side is a complete meal, am I right or am I right? This particular dish is so special to me that I almost always request it as my birthday meal from my mom. I made this one after returning from Miami a couple of weeks ago as I was craving pasta and home cookin'!
I totally understand that mussels and clams can be a little intimidating, especially if you haven't worked with them before. I promise you that once you clean them and steam them, they'll tell you when they're done because they will open up and reveal their inner goodness! This red sauce comes together very quickly as it starts with tons of garlic and diced onions and is spiced up with a generous pinch of crushed red pepper flakes. If you have a bottle of clam juice throw that in to give it a nice salty zing and to thin out the sauce so that it gets caught up in all of the shell fish! Lastly, bucatini is a thick spaghetti kind of pasta and it makes a great pairing with this dish since it has tiny holes where all of the sauce can swim in to.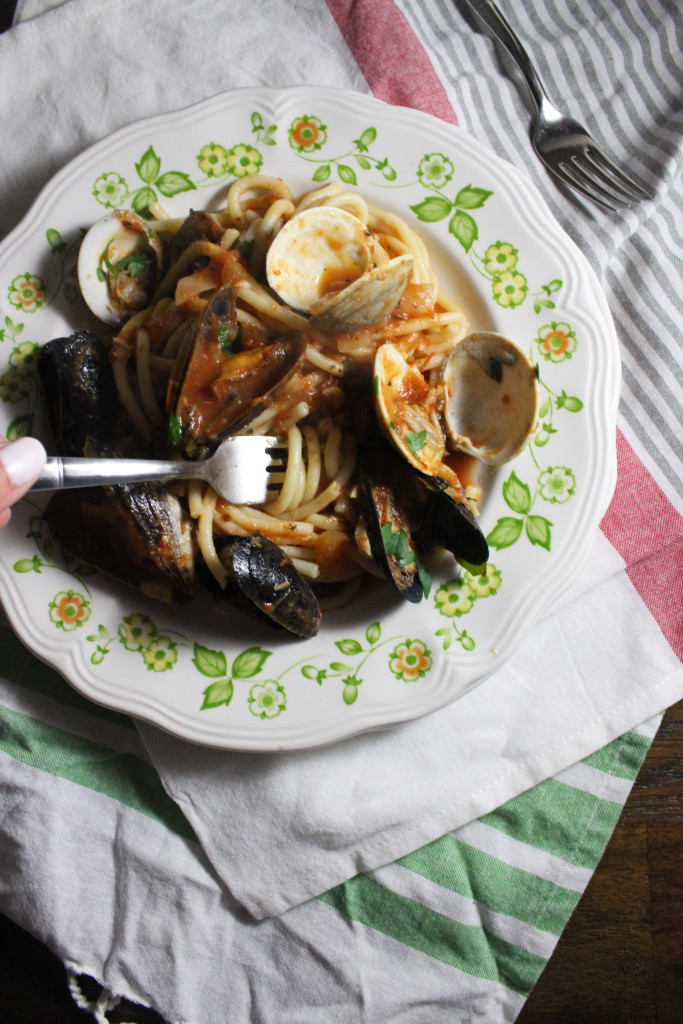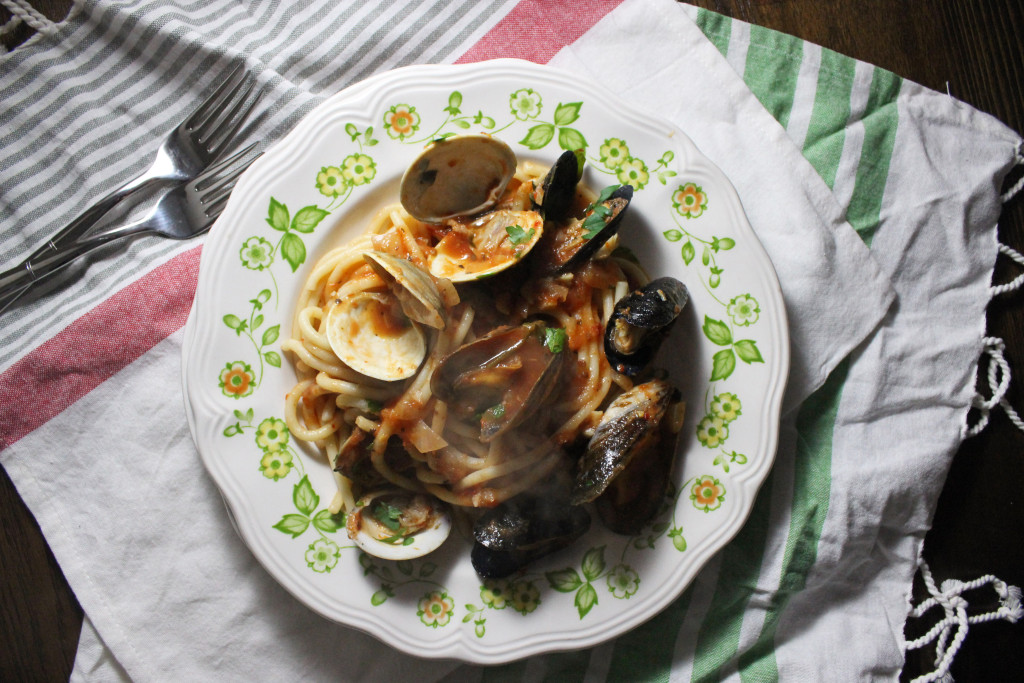 Mussels and Clams with Bucatini in Red Sauce
Author:
Keys to the Cucina
Ingredients
2 Tbs extra virgin olive oil
1 small onion, diced
4 cloves of garlic, minced
2 tsp salt
1 tsp black pepper
1 28 oz can crushed tomatoes, plus ¾ can of water
2 tsp crushed red pepper
1 dozen little neck clams
1 dozen mussels
1 Tbs flour
½ lb bucatini pasta
2 Tbs fresh parsley for garnish
Instructions
Soak the mussels and clams in a large bowl of cold water mixed with one tablespoon of flour for 5 minutes. The flour will help agitate and loosen the grit in the shell fish. Pull away any beards from the mussels and then rinse with cold water and set aside.
In a large pot, heat evoo on medium low. Throw in the onions and garlic and add a teaspoon of salt and a teaspoon of cracked black pepper and cook for 5 minutes, stirring consistently.
Add in the crushed tomatoes, water, a teaspoon of salt and the crushed red pepper. Stir to incorporate the ingredients and simmer on low for 45 minutes.
Increase the heat to medium and add in the mussels and clams. Cover the pot and steam the shell fish for 3-5 minutes, until they open wide.
While the sauce is simmering, add a handful of salt to your boiling pasta water and cook the bucatini until al dente.
Mix the sauce and bucatini and top with the chopped parsley before serving and enjoy with a crusty baguette.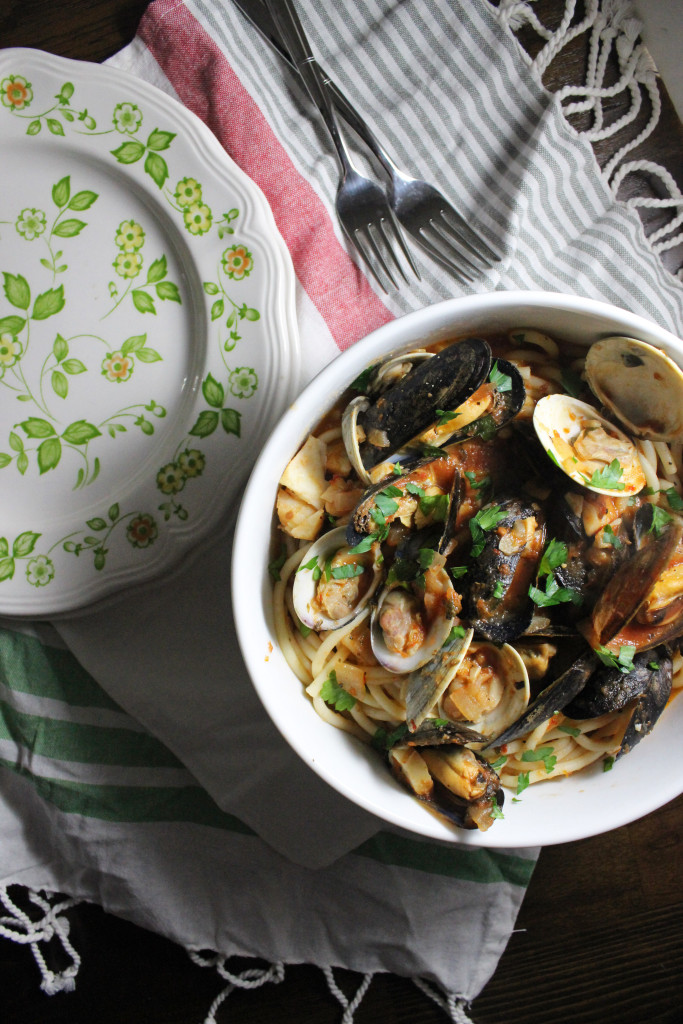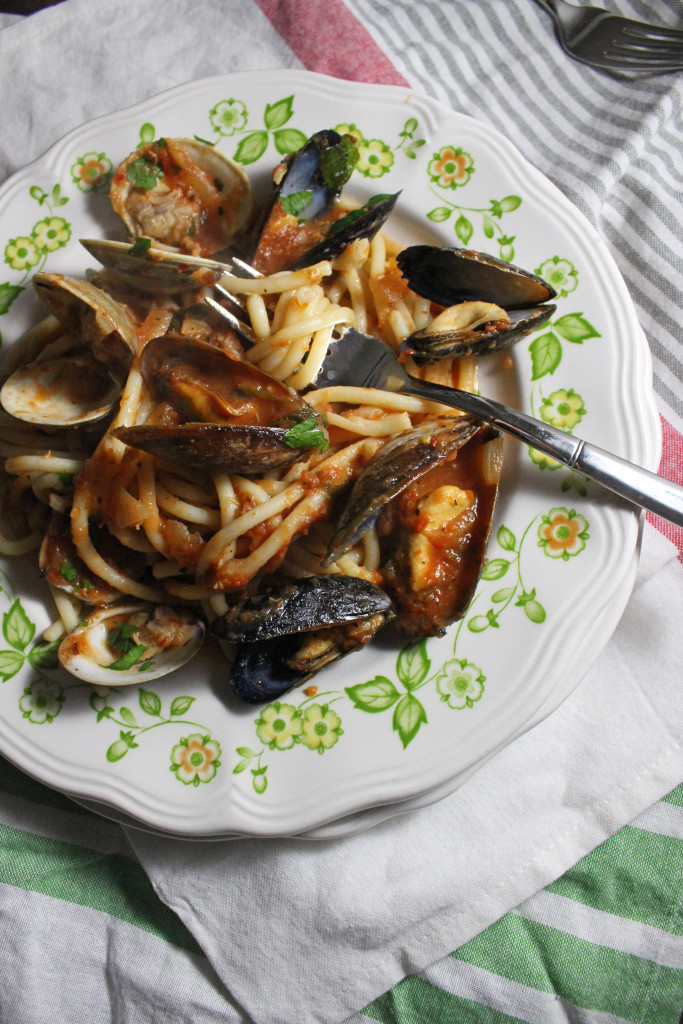 We're going to see this band next Tuesday and I am loving their new single below. Enjoy!
---
Sign up and subscribe HERE to Keys to the Cucina and receive notifications when a new post goes live!
Psst! This dish would pair well Roasted Garlic Bread…