These turkey meatballs are a real treat. A few years back, I wouldn't be caught dead making my mom's meatballs with turkey versus ground beef, but after many a trial and error, I've found the best way to prepare them. Their flavor profile is just like mom's, but a little more garlicky, they have a nice bite from some red onion and I added a pinch of fennel seed just to keep your taste buds guessing! 
I made a big batch of these, enough for two dinners and two lunches for Bryan and I.  One meal I made it with spaghetti, and the other was this dish. The ciabatta is a nice crusty bread so it holds on to all of the luscious tomato sauce without becoming soggy. I also rubbed it with a fresh clove of garlic when it came out of the oven and it was heavenly. The homemade tomato sauce could not be easier, and I encourage you to double the batch so that you can freeze some for a future use (this means you don't have to use that jarred stuff next time you're craving sauce)!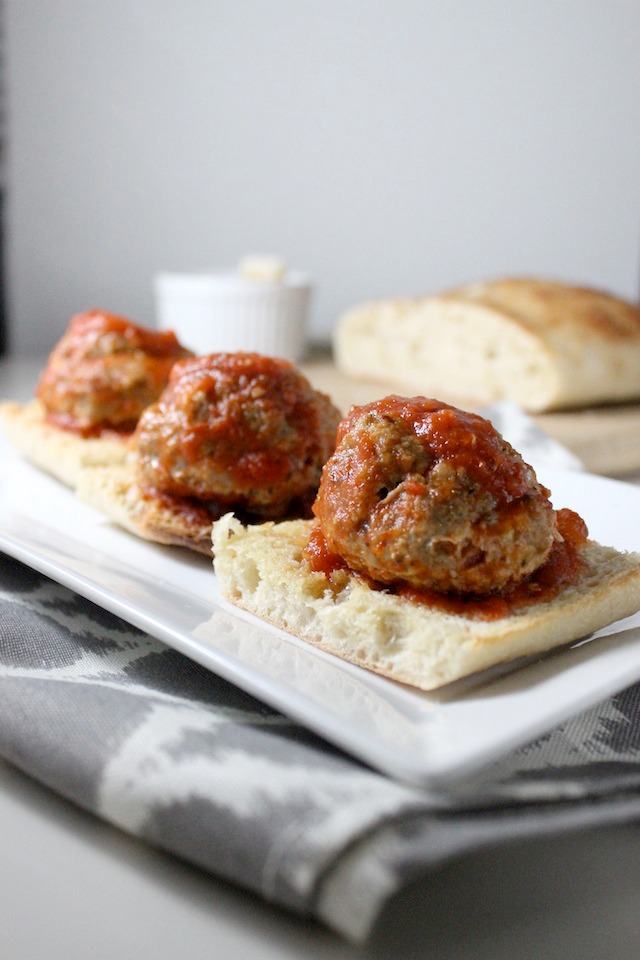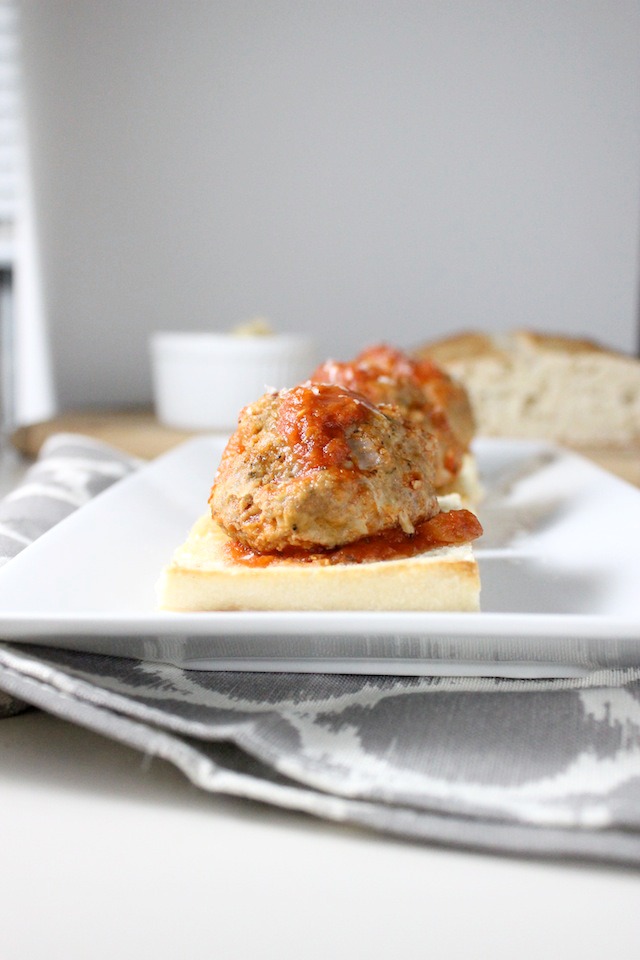 Turkey Meatball Sliders on Toasted Ciabatta
Author:
Keys to the Cucina
Ingredients
Tomato Sauce
2 tbs extra virgin olive oil
1 onion, diced
2 cloves garlic, diced
1 28 oz. can crushed tomatoes
¾ of can of water
1 tsp salt
1 tsp parsley
1 tsp basil
½ tsp oregano
½ tsp crushed pepper
2 tbs parmesan cheese


Turkey Meatballs
1 lb ground turkey
2 pieces bread (can be stale baguette or even sliced white bread)
½ red onion
2 cloves garlic
1 tsp parsley
1 tsp basil
1 tsp salt
½ tsp black pepper
½ tsp crushed red pepper
¼ tsp fennel
2 tbs ketchup
2 eggs
2 handfuls Italian breadcrumbs
2 handfuls parmesan
Instructions
For tomato sauce, saute onions and garlic on medium heat for five minutes.
Add the crushed tomatoes, water and all the seasonings.
Simmer on very low for as little as one hour to four hours, stirring occasionally.
Preheat oven to 350.
For the meatballs, soak the bread in a few tablespoons of water, until it is damp.
Add the ground turkey on top.
In a food processor, pulse together red onion, garlic, parsley and basil until finely chopped.
Place onion mixture on top of the ground turkey and bread.
Add the rest of the ingredients from the salt to the parmesan cheese and mix gently with your hands, careful not to overwork the meat.
Using a tablespoon, scoop up the turkey meat and gently form into individual meatballs.
Place on a baking sheet lightly coated with evoo and bake for 20 minutes.
Toast ciabatta in oven with a drizzle of evoo and salt and pepper. When it comes out of the oven rub with a fresh clove of garlic.
Assemble sliders by lining the bottom with a bit if sauce, the meatball, then sauce poured over it.
Top with parmesan cheese and enjoy.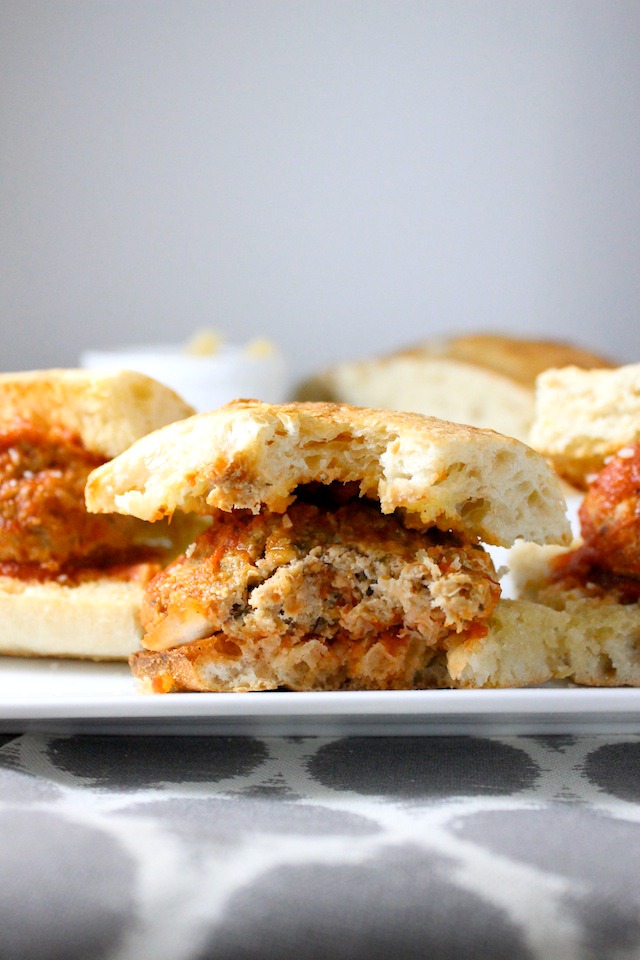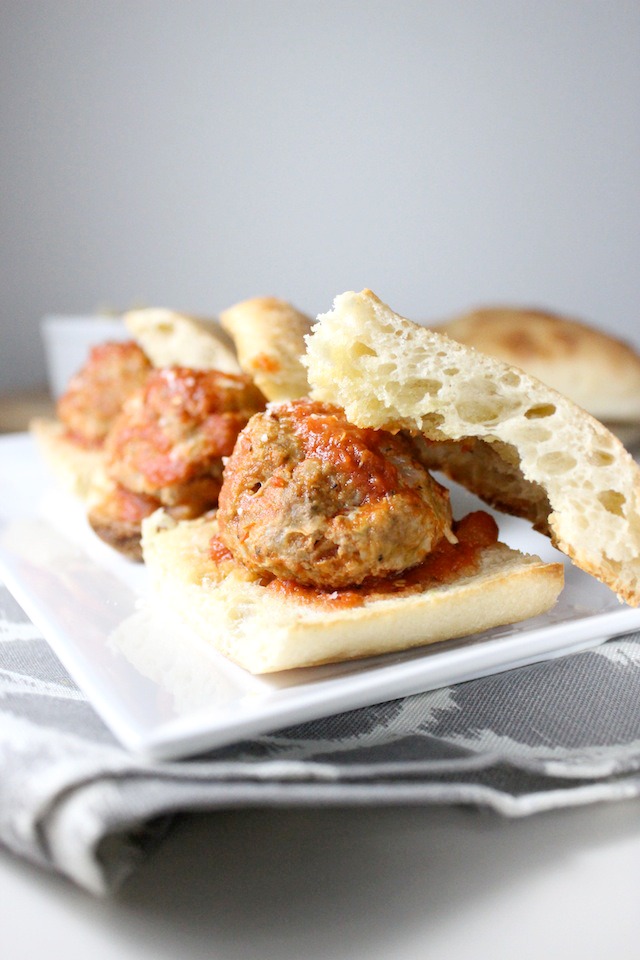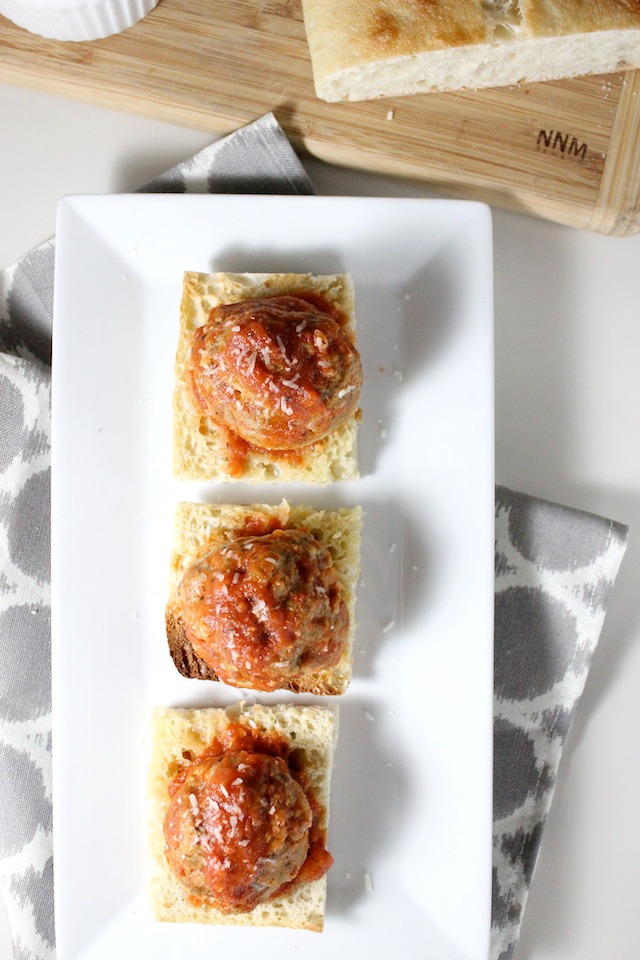 I know I've said before on here how a lot of my family's Italian cooking reminds me of Bruce Springsteen and New Jersey in general. So, I thought I'd share a cover of "Dancing in the Dark" that I found while perusing Spotify the other day. I dig the back beat of the song and even though it's a little slower, it still makes me tap my feet like the original version!