Do you love pizza as much as I do? Good, because you will really enjoy this take which uses a creamy and decadent vodka sauce. Vodka sauce is traditionally served over penne pasta and that's how I initially served this sauce the first time I made it. The sauce ended up making so much that I saved it and later on used it in place of normal marinara sauce for this pizza. The vodka adds a whole other dimension to the sauce, and while you can't taste the alcohol, you can definitely taste its effects as it cuts through the rich cream and tomato sauce. Even though this is not a Christmas cookie recipe, I figure the reddish tomato sauce and bright green arugula can win me some points in the festive December posts department eh eh?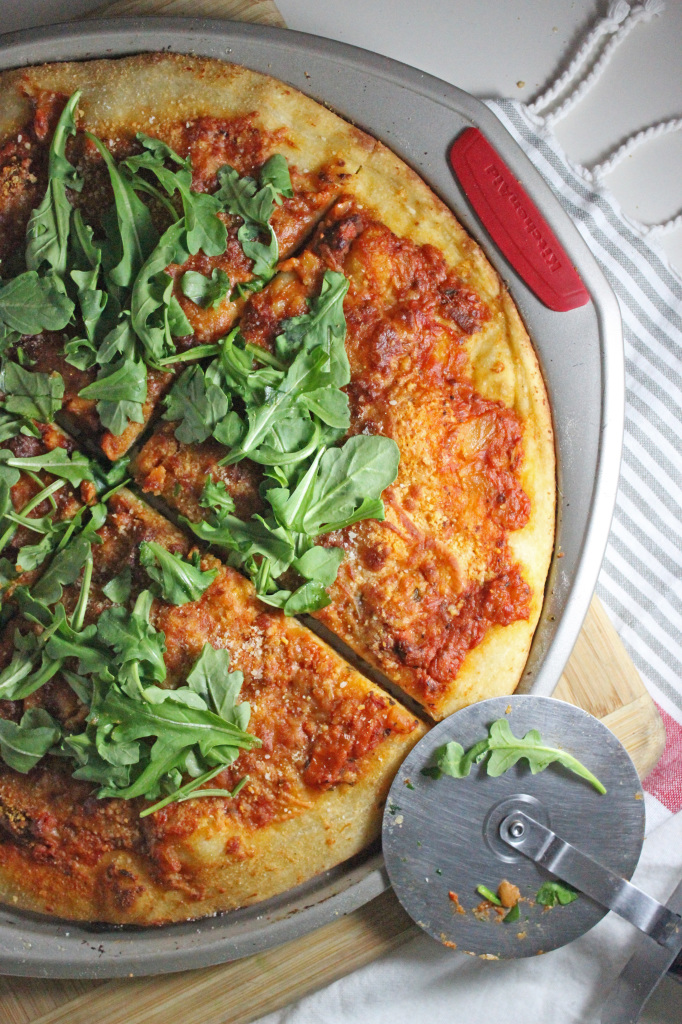 I can't think of a time when I've ever been sick of pizza. In fact, I ate pizza for nine days straight when I was in Italy. For the record, Rome had my favorite pizza with its square shaped crispy crust, and I felt that the further north I went the thicker the crust became. Italian memories aside, the spicy arugula is the best part of the pizza because it makes me feel like I'm eating a salad and a slice at the same time, which is a total win/win. If you don't dig arugula feel free to substitute baby spinach on top this bad boy!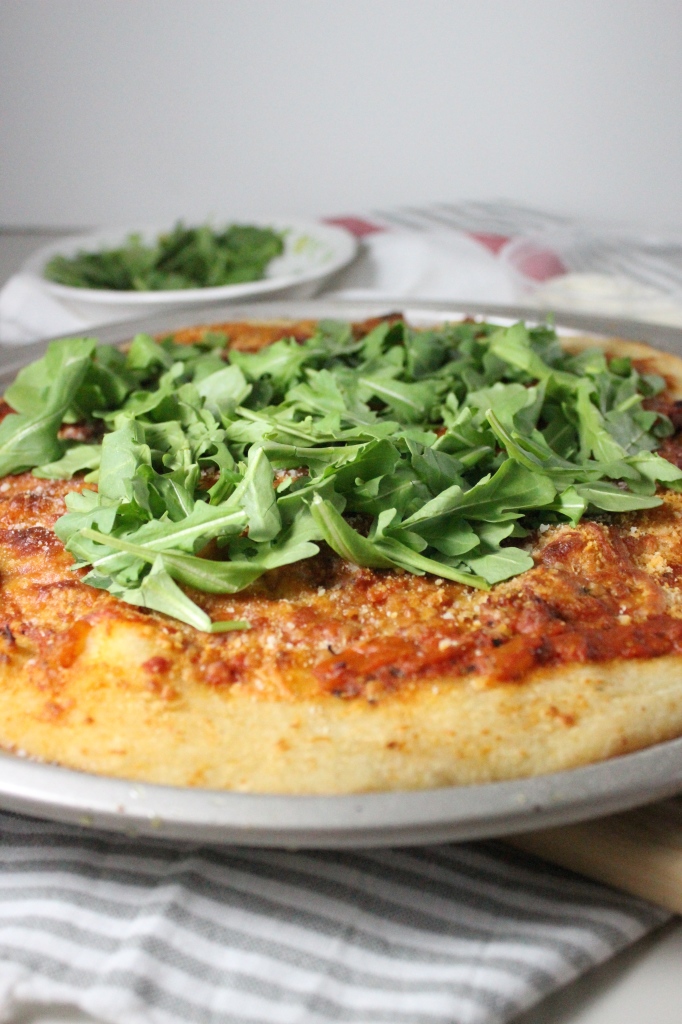 Pizza with Vodka Sauce, Parmesan and Arugula
The vodka sauce will make extra, but go ahead and freeze the leftovers and cook it up with penne at a later time for a classic Penne alla Vodka!
Author:
Keys to the Cucina
Ingredients
Vodka Sauce
½ onion, diced
3 cloves garlic, minced
2 Italian sausages (I used chicken for this recipe)
1 tsp salt
1 tsp pepper
½ tsp crushed red pepper
1 tsp dried parsley
1 tsp dried oregano
1 tsp dried basil
1 28 oz can crushed tomatoes
1 handful parmesan cheese
1 c vodka
½ c heavy cream


Pizza
1 pizza dough (I used pre-made from Whole Foods)
1 c grated parmesan cheese
½ c shredded mozzarella cheese
2 lades of vodka sauce
1½ c fresh arugula
Instructions
In a large pot, sauté onions and garlic in 2 tbs evoo. Remove sausage from casings and crumble into onion mixture. Cook on medium for 5 minutes or until sausage begins to brown. Season with salt, pepper, crushed pepper, parsley, oregano and basil. Reduce heat to medium low and add in the crushed tomatoes and parmesan and let cook for 45 minutes on low.
After the sauce simmers on low, add in the vodka. Simmer on low for 20 minutes to cook off the alcohol.
Preheat oven to 475 and meanwhile, roll out your pizza dough. Place the dough on a perforated pan or sheet pan. Set aside.
Stir in the heavy cream at the end of the 20 minutes and and combine just until the sauce turns light pink.
Place 2 ladles of the sauce on the pizza dough. Sprinkle with grated parmesan then shredded mozzarella. Top with more grated parmesan and cook for 12-15 minutes.
Finish with 3 handfuls of arugula on top and enjoy immediately.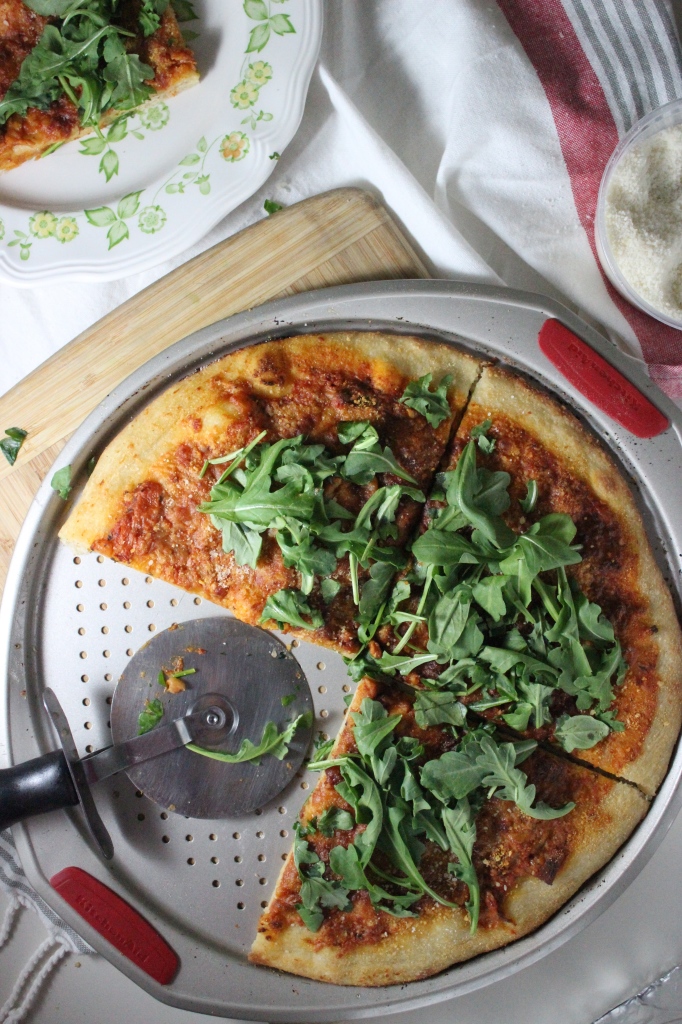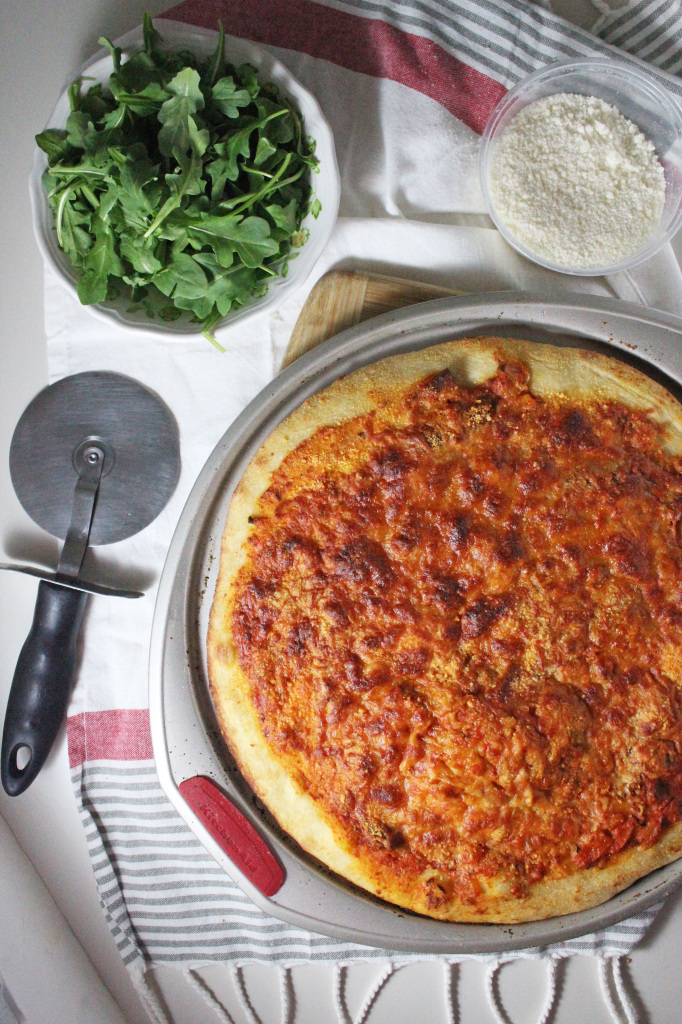 Guys, if I could listen to one voice forever, it just might be Caroline Smith's. I discovered her album through a coworker and it is some amazing, soulful stuff. Almost reminds me of Alabama Shakes (another one of my favorite voices), but have a listen and let me know what you think.