Pizza with Vodka Sauce, Parmesan and Arugula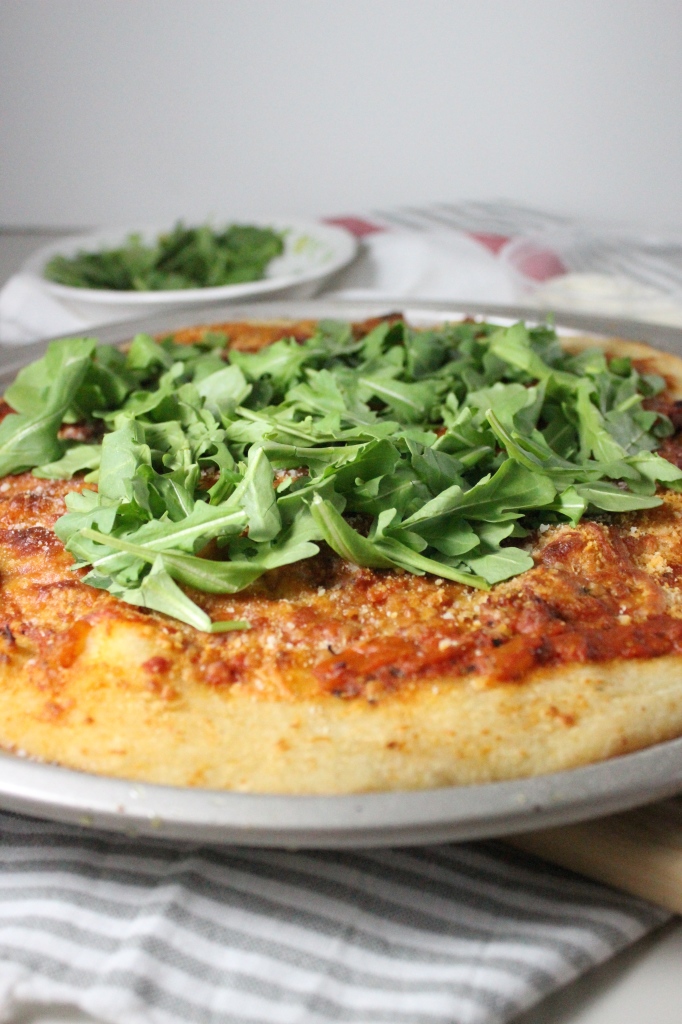 Author:
Keys to the Cucina
Vodka Sauce
½ onion, diced
3 cloves garlic, minced
2 Italian sausages (I used chicken for this recipe)
1 tsp salt
1 tsp pepper
½ tsp crushed red pepper
1 tsp dried parsley
1 tsp dried oregano
1 tsp dried basil
1 28 oz can crushed tomatoes
1 handful parmesan cheese
1 c vodka
½ c heavy cream
Pizza
1 pizza dough (I used pre-made from Whole Foods)
1 c grated parmesan cheese
½ c shredded mozzarella cheese
2 lades of vodka sauce
1½ c fresh arugula
In a large pot, sauté onions and garlic in 2 tbs evoo. Remove sausage from casings and crumble into onion mixture. Cook on medium for 5 minutes or until sausage begins to brown. Season with salt, pepper, crushed pepper, parsley, oregano and basil. Reduce heat to medium low and add in the crushed tomatoes and parmesan and let cook for 45 minutes on low.
After the sauce simmers on low, add in the vodka. Simmer on low for 20 minutes to cook off the alcohol.
Preheat oven to 475 and meanwhile, roll out your pizza dough. Place the dough on a perforated pan or sheet pan. Set aside.
Stir in the heavy cream at the end of the 20 minutes and and combine just until the sauce turns light pink.
Place 2 ladles of the sauce on the pizza dough. Sprinkle with grated parmesan then shredded mozzarella. Top with more grated parmesan and cook for 12-15 minutes.
Finish with 3 handfuls of arugula on top and enjoy immediately.
Recipe by
Keys to the Cucina
at https://keystothecucina.com/2014/12/10/pizza-with-vodka-sauce-parmesan-and-arugula/