Tis the season of giving! I've put together a fabulous list of gifts to buy for all of the foodies in your life. I've added a couple of these items to my wedding registry and am dying to get my hands on them, and I've also included tried and true products that I love!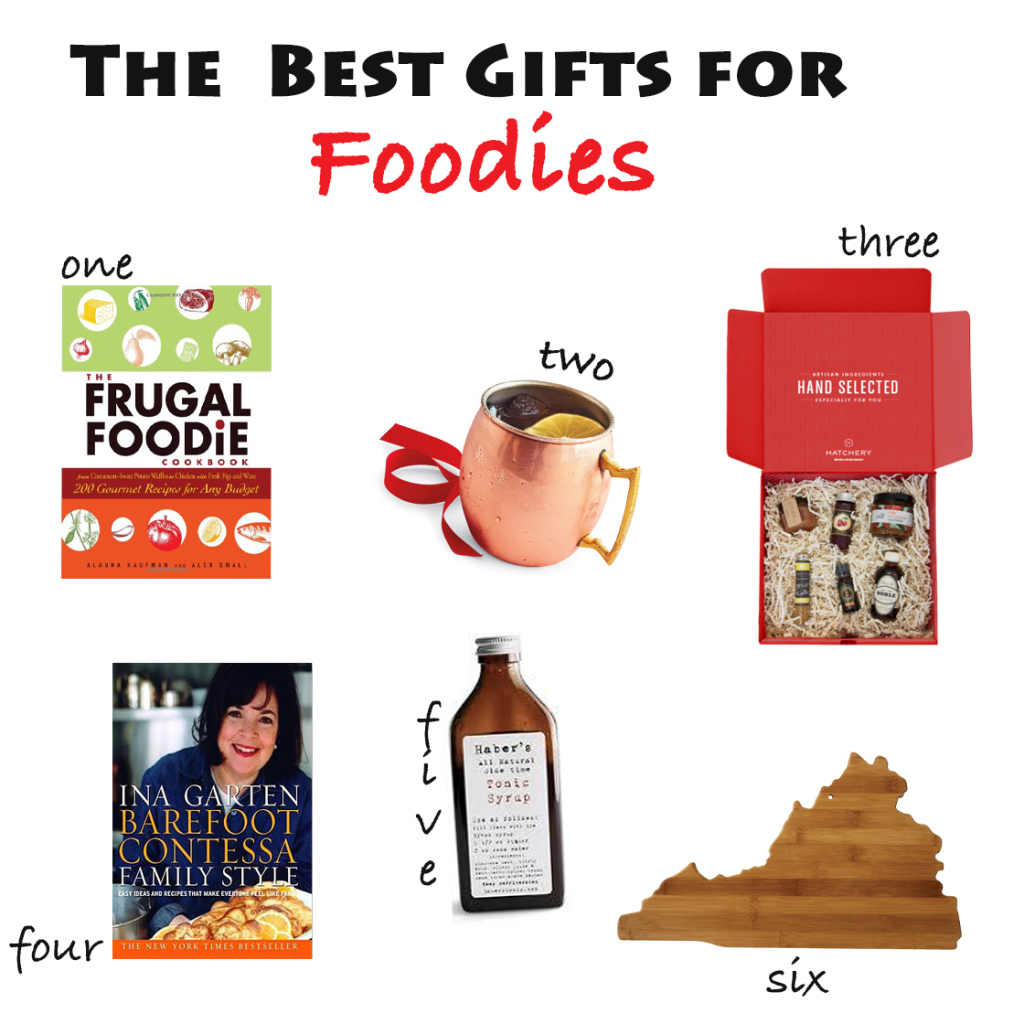 1 – The Frugal Foodie – This cookbook was given to me as a gift from the team I used to manage while working at LivingSocial. The team would remark on how fancy I was because I would bring leftovers for lunch and eat them on a real plate versus just heating up a frozen meal. This spurred them to get me this cookbook as a going away gift and it happens to be full of approachable recipes that are also easy on your wallet.
2 – Copper Mug – Moscow Mule anyone? These mugs have hipsters all around the world to thank for their newfound popularity. Place these mugs in the freezer and serve the ginger beer, vodka and lime concoction out of them and it will instantly make you feel much cooler. Reeds Ginger Beer is one of my favorites to make this cocktail with, check it out here.
3 – Hatchery Subscription Box – You may have seen my recipes using ingredients from my Hatchery boxes, and I cannot say enough about this company and the products it delivers to me each month. This is ideal for your friends who love to experiment in the kitchen and who like supporting small businesses too!
4 – Barefoot Contessa Family Style – I love Ina Garten. I love her so much that I had to buy this cookbook from a used book stand at Eastern Market a couple years ago. Her no fuss approach to entertaining is super refreshing in a world where Pinterest inspired tablescapes can become way too over the top for me. Oh and of course, her recipes are amazing too!
5 – Habers Tonic – What kind of foodie doesn't love a good gin and tonic? I used to think gin tasted like nail polish remover but after drinking a g&t with a couple dashes of this tonic, to the dark side I went. Best of all it's made in Astoria, New York by some friends of my sister Lindsay, so you know it's coming from a good place!
6 – Cheese Board in the Shape of a State  – These days I feel like monogrammed and personalize shit is all the rage. Don't get me wrong, I love a good item with a big letter "A" stamped on it, but what about an homage to your home state to change things up? These cheese boards are super practical and make serving cheese and charcuterie a little more special.
What are some of your favorite gifts to give to the foodies in your life?
---
Sign up and subscribe HERE to Keys to the Cucina and receive notifications when a new post goes live!