Guys, I am about to let you in on the most delicious one pot recipe, and one that will guarantee you never eat dry chicken again! The cooking method for this recipe was inspired by this dish, which was in an article I read in Food and Wine magazine over Labor Day. My mouth was salivating when I read the recipe, and since it called for five cups of cooking liquid I knew that it would be virtually impossible to over cook the chicken.
The classic name for this preparation is "arroz con pollo", or rice with chicken, and it's a traditional dish of Spain and Latin America. I changed up my ingredients to capture the warm and cozy feel of the autumn temps that are setting in on us. The carrots bring an earthy tone while the shallots and garlic make for a savory bite. Two things I love about this recipe are that one, you are really developing flavors with each step you follow and two, you can add any vegetables that you want. Substitute leeks for shallots or even parsnips instead of carrots and you can customize it however you like. This is a fabulous dish to make when entertaining four to six people because it has such a rustic communal feel to it and you can serve it right out of the pot and dig in!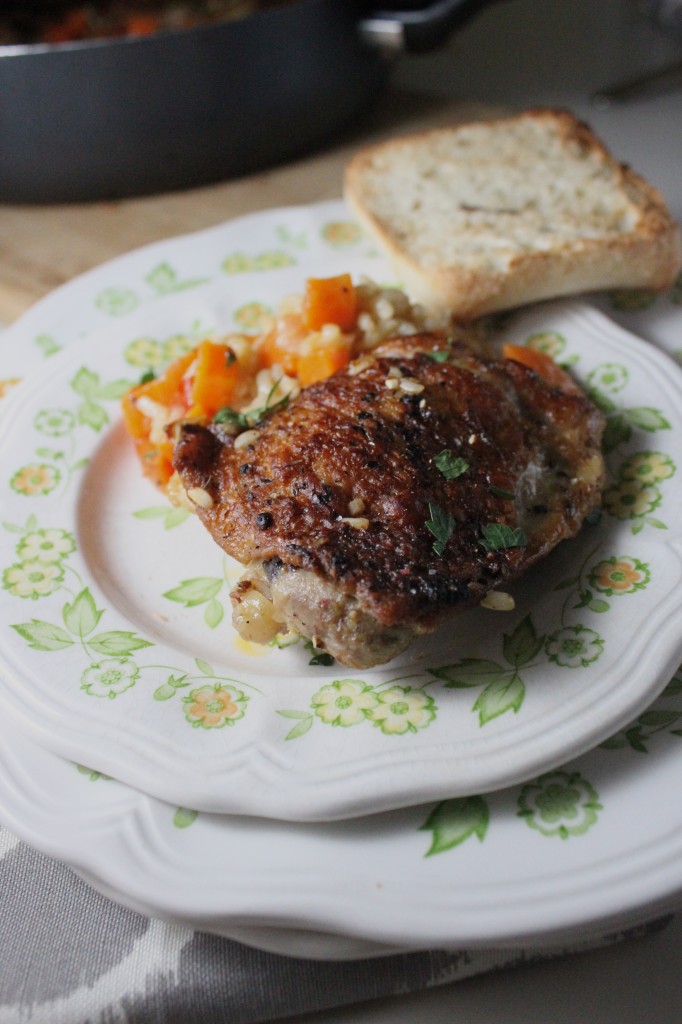 One Pot Chicken and Arborrio Rice
Author:
Keys to the Cucina
Ingredients
3 tbs extra virgin olive oil
6 chicken thighs
4 shallots, thinly sliced
3 cloves garlic, minced
1 large carrot, diced
½ red pepper, diced
1 c light beer (I used Negro Modelo)
1 c white wine
3 c vegetable stock
1 c arborrio rice
2 tsp salt
2 tsp black pepper
2 tbs Fresh parsley for garnish
Instructions
Preheat oven to 400.
Season both sides of chicken thighs generously with 1 tsp each of salt and pepper. In a large saute pan, heat olive oil on high until slightly smoking. Turn down the heat a tad and add the chicken in, skin side down. Cook for 7 minutes until golden brown, then flip over and cook an additional 7 minutes. Remove the chicken and set aside.
Reduce to medium low heat, add the shallots, garlic, carrots and red pepper. Season generously with 1 tsp each of salt and pepper and cook for 5 minutes. Increase heat to medium and add in the white wine and reduce for 3 minutes.
Add the beer and vegetable stock and bring to a boil, stirring constantly. Stir in the arborrio rice into the liquid and then nestle the chicken thighs into the pan. Place in the oven on the third lowest rack and cook for 30 minutes, or until the rice absorbs all of the liquid. Serve immediately with a piece of crusty bread and garnish with fresh parsley.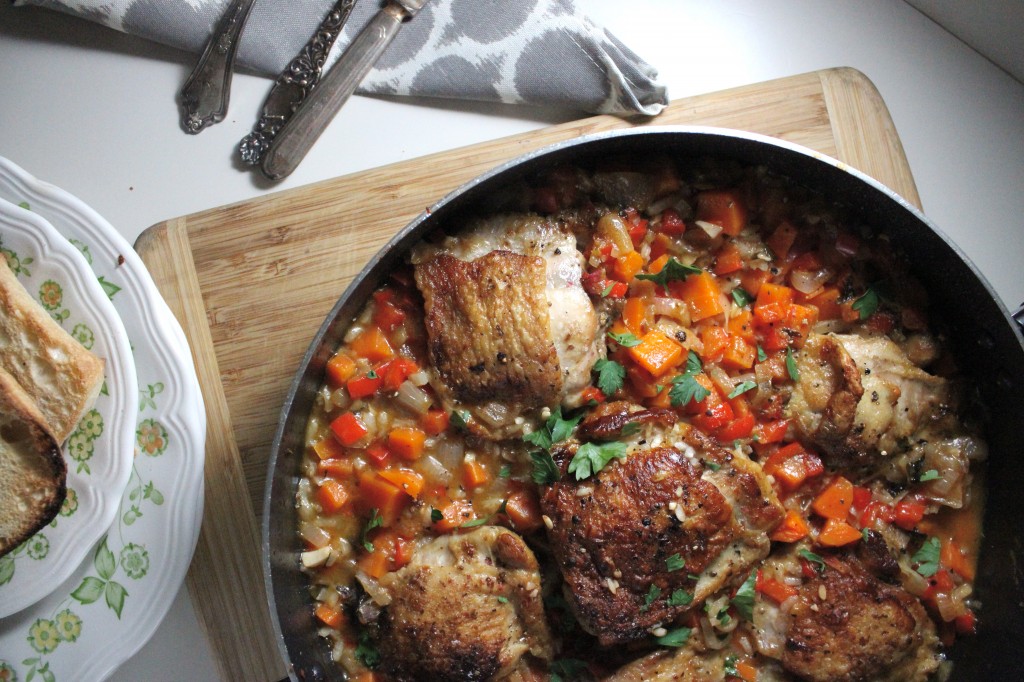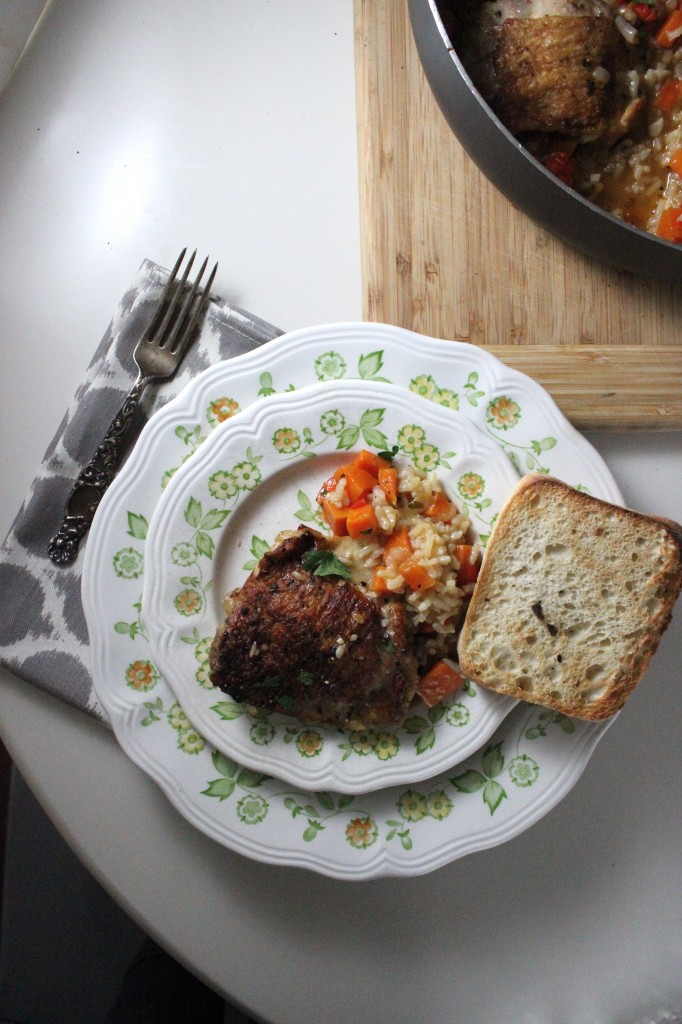 I've been really feeling nostalgic this week and listening to a ton of Elton John. "Your Song" is a classic and will always hold a special place in my heart. When I was in high school I worked tirelessly to learn the intro to this song on the piano, because let's face it, that is the best part. Enjoy!