This tuna fish is one of my favorite lunches, especially when I'm in a rush or if I need to go grocery shopping. I had a similar tuna fish sandwich while at the Nordstrom Cafe at the mall about four years ago. I remember vividly that I was shopping with my eldest sister Ashley and her newborn son, and since she hadn't been able to get out of the house much, we decided to head to the mall. When we got to the cafe, we gawked at the case full of fresh sandwiches and contemplated which one looked to be the most delicious. I settled on their tuna fish, mainly because it wasn't made with mayo and because it was chock full of fresh herbs and olives. I forget what she had, but I do know she stole a few bites of mine and that I couldn't wait to get home to one day recreate this dish.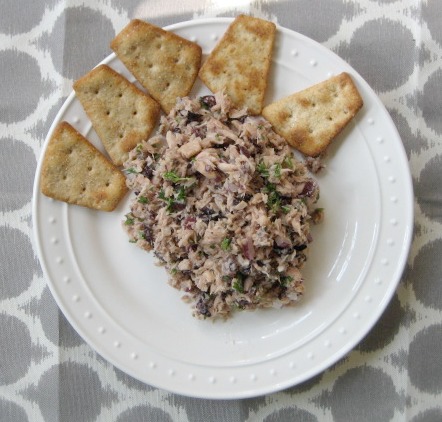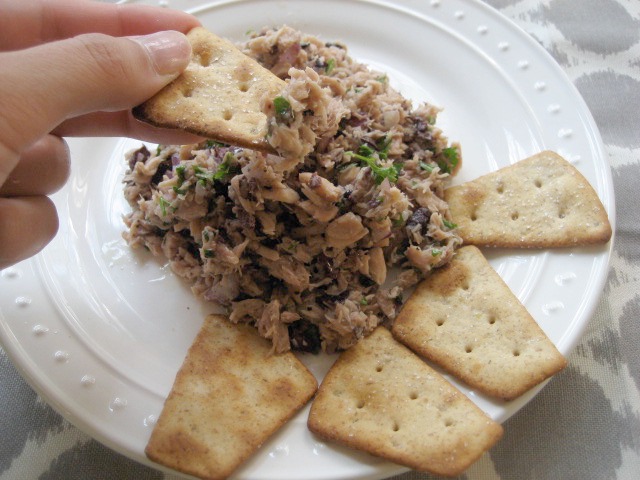 I made this particular one on a busy Sunday when I just needed something to tide me over until dinner. I didn't have bread on hand, so I just used some pita crackers and dipped it into the tuna fish. I also had some leftovers which I took to work the next day. Apologies for being that co-worker who brings in tuna fish, although it's so healthy and good I don't even care about those haters! Check out Van Morrison's song, "Someone Like You" below. This was my sister's first dance song with her husband and will always remind me of her.
Tuscan Tuna Fish
Author:
Keys to the Cucina
Ingredients
1 can tuna fish, packed in olive oil
1 tbs extra virgin olive oil
¼ red onion
10 kalamata olives, chopped
1 handful chopped parsley (curly or flat leaf)
Generous pinch of salt and pepper
1 segment of lemon juice
Instructions
Drain your tuna fish completely.
Add an additional tablespoon of evoo to keep the tuna fish moist (this also replaces the olive oil it was packed in and makes sure it's not too fishy).
Chop all of your ingredients from the onion to the parsley.
Mix together until well incorporated.
Finish with salt, pepper, and a squeeze of lemon juice.
Enjoy on toasted bread or with crackers like I did above.