New year! New job! New recipe! We have so much to catch up on! While I've heard a lot of people say how happy they are that 2016 is over, I feel quite the opposite. It was a year filled with trips to Miami, Charleston, New York City, Park City, Burlington, Montreal and a year in which I dedicated 80 hours to complete a culinary program at L'Academie de Cuisine.
To top off 2016, I accepted a job doing marketing at Galley Foods, a meal delivery company located here in D.C. I am ecstatic to be working for a company in the food industry and I will be starting in a couple of weeks so if you live in the DMV area definitely check out the menu and order up!
And now for the recipe! The holidays this year seemed to last for a month (which is a good thing!) but it had my cooking schedule all out of whack. My friend Jenn brought some Indian food in to work yesterday so I decided to whip up something warm, spicy and veggie heavy! Garam Masala is basically like magic in a bottle – it's filled with coriander (the seed that cilantro comes from!), cumin, cassia (Chinese cinnamon!), ginger, black pepper and cloves and instantly warms up any dish. You can eat this plain, with a side of naan or with some quinoa or basmati rice. No matter what it is irresistible if you like spice and stick-to-your-ribs veggie dishes.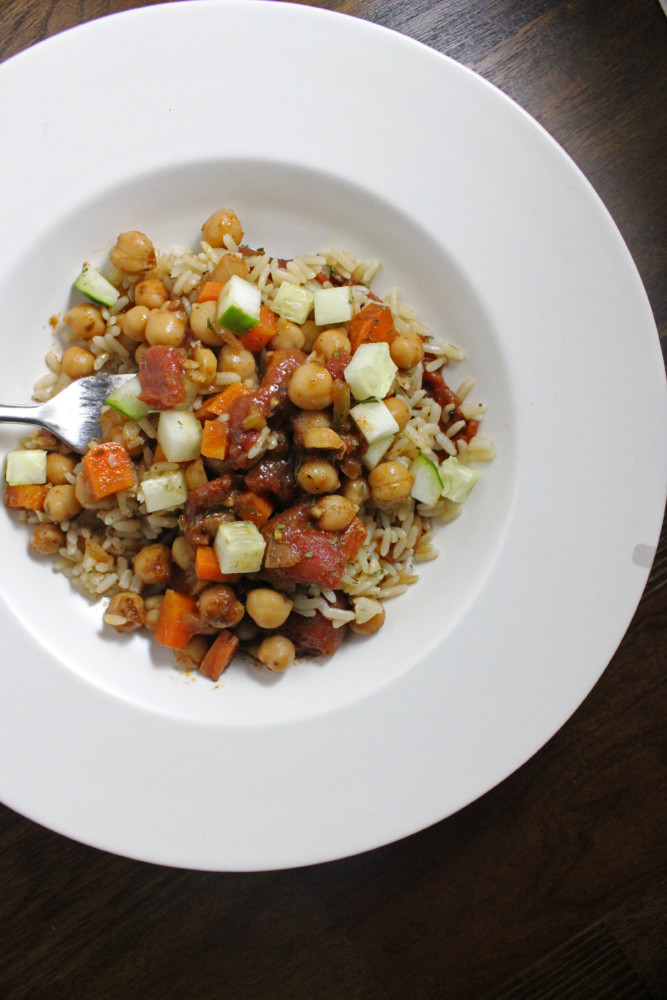 Stewed Chickpeas and Tomatoes with Garam Masala
Author:
Keys to the Cucina
Ingredients
1 c cooked brown rice
1 Tbs extra virgin olive oil
½ yellow onion, diced
3 cloves garlic, minced
1 carrot, finely diced
1 can chickpeas
1 can stewed tomatoes
1 Tbs garam masala
1 tsp salt + more to taste
½ tsp garlic powder
½ tsp cayenne pepper
1 tsp dried parsley
½ c water
1 Tbs diced cucumber for garnish
Instructions
In a large saute pan, heat up the olive oil and sweat the onions and garlic on medium low heat, adding a pinch of salt to draw the moisture out of them. Cook for 5 minutes.
Toss in a pinch of garam masala and cook for another minute.
Throw in the carrots, chickpeas and stewed tomatoes and season with all the spices from the garam masala to the dried parsley.
Cook on medium for 5 minutes to coat all of the vegetables then add in the water.
Simmer on low with the top on the pan, stirring occasionally.
Serve with brown rice or quinoa and top with the diced cucumbers for a fresh crunch. Enjoy!