Now that the heavy holiday meals are over, I immediately begin to crave tomato sauce. This past week has been full of rich items, from apple pie with ice cream to filet mignon with bearnaise sauce. And, if you're me, top off those days with drunken nights of scarfing down kettle cooked potato chips. What I'm trying to say is, this dish is the perfect antidote to a month of indulgence.
This is one of those 30 minute meals that is great for a busy weeknight or a fancy dinner for entertaining friends. I got the sauce going right when I came in from work and while it simmered away and flavors developed, I did some things around the house. I absolutely love the capers in this sauce as they pair so well with the fish, but feel free to leave them out if you're not into their briney bite. I also know that halibut can be pricey, however it is so meaty and stands up well to all the yummy sauce that it is a great choice for this recipe.
Halibut with Spicy Tomato Caper Sauce
Author:
Keys to the Cucina
Ingredients
2 tbs extra virgin olive oil
½ onion chopped
1 clove garlic, minced
1 tsp salt
1 tsp crushed red pepper
2 c crushed tomatoes
½ tsp dried parsley
½ tso dried oregano
1 tbs capers, chopped
2 halibut filets
Instructions
In a large saute pan, combine evoo, onion and garlic. Season with salt and crushed red pepper and cook on medium for 5 minutes until soft and fragrant.
Add in the crushed tomatoes, parsley, oregano and capers. Simmer on low for 15 minutes.
Add in the halibut filets and cover. Cook on low for 10 minutes until the fish is steamed and cook through. Enjoy immediately.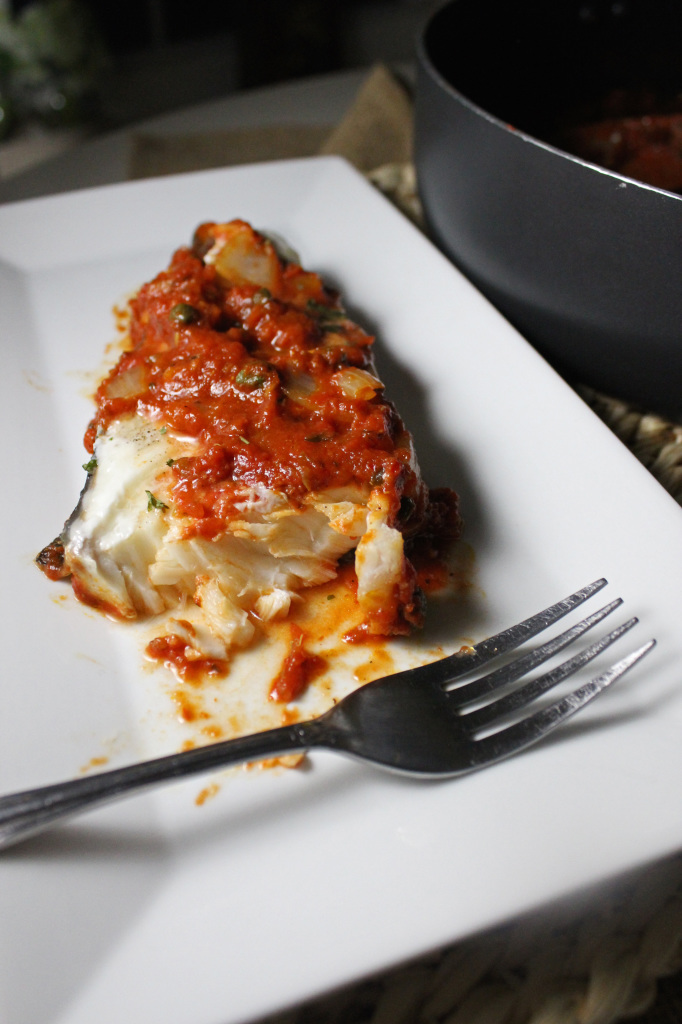 While singing in
this
holiday show last week, I was reminded how much I love this holiday diddy. I promise once January 1 hits no more
Christmas
songs, but for now enjoy Jon Bon Jovi's version.