Guys, these wings are some of the best to come out of my cucina. Do you know how sometimes food tastes better when it is not made by you?  Well, although I did make these, they tasted like someone else made them. Now that I've got you all confused, here is the skinny on these bad boys. The key to achieving their deep fried taste is to take them for a little toss in flour before baking. The texture and crispiness of doing this extra step is unbelievable and I can't believe it's taken me this long to try it!
I had a wing similar to these during our trip to San Francisco at Hot Sauce and Panko, so I tried to mimic the flavors I tasted that day. These have a base of smokiness with the paprika, then they take a dip into a pool of honey and hot sauce after baking which coats the wings beautifully. After they're well doused with that sweet heat you just sprinkle on the chopped cilantro and garlic and devour! I'm hoping these wings bring us good luck for the Redskins game this Sunday, and maybe they could be your team's good luck charm too!
Honey Hot Sauce Baked Chicken Wings with Cilantro and Garlic
Author:
Keys to the Cucina
Ingredients
10 chicken wings
½ c flour
1 tsp salt
1 tsp smoked paprika
3 tbs honey
4 tsp hot sauce
2 cloves garlic
1½ c fresh cilantro
½ tsp cayenne
Instructions
Preheat oven to 400.
Combine flour, salt and smoked paprika in a large bowl. Pat chicken wings dry and toss one wing at a time in the flour mixture. Shake off excess flour and place on a sheet pan with a wire rack on it.
Cook for 45 minutes then broil the last 3-5 minutes of cooking to get them nice and crispy.
While wings are cooking, heat up the honey in a bowl in the microwave for 10 seconds. This will make it easier to work with and mix into the hot sauce. Combine your favorite brand of hot sauce into the honey and mix thoroughly.
In a food processor combine garlic, cilantro and cayenne and rough chop them. Set aside.
When the wings come out of the oven, toss them in a large bowl (a few at a time) with the honey mixture until well coated. Finish by sprinkling the cilantro mixture over the sticky wings and serve immediately with your favorite beer.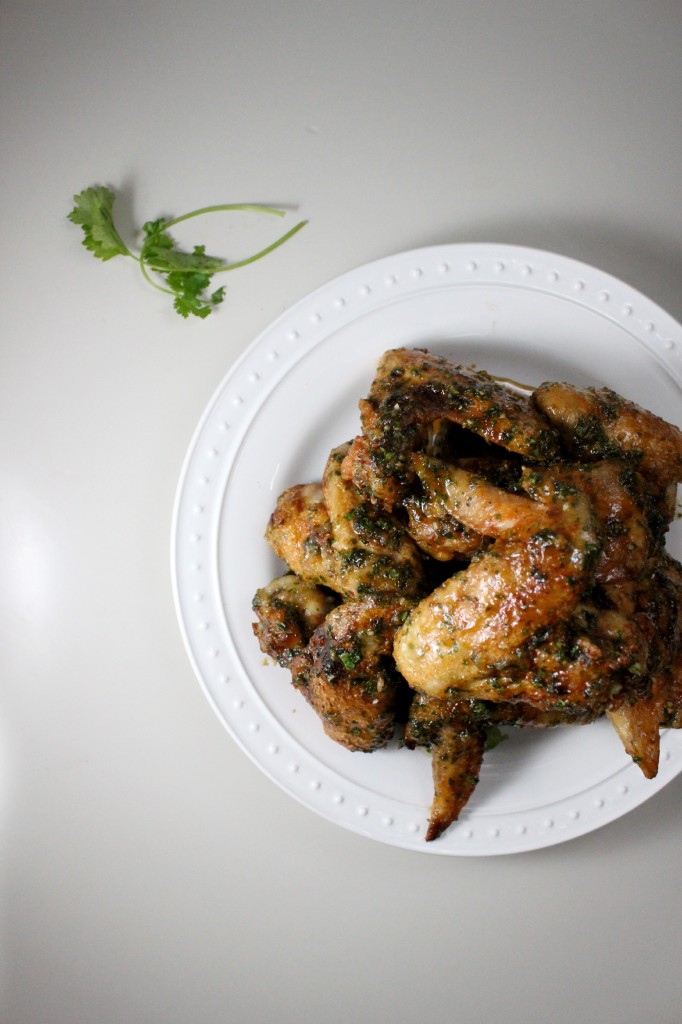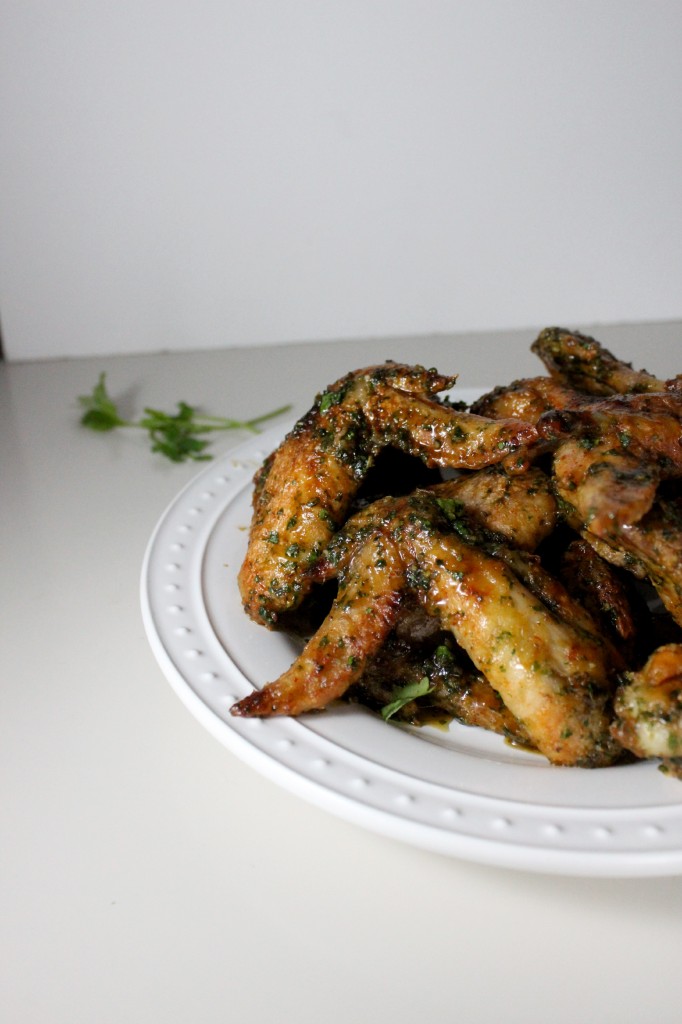 Fall concert season is upon us and I recently bought tickets to see this group! I've been jamming hard to their album at work to prepare myself for the show, and this one keeps lingering in my head.