Mmm quinoa. I haven't played with you in awhile, but when Blue Apron showed up on my doorstep we were reunited and you were soooo good in this dish! If you haven't yet heard of Blue Apron, it is a new company that let's you play chef by providing everything you need to make delicious meals at home, from instructions to ingredients. When you sign up for an account, they will ask you some short questions to determine any dietary restrictions, then each week they will send you three meals based upon your selections, with most ingredients sourced from local farms. Intrigued? Read below to receive a special offer of 30% off your first box and discover a fabulous recipe for their Shrimp Quinoa Fried Rice!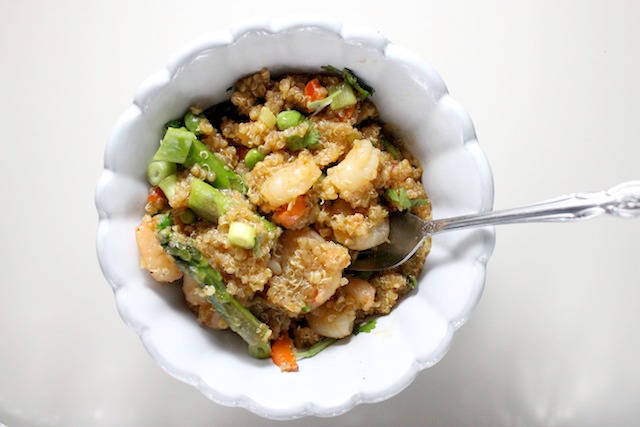 I learned a lot while cooking my first dish from Blue Apron, and the main lesson is that the use of sesame oil and mirin (a rice wine similar to sake) push this meal over the edge and make it taste like you just ordered Chinese takeout. These are ingredients I haven't yet procured for my pantry, but a little bit goes a long way so they're definitely worth having on hand. My other favorite flavors from this recipe were the hoisin sauce (a Chinese barbecue sauce if you will), and the samabal oelek, which is a spicy condiment that is similar in heat to Siracha but made with a variety of chilis.
I love how Blue Apron exposed me to so many new flavors for this dish, and I think they've done a great job of making their recipes approachable for at home chefs. I think that our culture is slowly progressing to a place where homemade food is paramount, and a place where locally sourced ingredients are the norm, so I applaud how Blue Apron is changing the way we think about home cooking. Check out the recipe here if you want to duplicate it at home and to receive 30% off your first order, click here to sign up and receive the discount. Happy cooking, chefs!
This band, Lake Street Dive is currently blowing up at music festivals and selling out clubs here in D.C. Give this soulful band a try with this ballad of theirs below.
Disclaimer: I received a free box from Blue Apron but all opinions are my own.