I have been meaning to post this strata recipe for awhile now, and I finally got some blog-worthy pics of it a couple weeks ago when I made it for Mother's Day. I love this dish because it is a one pot brunch dish and it is totally customizable with the veggies that you can add to it. A strata is an Italian dish that is mainly served for brunch, and one that always consists of cubed bread, eggs and cheese. Those three ingredients make my heart sing in whatever capacity they're used in, and I assure you yours will do the same.
I love that fact that the upper bread pieces get crunchy and golden brown during the cooking process. Also, the addition of heavy cream to the whisked eggs gives it a rich and velvety texture, which make this whole dish just a little more special than just eggs and bread. The eggs also add a nice lift to the whole casserole and make for a light and airy bite when it's all cooked up. Feel free to play around with the types of cheese you use too. I found a nice asiago and parmesan blend at Trader Joe's and the parmesan provided a salty bite while the asiago was added a sharpness and a little zing.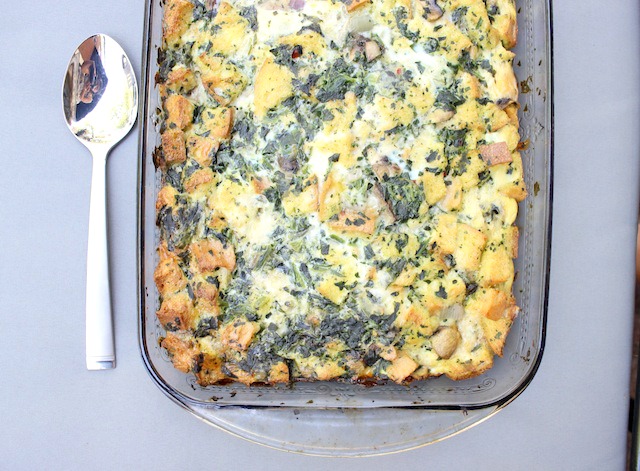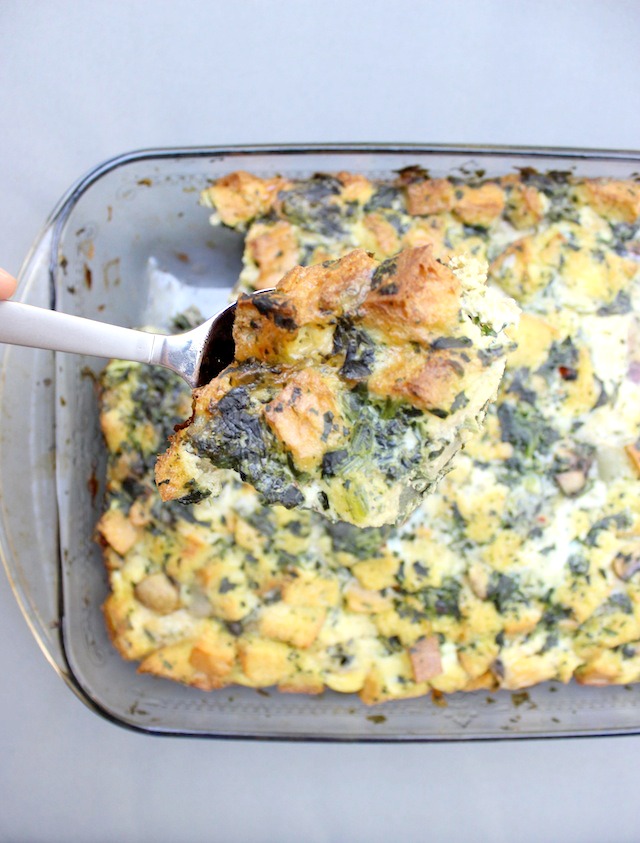 Spinach Mushroom and Parmesan Strata
Author:
Keys to the Cucina
Ingredients
1 half of a french baguette, diced into ½ inch pieces
12 eggs
¼ c heavy cream
2 tbs extra virgin olive oil
2 cloves garlic, minced
½ red onion
1 10 oz package frozen spinach
1 tsp basil
1 tsp crushed red pepper
1 tsp parsley
1 tsp salt
1 tsp pepper
8 oz chopped mushrooms
½ c mozzarella cheese
½ c parmesan & asiago cheese
Instructions
Cut baguette into ½ inch piece and set aside.
In a large bowl, whisk together eggs and heavy cream. Add a pinch of salt and pepper then set aside.
In a large saute pan, on medium heat, add the evoo and saute the garlic and onions for 3-4 minutes until they become soft. Add the spinach, basil, crushed pepper, parsley, salt and pepper and cook for 3 minutes. Toss in the chopped mushrooms and cook for another 3 minutes then set aside.
To assemble the strata, add the bread and the mushroom and spinach mixture to fully incorporate.
In a large pyrex baking dish, add in half of the bread mixture, then layer with half of the eggs and cheese. Add the rest of the bread mixture and eggs then top it off with the remaining cheese. With a wooden spoon or spatula press down on the mixture to fully immerse the bread into the eggs.
Refrigerate for 12-24 hours to let the bread soak up all of the egg mixture.
The next day, preheat the oven to 350 and bake for 45 minutes or until it becomes golden and a toothpick comes out clean.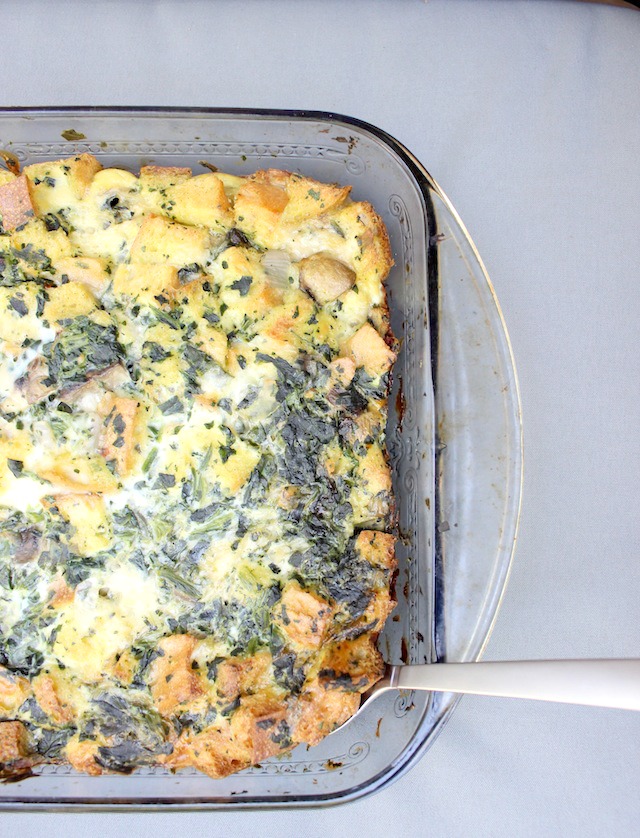 Every summer there seems to be a song that really kicks it off for me and becomes the song of the summer. Last year was
"Blurred Lines"
and this Memorial Day was spent listening to the song below. I believe it is a remix version of a song called "You and Me" and it just has this infectious beat that I can't help but dance to. I hope you all had a great Memorial Day weekend, it was gorgeous here in D.C. and I spent every moment I could outside and listening to this jam!