A few months back my sisters, mom and I threw a fabulous bridal shower for my sister Lindsay. With her wedding coming up this Saturday, I thought it'd be the perfect opportunity to recap the event from what we served to the decor. My mom and I were in charge of the food while Ashley and Brooke focused on the decorations, favors and cake! Before we start, here's all the girls with our beautiful mama! From left to right it is myself, Brooke, Lindsay, Ashley, and Mom.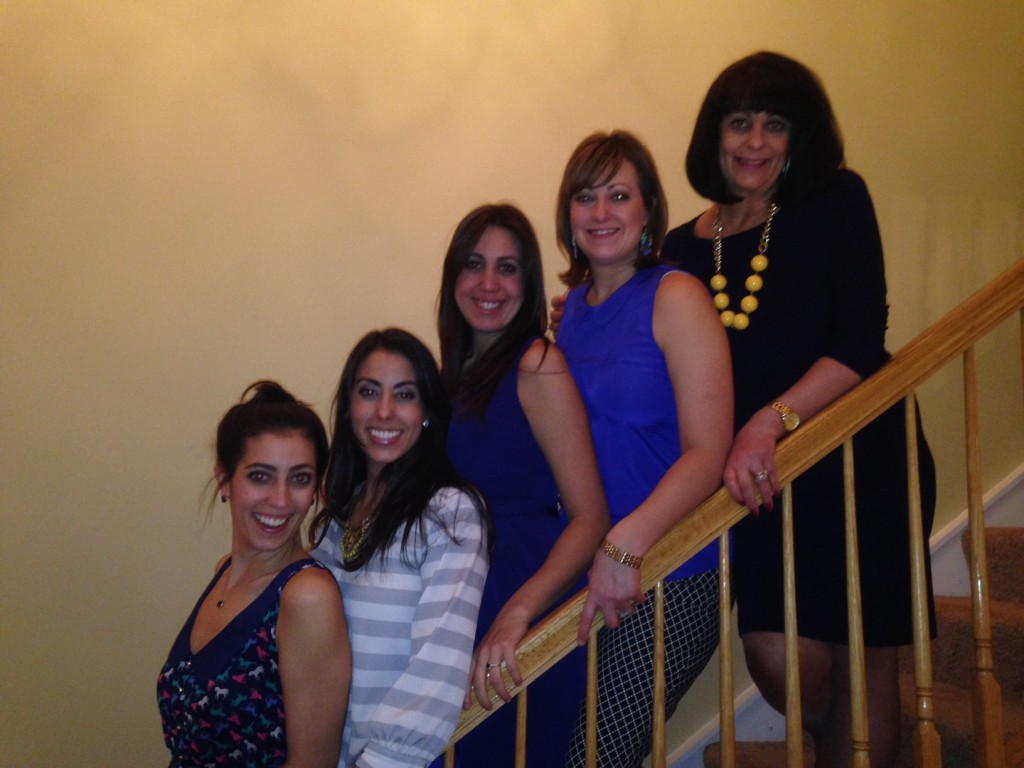 When it comes to entertaining for large groups, below are some helpful tips that I love to follow:
1. Think of your guests and room setup. We had seating for about 80% of our guests so we knew that serving pasta and light salads would be simple to eat even if you didn't happen to grab a seat.
2. Prepare as much stuff ahead of time as possible. I made my pesto, the homemade croutons and washed my salad greens on the night before the shower to make sure I wasn't running around like a nut the day of.
3. Delegate tasks to other members of the bridal party. We had the bridesmaids pick up wine on their way into town because it is not a necessary ingredient to have in order to set up the shower, therefore giving us one less thing to do as we prepared all of the elements for the day.
4. Execute by placing the appetizers, main dishes and bar in different areas of your entertaining space. We all know that guests gravitate toward the kitchen because that's most likely where the food is. But, one thing I've learned is that your guests will follow the food! To get some people out of the kitchen while you wrap up your prep, place the food in the dining room or even an outdoor patio space to spread the guest love throughout the house!
5. Enjoy, entertain and always keep your cocktail full!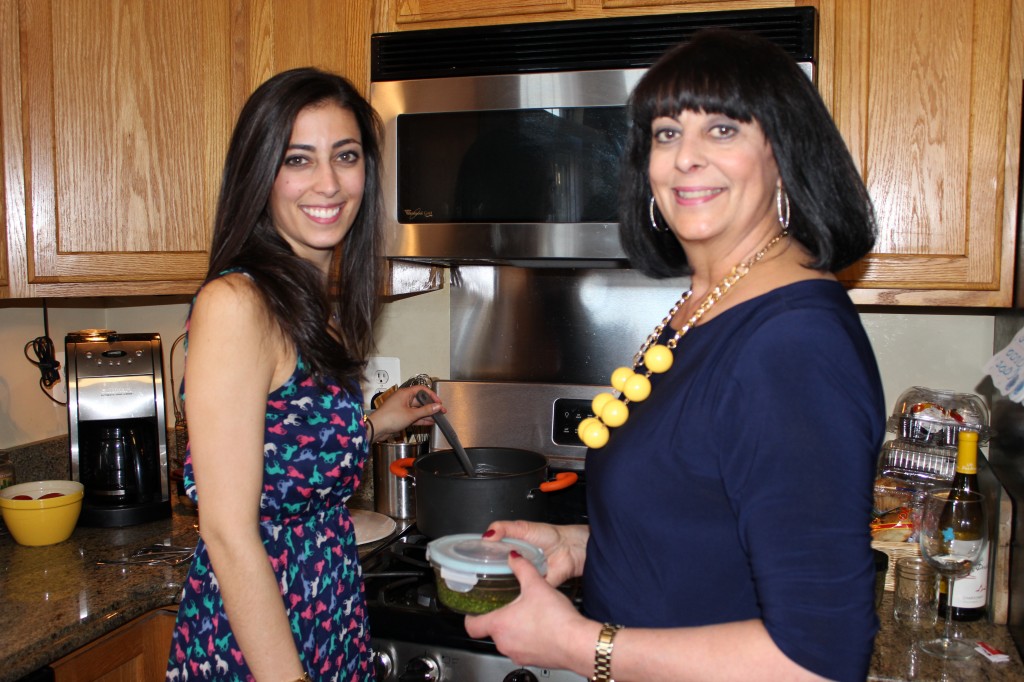 Lindsay's main wedding color is cobalt blue, so we really ran with that color throughout the whole shower, (check out those gorgeous blue bottles below)! Brooke also made that fabulous multilayer cake, fondant and all! Oh, and doesn't Ashley's house look like it's straight out of Pinterest? I love the side table in her dining room and the letters wrapped in twine which Brooke created were the perfect rustic accompaniment.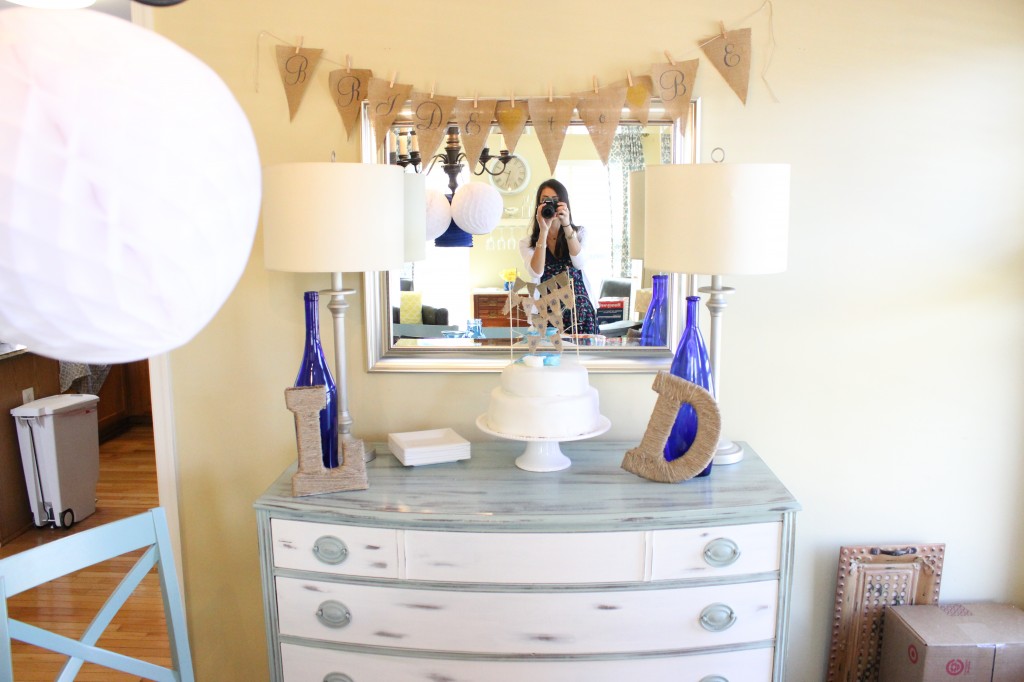 Now, onto the food, the part my mom and I were in charge of. We're not into the catering thing or even going out to restaurants, mainly because we know that we can cook something just as delicious for a fraction of the price. So, we put our creative brains together and Ashley thought a pasta bar, some light apps and two types of salad would be lovely for a late afternoon shower. Read on to see what we made!
Lindsay's Bridal Shower Menu
1. Prosciutto Wrapped Cantaloupe
2. Roast Beef and Horseradish Cream Crostini
3. Basil Pesto with Four Cheese Ravioli
4. Rigatoni with Meatballs and Sausage
5. Classic Caesar Salad with Homemade Croutons
6. Spinach and Strawberry Salad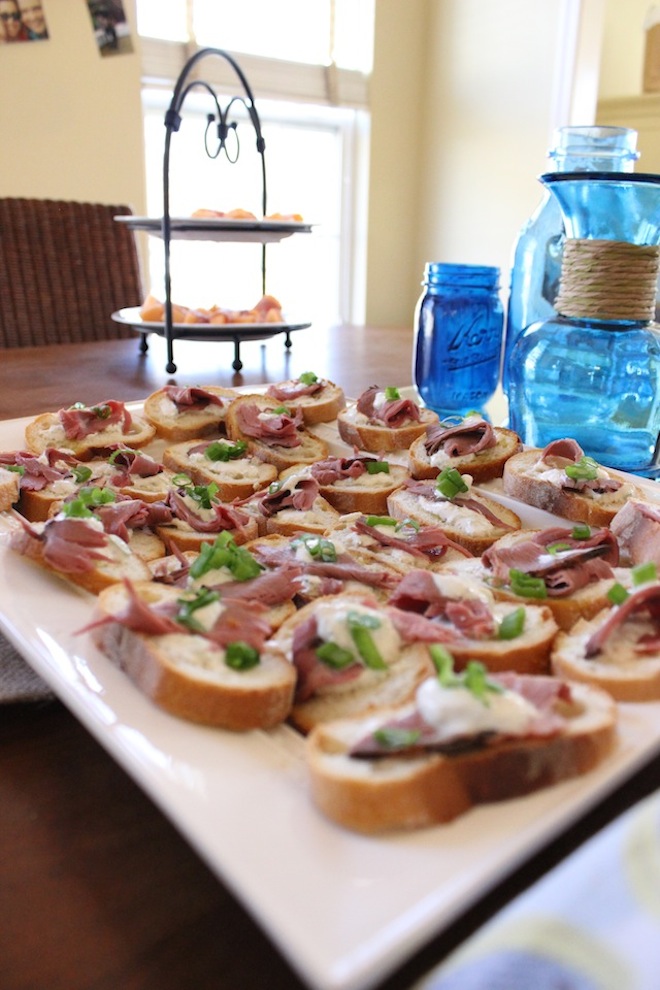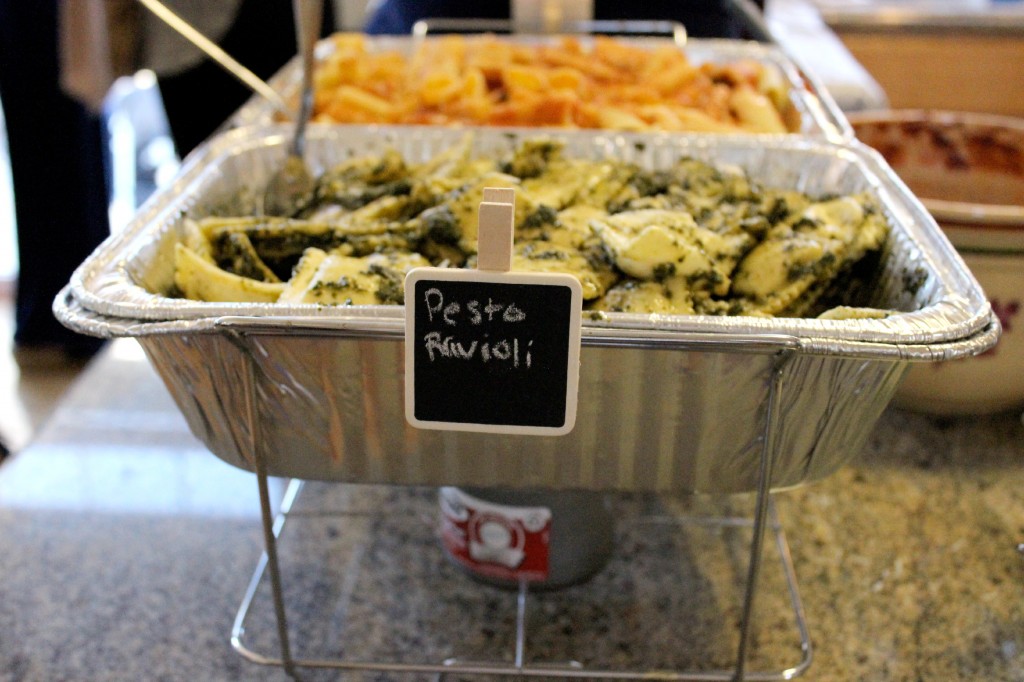 Lindsay and her fiance Dan chose the following song for their first dance and I just had to pair it with this post. The lyrics are moving and fit their relationship perfectly 🙂 Enjoy and if you need me this weekend, you can find me tearing up the dance floor at their wedding! Congrats Linzer and Danimal!