Caesar salad has got to be one of my favorite salads. I don't make it too often as I usually opt for healthier dressings like oil and vinegar, but this past weekend I had some extra time to whip up this homemade dressing.  When I order it out I'm always overtaken by garlic and way too much dressing on the greens. In an effort to be different, I made my version with kale and polenta croutons and it was just as delicious as the standard romaine and bread based croutons. Let's be real though, if you put caesar dressing on my toe I'd probably eat it ha!
I based my dressing loosely off of a recipe found in The Sopranos cookbook. Yes, I mean the show "The Sopranos" released a cookbook with some of their family favorite recipes in it. My Aunt Patty gifted it to my Mom one Christmas, and boy was she excited for my Mom to open that gift. I can just hear her say now, "Wait til you read these recipes, just like the ones Mommy used to make." The book really does capture the cooking of Italian-Americans and the classic recipes that shaped my childhood and the way I learned how to cook. This is just another example of the memories that food and cooking can evoke and how they carry over from generation to generation.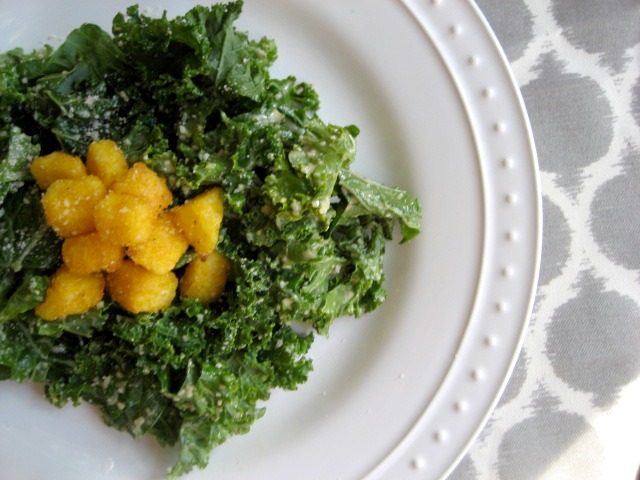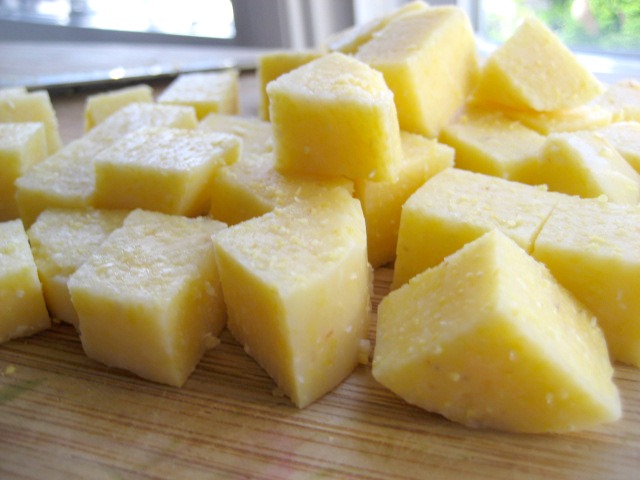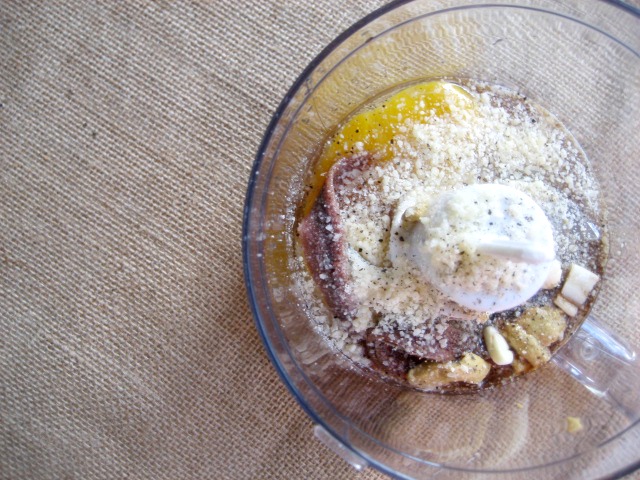 Kale Caesar Salad with Polenta Croutons
Author:
Keys to the Cucina
Ingredients
For Polenta Croutons:
½ 24oz package precooked polenta, cut in cubes
Dash of salt and pepper
½ tsp garlic powder
1 tbs parmesean cheese
For the Salad:
1 bunch kale, torn in pieces
1 egg
3 anchovies
1 tsp worcestershire sauce
½ tsp dijon mustard
Juice of one lemon segment
½ c extra virgin olive oil
⅓ c parmesean cheese
1 tsp pepper
½ tsp salt
Instructions
Preheat oven to 400.
Toss polenta cubes lightly with evoo, salt, pepper and garlic powder.
Lay polenta on a sheet pan and cook for 25 minutes or until golden brown and crunchy.
In a food processor, combine egg, anchovies, worcestershire sauce, dijon mustad and the lemon.
Cream together then stream in the olive oil slowly while the processor is running.
Add your salt and pepper.
Remove dressing from processor and place in a bowl then stir in the parmesean cheese.
Sprinkle parmesean cheese on the polenta croutons when they come out of the oven.
Dress the kale and garnish with the polenta croutons and more cheese.
Notes
If you don't wish to use raw egg, you can substitute a tablespoon of greek yogurt or mayonnaise.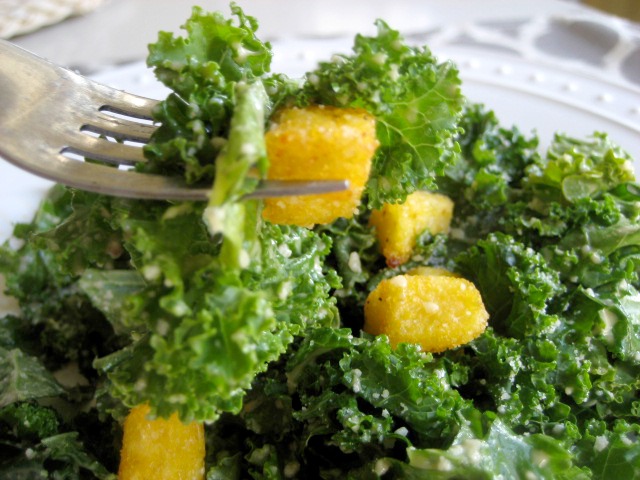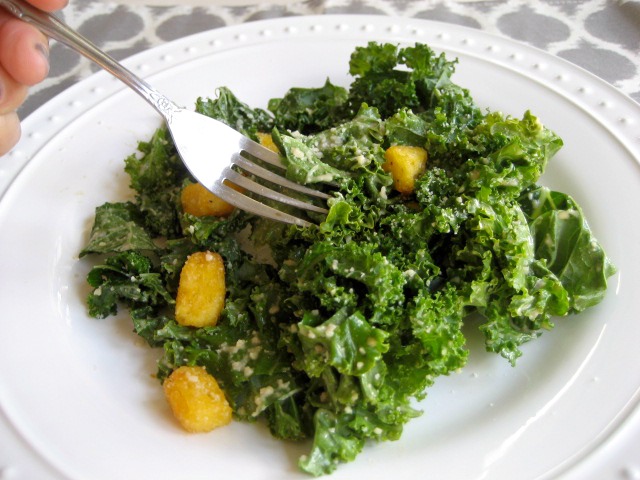 In honor of New Jersey , The Sopranos, and this caesar dressing, enjoy one of my favorite songs by Bruce Springsteen below.