If you ever find yourself in Annapolis, Maryland, head to Fado's and enjoy a couple of their Smoked Salmon Bites. They were so good they inspired me to create my own version with a different twist. I was at Fado's for a work function and was mingling with my co-workers over a couple of cocktails, when the waiter walked by with some hors d'oeuvres. I grabbed the smoked salmon concoction, which was over top a mini potato pancake, and I just about died because it was so delicious. I proceeded to house eight or ten of these bad boys, all the while trying to figure out just what exactly was in it. After racking brains with my co-workers days later, we came up with capers, red onion and a hint of lemon.
For my variation, I baked up some homemade garlic-rubbed crostini to serve the salmon on, and a lemon and chive Greek yogurt sauce to dollop on top. I went heavy on the capers and I added the zest of one lemon to add a nice bright acidity to the salmon.
The jam of the recipe is "Back to Black" by Amy Winehouse. I sang this song with the band that night at Fado's, so I thought it'd be appropriate to pair it with this recipe.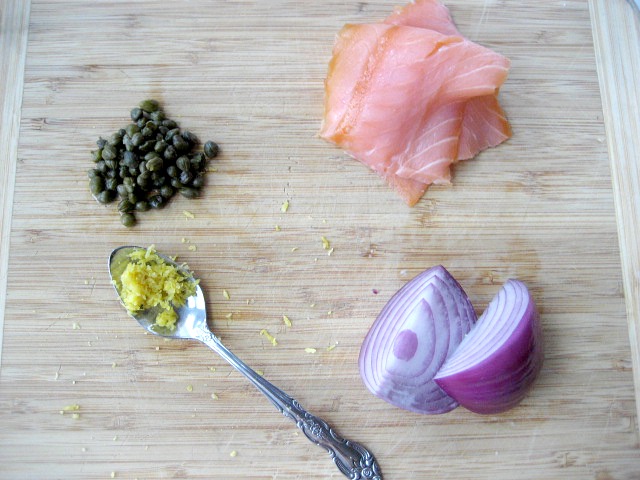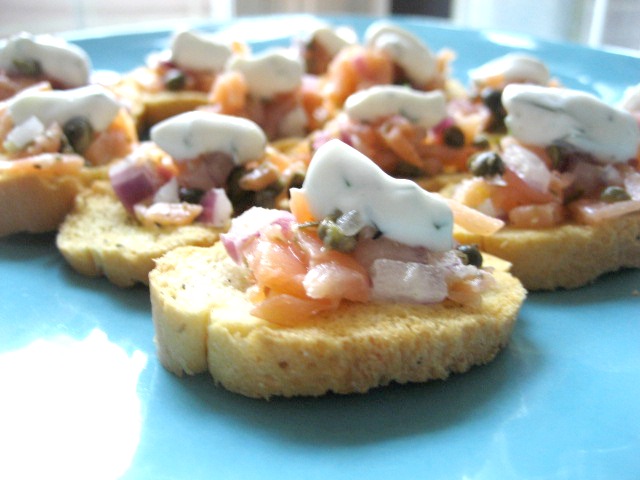 Smoked Salmon with Homemade Crostini
Author:
Keys to the Cucina
Ingredients
For Salmon:
3 oz smoked salmon, diced
4 tsp capers, roughly chopped
¼ red onion diced
1 tsp lemon zest
For Greek Yogurt Sauce:
3 oz greek yogurt
6 chives, diced
1 tsp lemon juice
For Crostini:
1 French Baguette
3 tbs extra virgin olive oil
1 tsp salt
1 tsp pepper
½ garlic clove
Instructions
Preheat oven to 350.
Cut french baguette into about ¼ inch slices.
Arrange on sheet pan and brush with olive oil.
Season generously with salt and pepper.
Bake for 10-15 minutes and rub with one half of garlic clove right after they come out of the oven.
Combine all ingredients for salmon in one bowl and stir together until well incorporated.
In a separate bowl, combine the Greek yogurt sauce ingredients until incorporated.
To serve, place a teaspoon of salmon filling onto each crostini, and top with half a teaspoon of Greek yogurt sauce.