Mmm it is definitely soup season up in here and I think you are just going to love this little number I put together. It's basically an everything-but-the-kitchen-sink kind of a soup and any veggies you have on hand will taste amazing when added into it. I scooped up some soup items at the store Monday evening, and with the snow storm that was coming that night, it took me almost 30 minutes to check out. D.C. people panic and go crazy when any inclement weather is called for, even rain!
Any who, this soup is hearty and with a touch of spice and a dusting of fresh parmesan, it makes for the perfect soup on a blustery winter's day. I had two servings of this yesterday and plan on eating the four other servings for lunch this week!
Cauliflower Soup with Spinach, Mushrooms and Parmesan
Author:
Keys to the Cucina
Ingredients
2 tbs extra virgin olive oil
¼ red onion, diced
1 clove garlic, minced
2 carrots, chopped
1 14.5 oz. can diced tomatoes plus ½ can water
32 oz. vegetable broth
1 c water
1 head cauliflower, washed and cut into bite size pieces
4 oz baby portabello mushrooms, chopped
¾ c chickpeas
2 tsp salt
1 tsp pepper
1 tsp parsley
1 tsp garlic salt
¾ tsp crushed red pepper
2 Tbs parmesan cheese
3 handfuls fresh baby spinach
Instructions
In a large pot, heat olive oil on medium. Add in the red onion and garlic, add a dash of salt and pepper and sauté until softened, about 3 minutes. Toss in the carrots and cook an additional 5 minutes.
Reduce heat to medium low and add in the diced tomatoes, ½ can of water, the vegetable broth and additional water. Stir in the cauliflower, mushrooms, chickpeas and all of the seasonings from the salt to the crushed red pepper.
Stir in the parmesan cheese and reduce heat to low. Cook on low for 2-3 hours, stirring occasionally and adding salt/pepper to taste.
Before serving, stir in handfuls of baby spinach and enjoy with a dusting of parmesan cheese.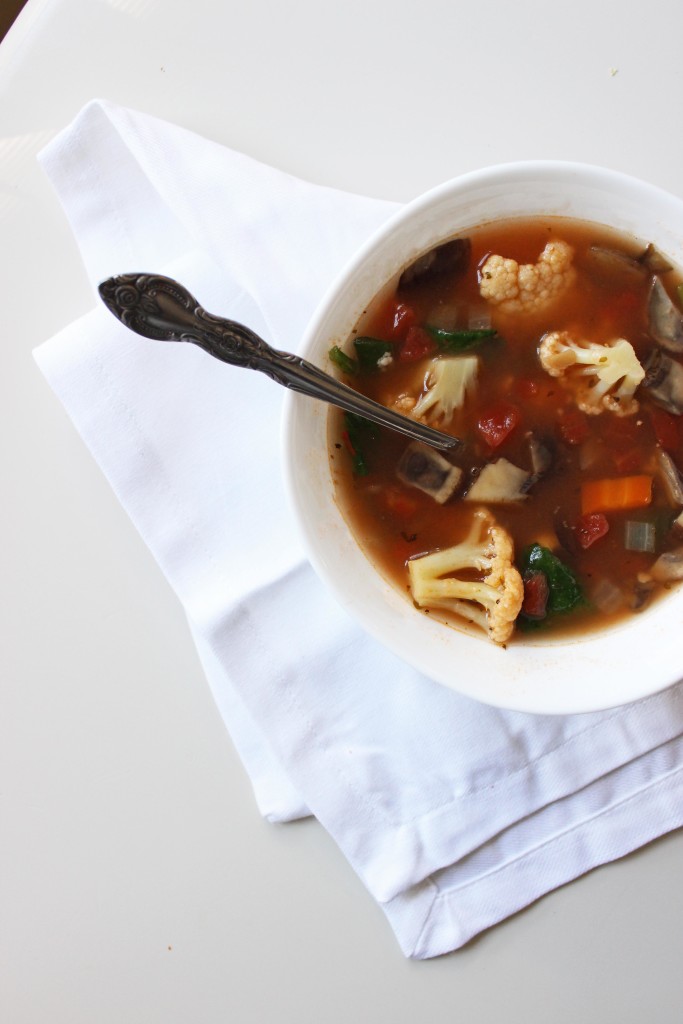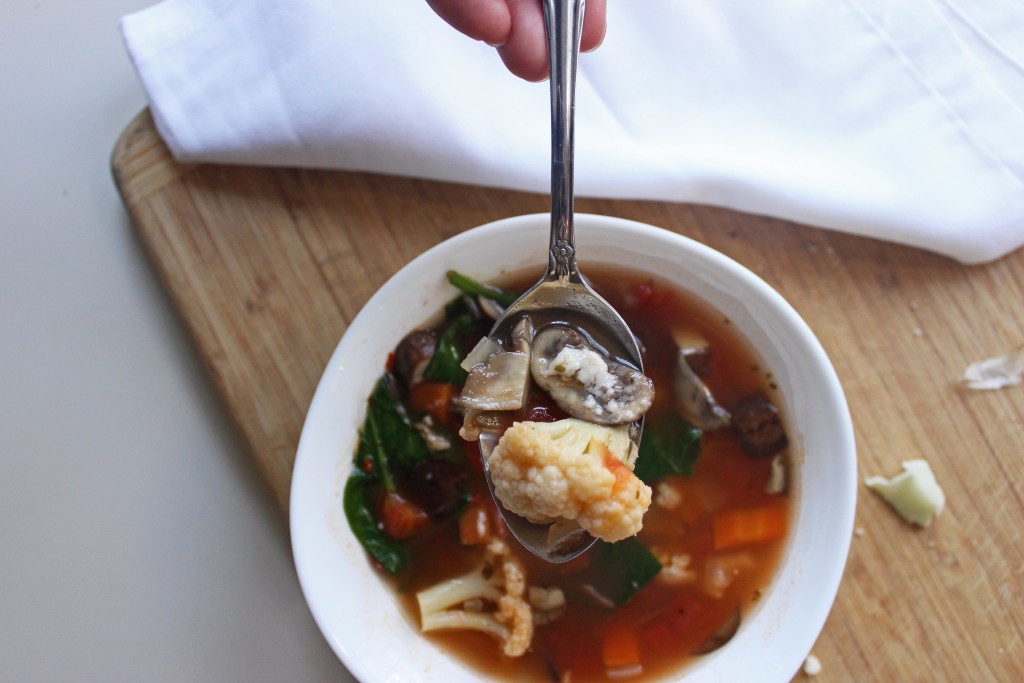 ---
Sign up and subscribe HERE to Keys to the Cucina and receive notifications when a new post goes live!