A week ago my coworkers and I went apple picking at Homestead Farm in Maryland for some fun and team bonding. The trip up there was filled with a few country roads and orange and yellow leaves that lined the streets. I'm always amazed at how gorgeous and mountainous this area is if you drive just 20 minutes away from the city. The break from the hustle and bustle began when we walked up to the farm and the most adorable three golden retrievers greeted us. Though it rained right as we started picking our apples that didn't stop the fun we all had.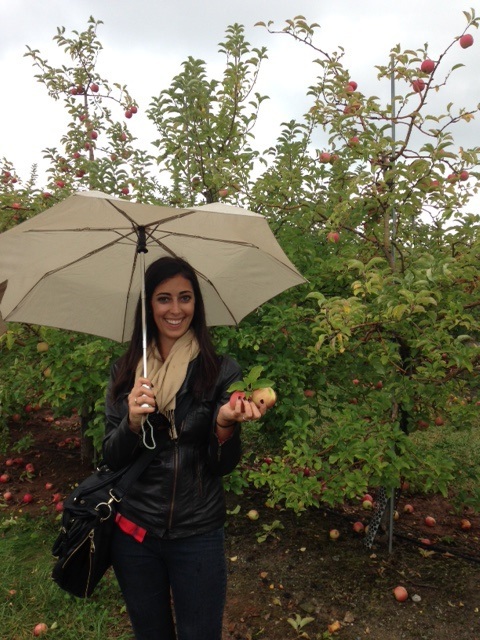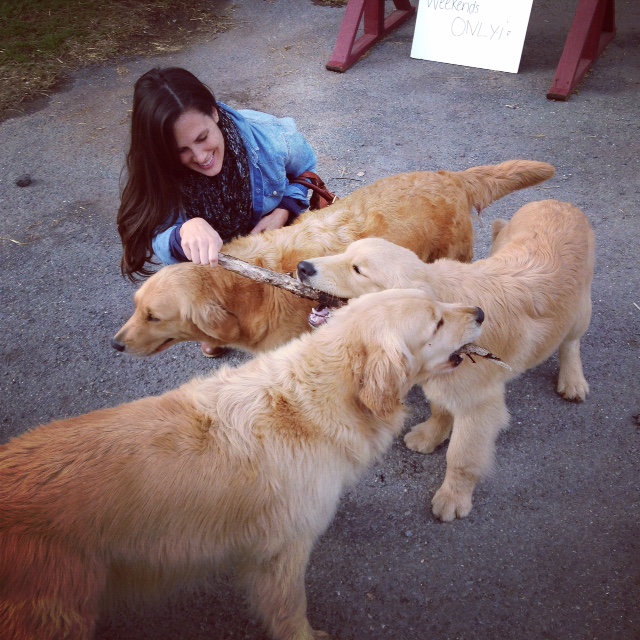 Instead of making something sweet with my haul of apples, I took them to a savory place with this recipe. I first brined the pork chops in a large bowl full of honeycrisp apple cider (those are my favorite apples by the way)! I did this step before leaving for work in the morning so that when I got home all I had to do was season and cook 'em up with the apple and leek mixture. I pretty much only cook with sage between the months of October and December so I brought that into the mix and it makes this dish feel like fall in your mouth.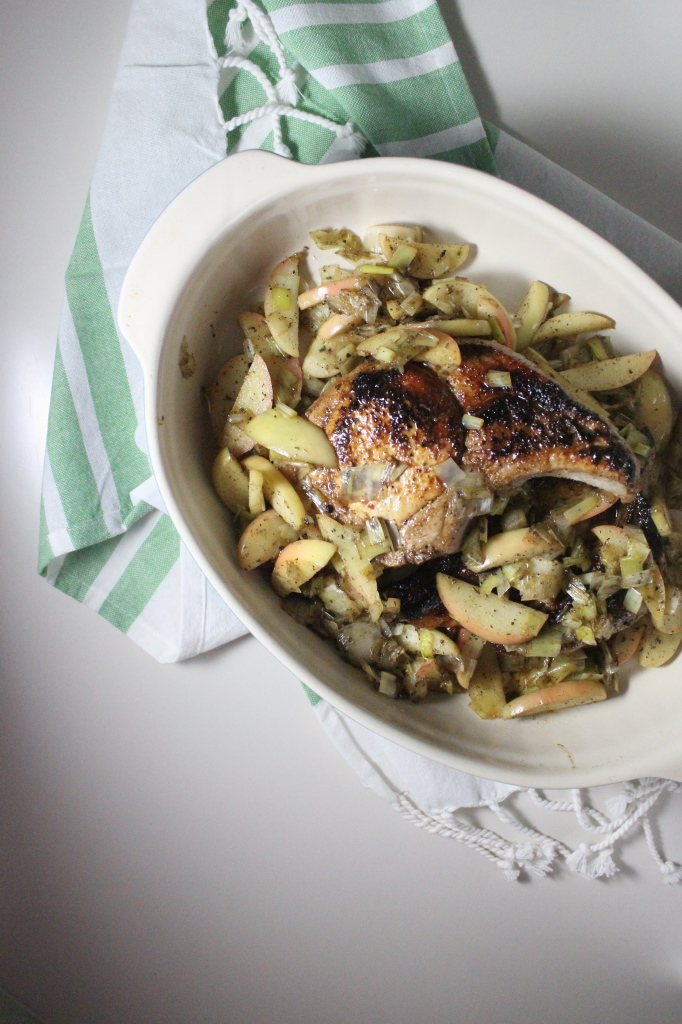 Apple Cider Brined Pork Chops with Leeks, Apples and Sage
Author:
Keys to the Cucina
Ingredients
2 bone in pork chops plus
½ tsp salt
½ tsp pepper
½ tsp garlic powder
4 c apple cider


4 tbs extra virgin olive oil
3 small apples, sliced (I used pink lady)
1 large leek, roughly chopped
1 tsp salt
1 tsp pepper
¾ tsp sage
Instructions
Place dry, unseasoned pork chops in large bowl. Pour in apple cider and brine for 6-12 hours.
After the pork has brined, preheat oven to 350.
To prepare meal, remove pork chops from brine and dry off thoroughly with paper towels.
Season the pork chops generously on both sides with salt, pepper and garlic powder.
Cover the bottom of a large saute pan with 2 tbs of extra virgin olive oil. Put on high heat and when it begins to smoke place the pork chops in and reduce heat to medium high. Sear for 2-3 minutes on each side until a nice crust forms.
Place the pork in an oven safe dish and finish off in the oven for 10-15 minutes or until the juice runs clear and internal temperature reaches 160.
While the pork is in the oven, combine remaining 2 tbs of extra virgin olive oil in the saute pan with the apples and leek. Season with the sage, salt and pepper and cook for 10 minutes on medium until the apples become tender.
To serve, place apple mixture on top of the pork chops and enjoy immediately.