I love love love mussels. Ask anyone who knows me best and they will tell you that I order mussels almost every time I go out to eat. Some of my favorite places to eat mussels are Belga on Capitol Hill, Columbia Firehouse in Old Town, and Ford's Fish Shack in South Riding, Virginia.
I also have so many memories with mussels because my mom used to cook them all the time growing up, especially on Fridays. Being Catholic meant that we didn't eat meat on Fridays, so fish and seafood was the norm in our house! She would usually make them with clams and linguine in a white wine sauce and it was oh so amazing. When we had friends over for dinner they would be so intimidated by the mussels, but after one bite they couldn't deny how delicious they were. To me, mussels were totally normal and I had three year old cousins who could house mussels and clams in one sitting.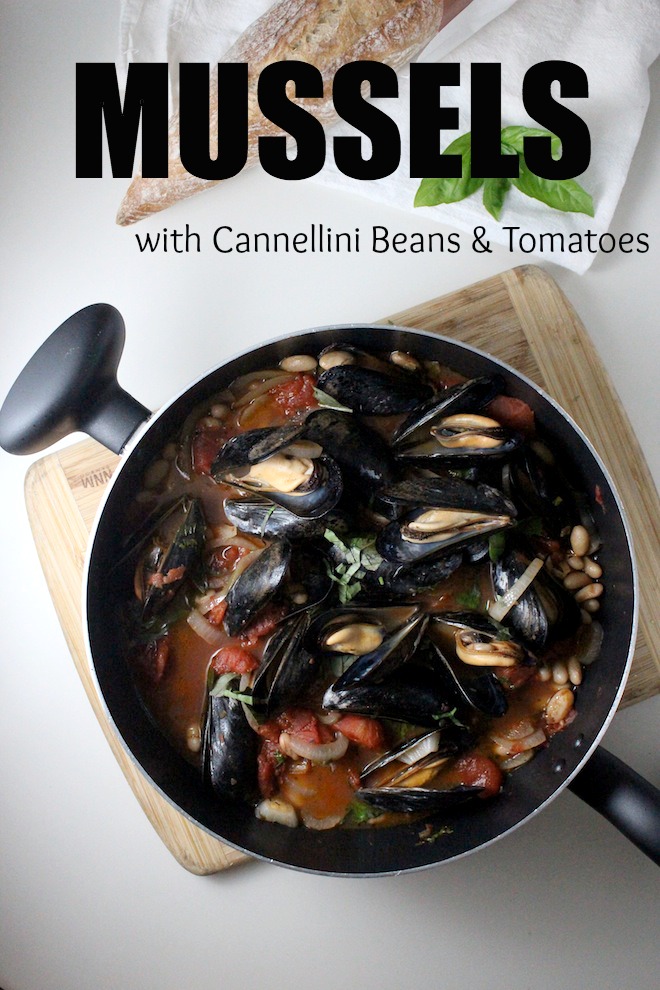 I was inspired to make a whole meal in a bowl for this recipe. The cannellini beans pack a punch of protein while the tomatoes balance the dish with their slight acidity. I topped it all off with a few leaves of fresh basil from my garden and a crusty French baguette from Le Pain Quotidien. There's something really comforting about knowing that you can get dinner on the table in under 30 minutes after a long commute home, and that is just what this meal provides.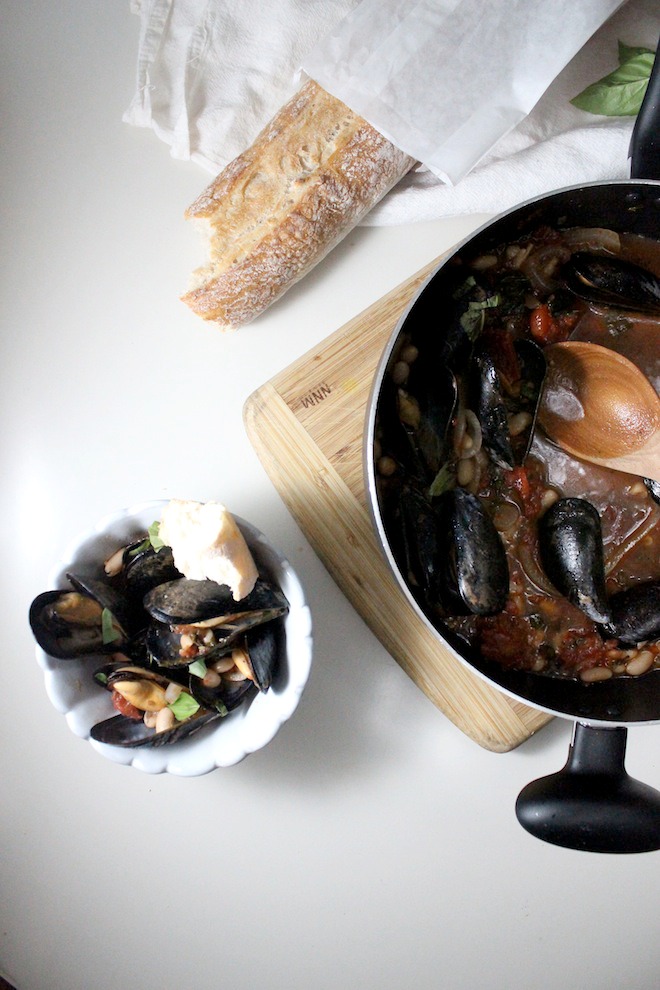 Mussels with Cannellini Beans and Tomatoes
Ingredients
2 tbs extra virgin olive oil
½ onion, sliced
3 cloves garlic, diced
1 can 15oz. diced tomatoes plus ½ can of water
1 tsp salt
1 tsp crushed red pepper
10 basil leaves, chopped plus more for garnishing
Splash of red wine
½ can 15oz. canneliini beans
1 lb mussels, cleaned
Instructions
To clean mussels, place them in a large bowl of water with a couple tablespoons of flour sprinkled in. Let soak for 3-5 minutes then drain and rinse thoroughly.
In large saute pan, combine evoo, onion, and garlic. Cook for 3 minutes on medium stirring frequently. Add the diced tomatoes and ½ can of water. Season with salt, crushed pepper and chopped basil.
Add a splash of red wine and cook for for 5 minutes until the flavors marry together.
Toss in the mussels and cover the pan. Cook for 3-4 minutes on medium or until the mussels open up.
Serve immediately with a crusty baguette and a glass of red wine.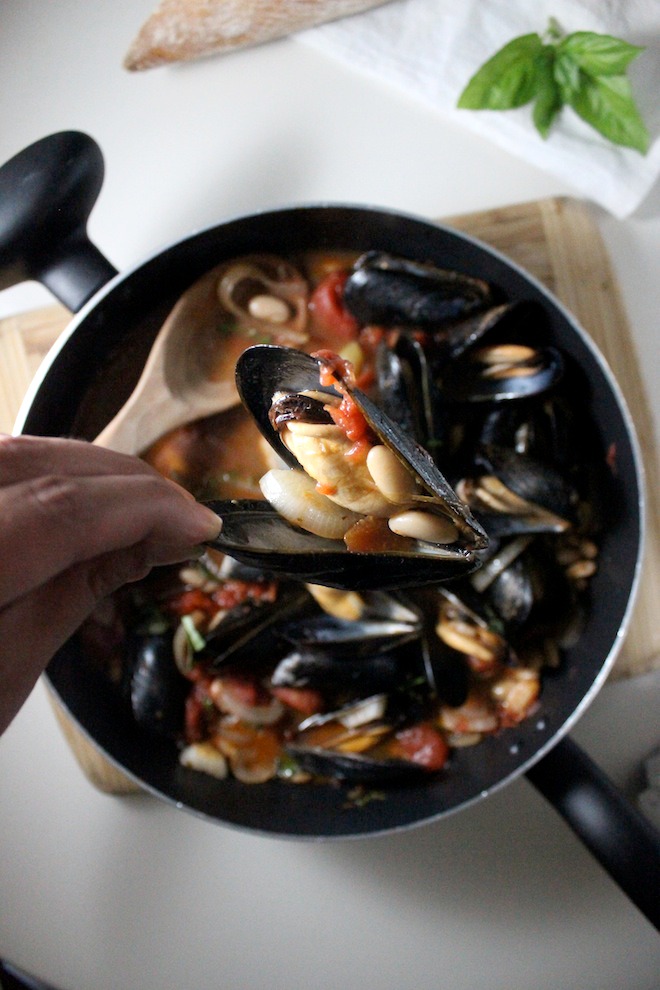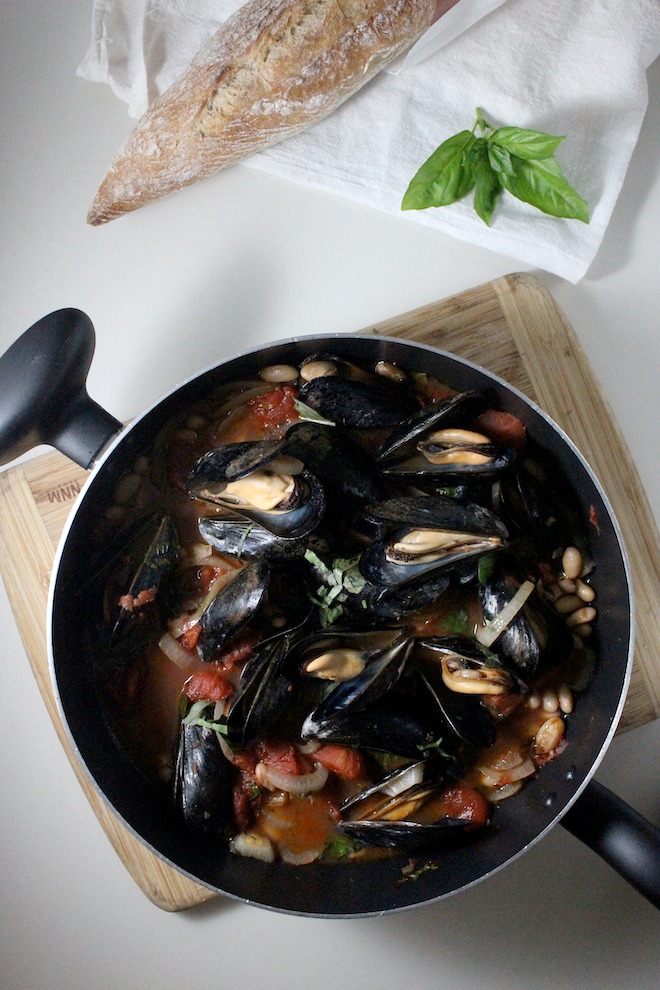 Check out this new band I discovered on Pandora below. They are called "French Kicks" and the chorus of this song really struck a chord with me and was dancing around in my head all day. Enjoy!