This broccoli salad recipe sits right at the top of my favorite cold summer salads. It first made it's appearance at my sister Lindsay's high school graduation party in 1999, and ever since then I expect it at every barbecue my mom throws. I made it this past weekend for Lindsay's baby shower because it is one of her favorite dishes that my mom makes. As always, I substituted Greek yogurt for mayo in the dressing to lighten it up and the flavor tastes the exact same. In fact, the end result of the dressing tastes just like my Spinach and Strawberry Salad, and it pairs so well with all the players in this dish.
This recipe also has Bryan's two favorite ingredients in it, bacon and broccoli! He wasn't really into vegetables as a kid but broccoli has been the veggie he's liked for the longest time so you better believe he enjoys this salad too. The bacon provides a great smoky contrast to the sweetness of the raisins and dressing, and it can always be substituted out to turn this into a veggie friendly salad at your next barbecue.
Broccoli Salad with Bacon, Walnuts Raisin and Greek Yogurt Dressing
Author:
Keys to the Cucina
Ingredients
1 large head of broccoli (or 2 small heads)
½ cup red onion, chopped
½ c raisins
½ c walnuts, chopped
½ lb fried bacon
1 cup greek yogurt
2 tsp sugar (more or less depending on how sweet you like it)
2 tsp white vinegar
Instructions
Preheat oven to 350. Place the bacon slices on wire rack over a sheet pan and cook for 15 minutes or until crispy. Drain on paper towels and set aside.
In a small bowl, combine greek yogurt, sugar and vinegar together and set aside.
In a large mixing bowl combine cut up broccoli, red onion, raisins, walnuts and crumbled bacon. Pour dressing over and mix to thoroughly incorporate. Serve cold and enjoy!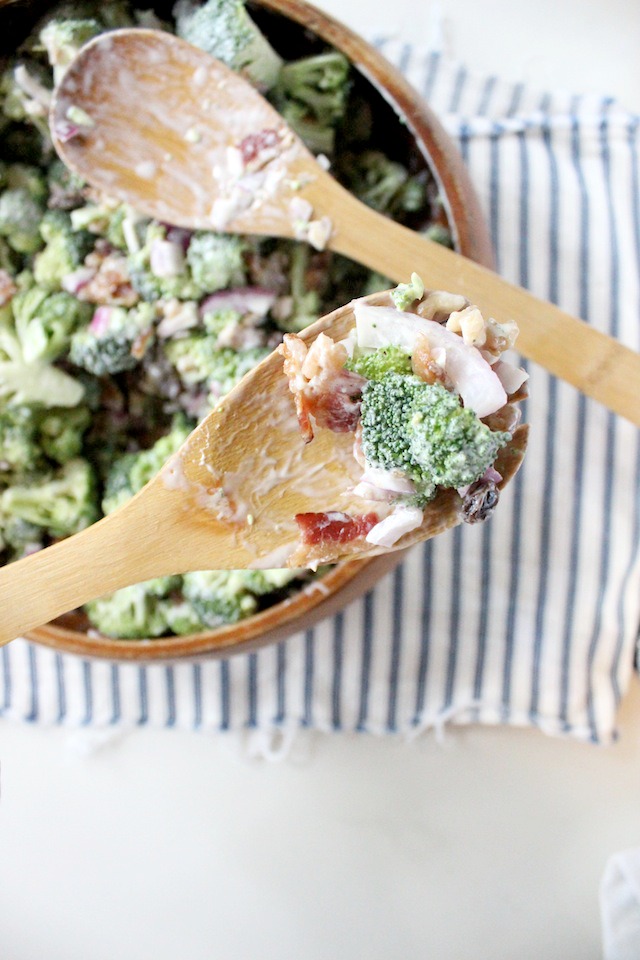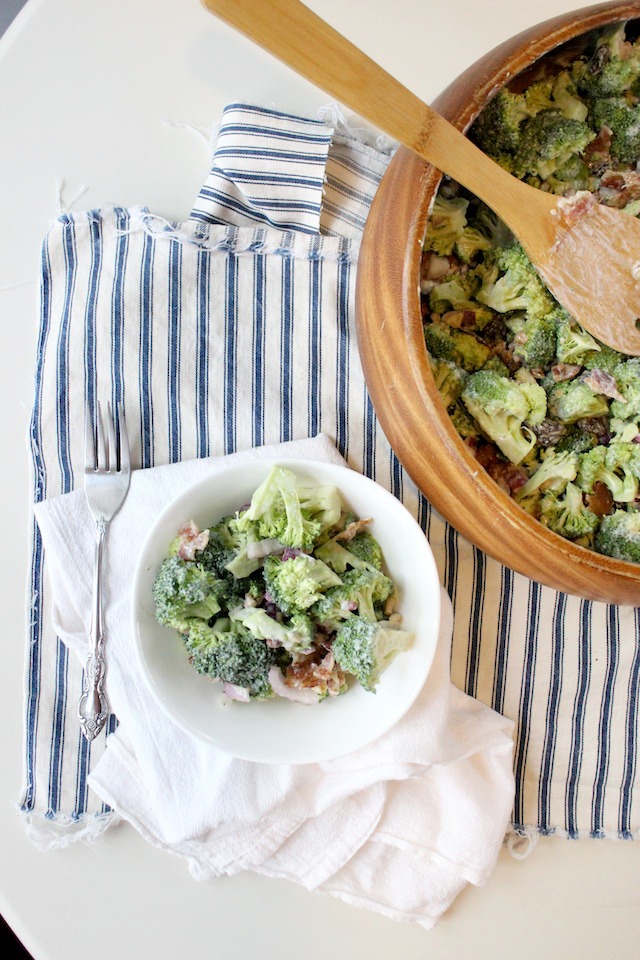 This song came onto my Pandora today and reminded me of how much I love the movie it's from. If you've ever seen "500 Days of Summer" then you know what I'm talking about! Regardless, this song really builds and is a great jam to listen to when you're waking up for the day!
---
This baked barbecue chicken would pair lovely with this dish. Click the picture to get the recipe!