Ever since DC has turned into the arctic tundra with some of the coldest temperatures in years, all I'm craving is hearty and warm dinners. Think chilis, stews and this bad boy, Shepherd's Pie. Recently our family friends, Roger and Nora, made a classic Shepherd's Pie with white mashed potatoes and beef, and it was delicious and warming. After eating it, I got home really thinking about the recipe and thought I could put my own spin on it with healthier ingredients and a new secret pantry weapon of mine, fennel seed!
Fennel seed is the most common ingredient in sausage, and when you eat anything with fennel seed in it your brain will immediately think sausage, trust me on this one. So, I decided to put it in the ground turkey along with your standard parsley, sage, rosemary, and thyme. The carrots and peas give it a hearty texture and mashed sweet potatoes are just perfect with their creamy texture and gorgeous, vibrant color. This recipe will make plenty and can supply you dinner and lunch for almost a week straight. Not that I've been eating it for every meal or anything…
It also keeps well in the fridge and could be the perfect make ahead meal if you're short on time! I'll leave you with a little fun fact – my Dad had a ball brainstorming blog names for me, and the one that stuck out in my head was "Parsley, Sage, Rosemary & Rock." I hope you have all of these herbs on hand, for this recipe won't be the same without 'em!

Shepherd's Pie with Ground Turkey and Mashed Sweet Potatoes
Author:
Keys to the Cucina
Ingredients
Mashed Sweet Potatoes:
3 sweet potatoes, peeled and cut into cubes
1 c milk
½ c chicken broth
1 tbs butter
1 tsp salt
1 tsp pepper
Filling:
1 lb ground turkey
2 tbs evoo
1 large onion, red or yellow, diced
½ large carrot, diced
1 tsp salt
1 tsp pepper
1 tbs fresh parsley
1 tsp fennel seed
1 tsp rosemary
½ tsp sage
½ tsp thyme
½ tsp smoked paprika
2 tbs flour
¾ c chicken broth
1 9 oz pack frozen peas
Instructions
Fill a large pot with cold water and your cubed potatoes. Bring to boil.
Cook for 22-25 minutes, or until fork tender.
While potatoes are cooking, saute onions and carrots in evoo on medium heat until for 4 minutes or until translucent.
Add the ground turkey and cook until no longer pink, about 5 minutes.
Season the turkey mixture with the seasonings from the salt to the smoked paprika and add the frozen peas.
Cook on medium for 10 minutes, stirring occasionally, to let flavors marry.
Sprinkle the flour over the mixture and cook for about 3 minutes.
Slowly pour in the chicken broth until the mixture starts to thicken and simmer on low for 10 minutes.
Preheat oven to 350.
While the meat mixture is simmering, drain your potatoes and mash together with the chicken broth, milk, butter, salt and pepper.
In a 9.3x13 inch pyrex dish, spread out the turkey mixture in one layer, then gently spread the potatoes on top.
To create texture on the potatoes, run the tines of a fork vertically and horizontally over the potatoes.
Bake for 20-25 minutes until bubbly and the potatoes become golden.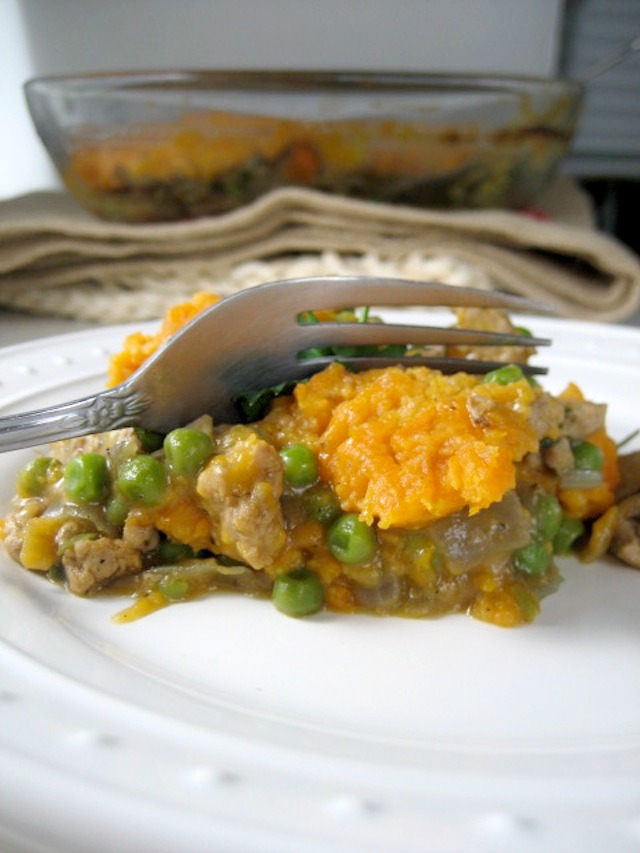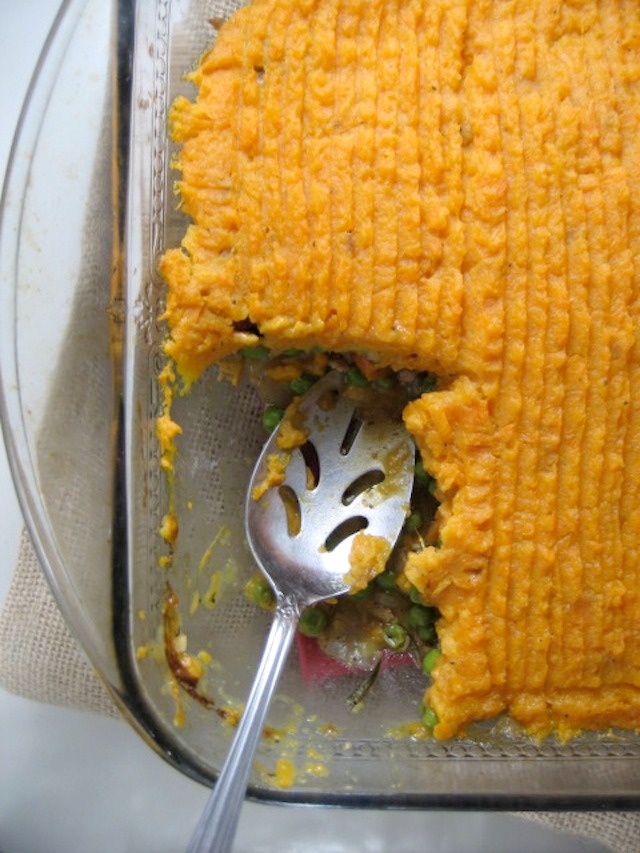 Led Zeppelin was recently added to Spotify, and let's just say that my life has been greatly enhanced by this. I was jamming so hard to them last week at work, it took a bit of shouting from my coworkers to get my attention ha. I was listening to "I Can't Quit You Baby" through my crappy iPhone headphones and got totally lost in the music. Check it. Now. You know you want to…