I must say that in my old age I enjoy the food and company that comes with the Superbowl more than the football game itself, ya here me on that ladies? While I do get into the games if the score is super tight, I get more hyped up about the food, and that is why I made this little app a couple weeks ago. I parboiled some yukon gold potatoes for about 15 minutes, let them cool, and baked them while wrapped in some thinly sliced pancetta. The potatoes got nice and golden while the pancetta got super crispy! Yum and yummier!
This appetizer perfect for the big game and the greek yogurt dip is loaded with fresh herbs and green onions. It tastes like eating a deconstructed potato skin minus the cheese and fattening sour cream. What's a football Superbowl Sunday without gorging yourself with finger foods and dips galore? Can't wait to celebrate Superbowl 2014 with our friends and OD on some serious finger foods!
What are your plans for Superbowl Sunday?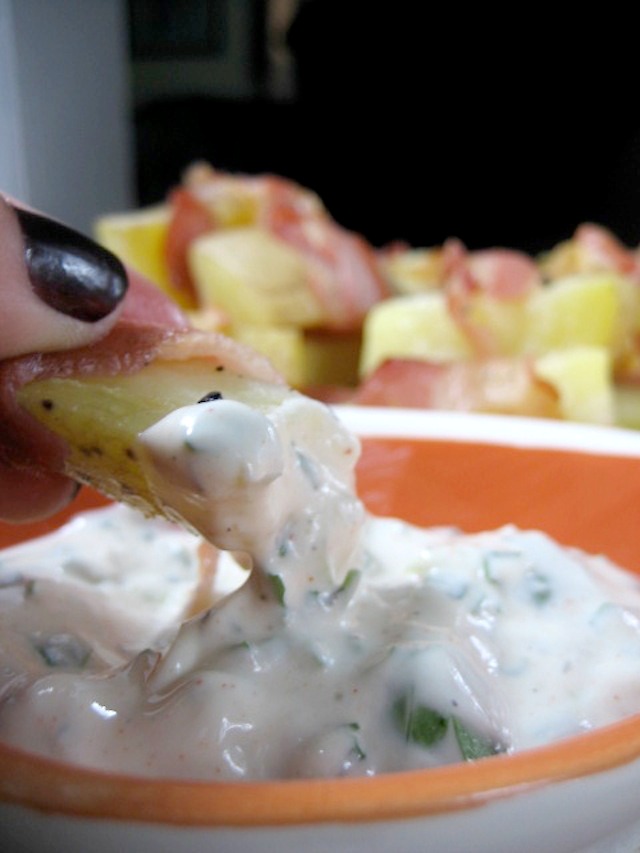 Potato and Pancetta Bites with Herb Greek Yogurt Dip
Author:
Keys to the Cucina
Ingredients
3 yukon gold potatoes, cut lengthwise
½ lb thinly sliced pancetta
Greek Yogurt Dip:
1 single serving greek yogurt
1 tsp dijon mustard
2 green onions, thinly sliced
1 handful fresh parsley
1 tsp dill
½ tsp salt
½ tsp pepper
½ tsp cayenne
Instructions
Par boil the potatoes for about 15 minutes or until fork tender.
Preheat oven to 350 while the potatoes cook.
Drain and lay out on a sheet pan and pat dry with a clean dish towel.
Once cooled, wrap a thin piece of pancetta around each piece of potato and place the potato on a sheet pan, seam side down.
Cook for 10-15 minutes or until pancetta is crispy.
For the dip, mix together all the ingredients from the greek yogurt all the way to the cayenne.
Serve immediately and enjoy!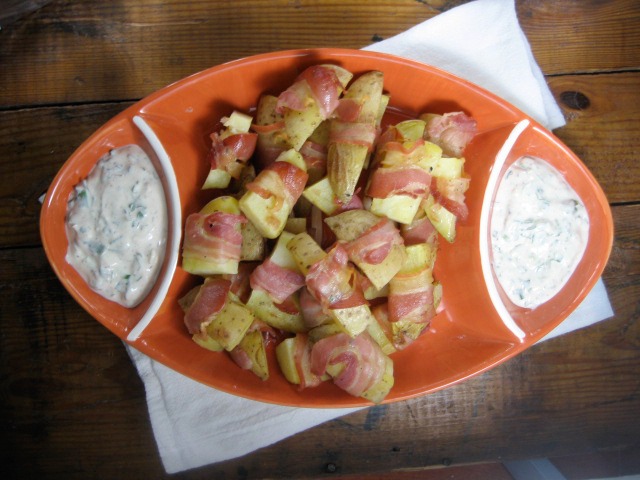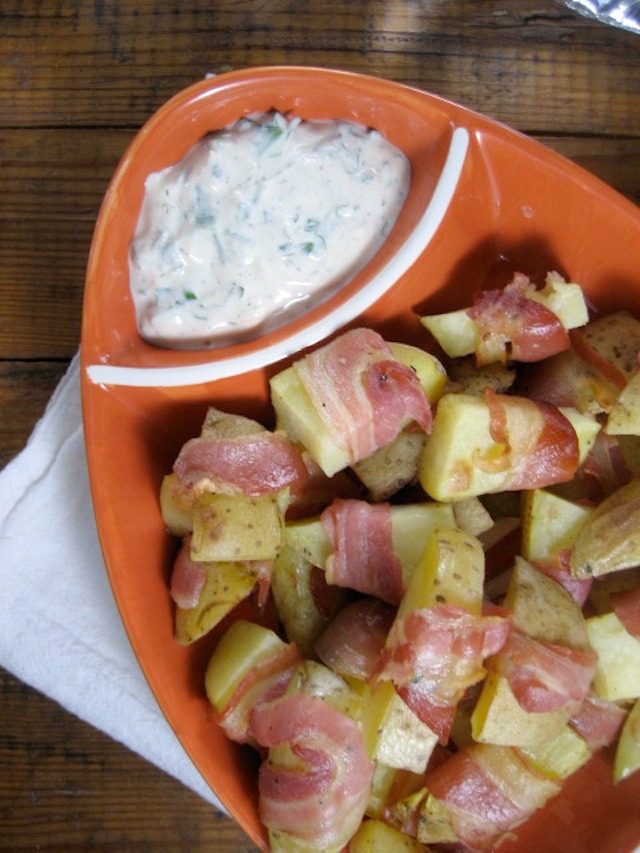 In anticipation of Bruno Mars' halftime performance, get amped up "Locked Out of Heaven," one of my favorite songs of his!