Potato and Pancetta Bites with Herb Greek Yogurt Dip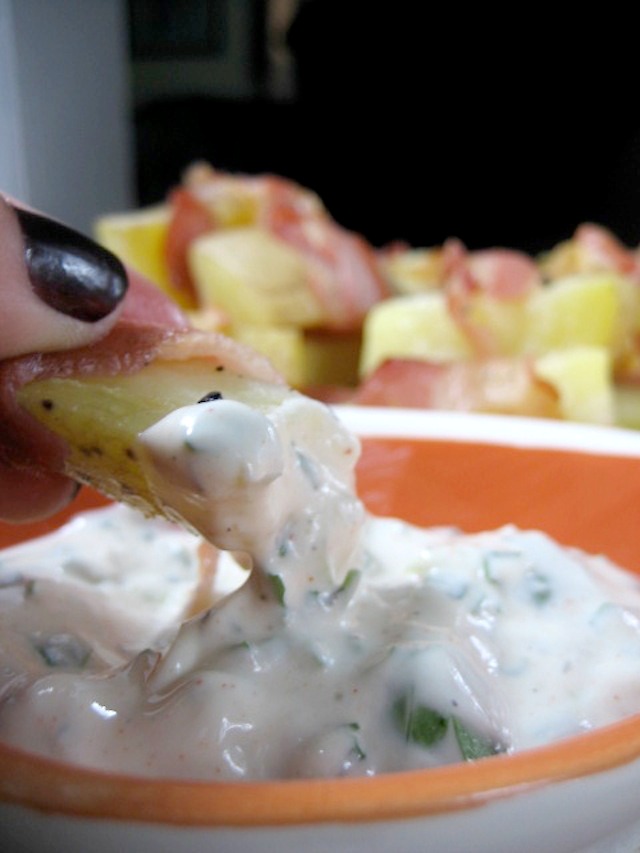 Author:
Keys to the Cucina
3 yukon gold potatoes, cut lengthwise
½ lb thinly sliced pancetta
Greek Yogurt Dip:
1 single serving greek yogurt
1 tsp dijon mustard
2 green onions, thinly sliced
1 handful fresh parsley
1 tsp dill
½ tsp salt
½ tsp pepper
½ tsp cayenne
Par boil the potatoes for about 15 minutes or until fork tender.
Preheat oven to 350 while the potatoes cook.
Drain and lay out on a sheet pan and pat dry with a clean dish towel.
Once cooled, wrap a thin piece of pancetta around each piece of potato and place the potato on a sheet pan, seam side down.
Cook for 10-15 minutes or until pancetta is crispy.
For the dip, mix together all the ingredients from the greek yogurt all the way to the cayenne.
Serve immediately and enjoy!
Recipe by
Keys to the Cucina
at https://keystothecucina.com/2014/01/30/potato-and-pancetta-bites-with-herb-greek-yogurt-dip/