I love, love, love this soup. It cooks up in no time and the flavors of the smoky bacon, creamy beans and that nutrient rich kale make for the perfect bite (slurp). I specifically remember the first time I made this soup and will never forget the look of enjoyment on my mom's face when she tried it. It was six years ago, I was living at home through college, and often whipped meals together for my parents when I didn't have class or work. Both of my parents worked this day so I wanted to have a fresh warm meal prepared for them as they came home.  This was the first recipe I ever really created off the top of my head, and when my mom complimented me, I was ecstatic, for her seal of approval made me feel so accomplished. All of those years I helped her cook and prepare our family meals culminated into this one dish!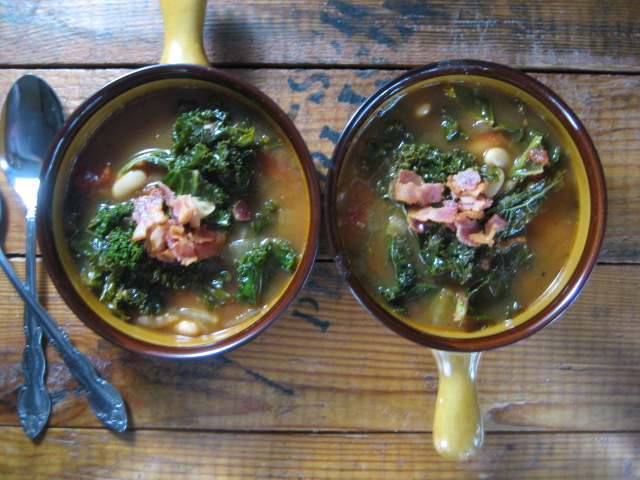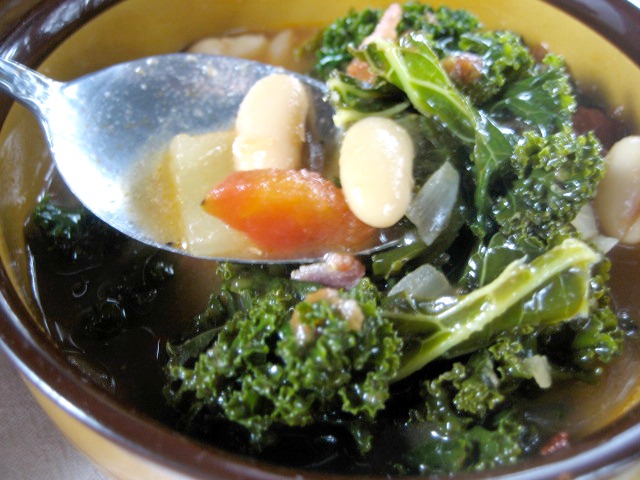 Feel free to substitute different beans, or even fire roasted tomatoes to give it an extra kick. The soup is great for leftovers, and it freezes really well too. Since my boyfriend will not eat beans, let's just say I ate this for many meals and ultimately had to put some in the freezer because I got a litttttle sick of it. But, I think this would be the perfect soup for a cozy dinner night with friends. Add a nice crusty baguette and you've got yourself a tasty and healthy soup!
Kale and Cannellini Bean Soup with Bacon and Parmesan
Author:
Keys to the Cucina
Ingredients
¼ lb bacon, diced
1 onion, diced
1 can cannellini beans
1 can diced tomatoes
4 large kale leaves, torn
3 tsp salt
2 tsp crushed pepper
1 tsp garlic powder
1 tsp basil
1½ c vegetable stock
¾ c water
⅓ c parmesean cheese
Instructions
Dice the bacon and throw into a pan on medium heat.
Cook until the fat renders out and remove the bacon with a slotted spoon, keeping the fat in the pan.
Add the onion into the bacon fat and cook on medium heat for 5 minutes, until translucent.
Add in the tomatoes, and cannellini beans, and season with the salt, crushed pepper, and garlic powder. Cook for 5 minutes.
Lastly, add in the vegetable stock, water, and parmesean cheese and cook for an hour on low. Add the kale in during the last 10 minutes of cooking.
Serve with the crispy bacon you set aside and a dash of parmesean cheese on top.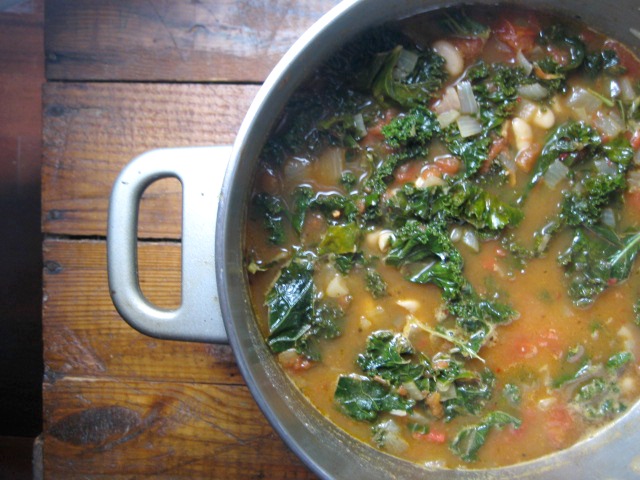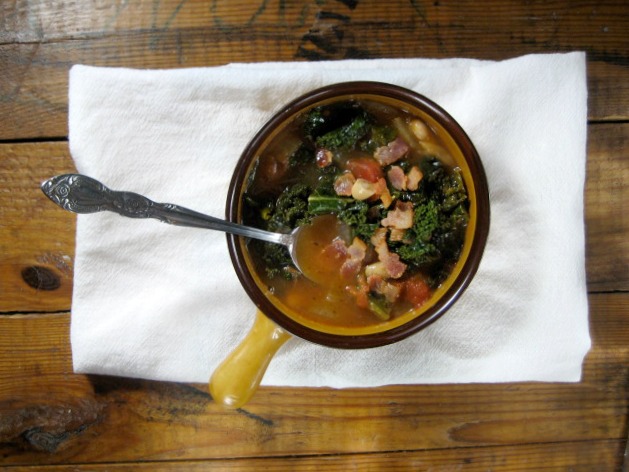 I prepared this soup late one night while listening to Bruce Springsteen's album, "Born to Run." My all time favorite song from that album is "Thunder Road." I love it so much, I even bought a harmonica neck holder so that I could play the piano and harmonica at the same time.