Merry Christmas week! I'm so excited to spend these next fews days with my family and friends I could burst! To kick off your week, I'm sharing a decadent treat I made while relaxing this past weekend. Let's just say this is the fifth time I've tried to make homemade caramel, and I finally nailed it. I'm so excited that I didn't have to make multiple runs to the corner market for extra ingredients since I burned the sugar/water thing so many times in the past. I followed this recipe (thanks Georgia!) and have been eating it by the spoonfuls all weekend..
The salted caramel is laid upon some sweet sweet chocolate fudge. Years ago I watched my Mom mix in a can of condensed milk to a whole bag of melted chocolate chips, and voilà, homemade fudge was born. I'm calling this fudge easy, because it's just those two ingredients! If you don't have condensed milk on hand I suggest stockpiling it like my Mom tends to do, you never know when you'll need to make a dessert in a pinch. Speaking of stockpiling, I can legitimately go grocery shopping in my Mom and Dad's garage. Can't wait to grab/sneak some seltzer and canned goods when I'm there this week.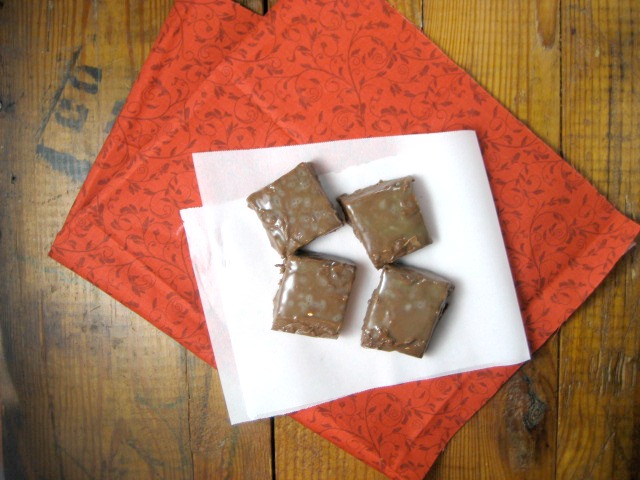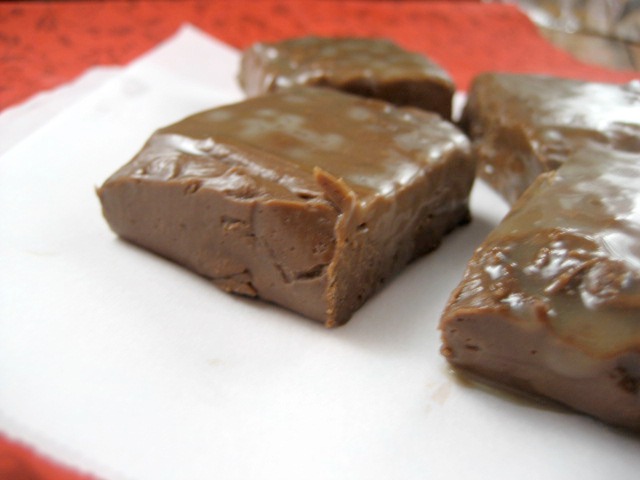 Easy Chocolate Fudge with Salted Caramel
Author:
Keys to the Cucina
Ingredients
1 11.5 oz bag of chocolate chips
1 14 oz can of condensed milk
Coarse sea salt for garnish
Instructions
Melt the chocolate chips in a double boiler.
Once melted, remove from the heat and slowly add in the condense milk.
In a parchment lined 8x8 pan, pour in the fudge and spread around.
Top with a few tablespoons of the salted caramel and a sprinkling of coarse sea salt.
Refrigerate over night and then cut the fudge into squares for serving.
For salted caramel recipe, see above link.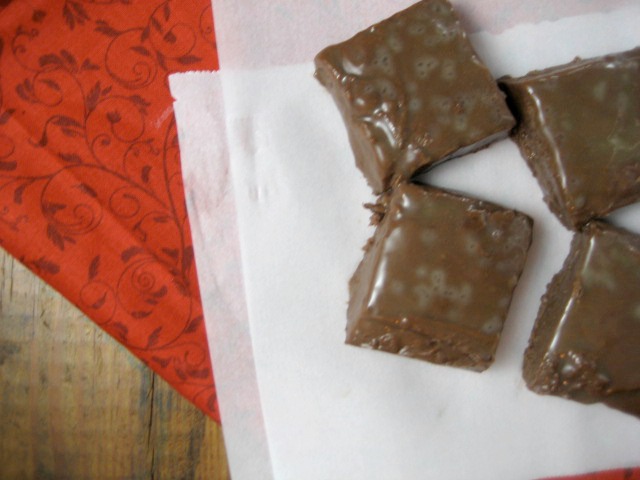 I'll leave you with this video from a Christmas show I played last Tuesday. I played as part of The 9, a show where eight musicians and I play three songs each. Collaboration among us all is encouraged and it really keeps the show interesting. As my one Christmas song, I sang "Last Christmas" by WHAM! and enlisted the help of Heather Mae on background vocals and Kevin de Souza on bass. We'd never played together before, but I think the final product was great. Give a listen below. I hope you have a Merry Christmas and that you enjoy every moment!