I am thrilled to be sharing with you a fool proof recipe for juicy and flavorful pork chops today. The secret to keeping this other white meat moist is a brine. What is a brine you ask? Well, it is a mixture of water, salt and sugar that meat soaks in and it helps to seal in moisture before cooking it. I let this one go over night but typically all you need is about 6-12 hours for the brine to be effective. My mom even brined her whole turkey last year for Thanksgiving, so the brining obsession is real among my family of cooks!
The accompanying pan gravy is the icing on the cake. I find myself eating it by the spoonfuls if I have extra. It's a combination of pan drippings, a little butter, chopped onion, parsley and vegetable broth and it is oh so good. In fact, right now I'm trying to think of other things to do with this gravy. I might just settle for dipping a crusty baguette into it until it's gone, we'll see..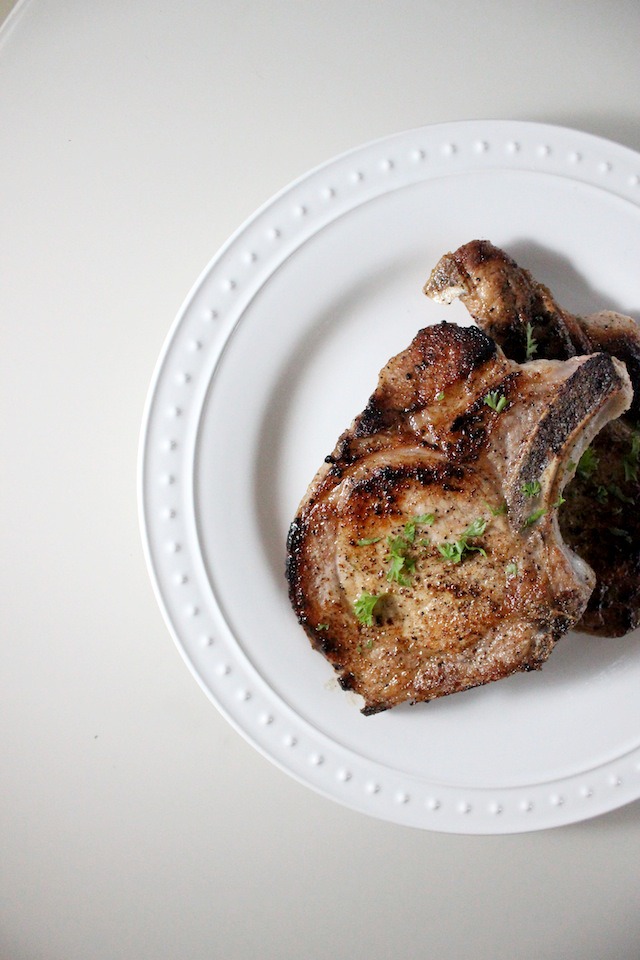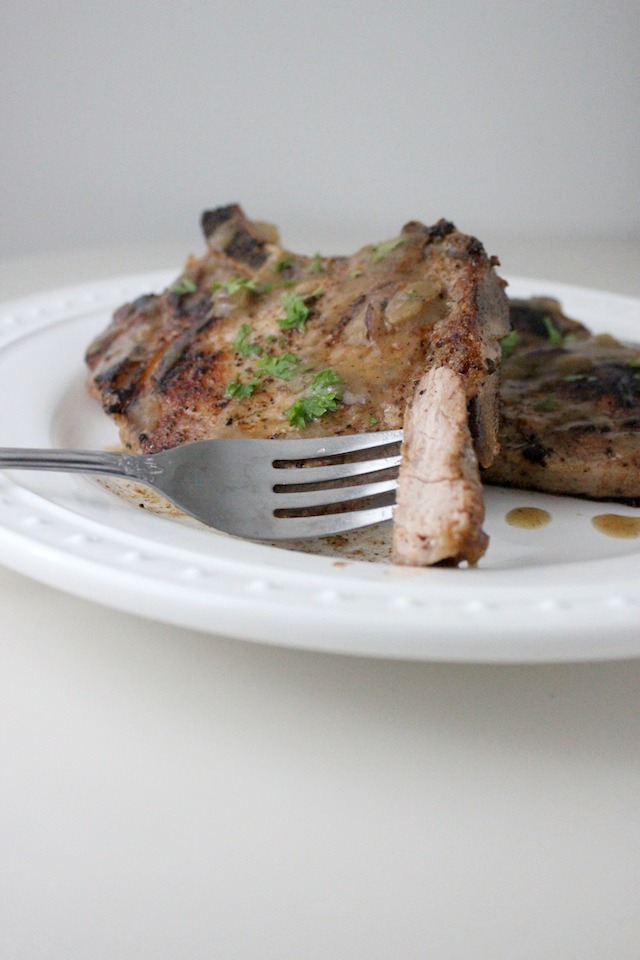 Brined Pork Chops and Easy Pan Gravy
Author:
Keys to the Cucina
Ingredients
4 c water
1 c brown sugar
½ c salt
2 bay leaves


2 bone-in pork chops
½ tsp salt
½ tsp pepper
½ tsp garlic powder
2 tbs extra virgin olive oil


2 pats of butter
¼ red onion, finely chopped
1 tbs flour
1 c vegetable broth
Instructions
Place the water, brown sugar, salt and bay leaves in a bowl and stir until dissolved. Place the pork chops in the brine, cover and place in fridge overnight. Be sure the meat is completely submerged in the brine.
Once ready to cook, remove the pork from the brine and dry with paper towels. Season both sides with the salt, pepper and garlic and set aside.
Preheat a frying pan on high with evoo. Once it smokes turn the heat down to medium and place the pork chops in. My one inch pork chops took about 5 minutes per side but allow more time if yours are thicker.
Remove the meat from the pan and place on a cutting board to rest. Lower the heat to medium-low and toss in the butter and red onion. Whisk for 2 minutes until the onion softens. Then, add the flour and cook for 1-2 minutes to remove any flour taste. Slowly pour in the vegetable broth and whisk vigorously for a few minutes until the gravy begins to thicken.
Serve immediately and garnish with fresh parsley.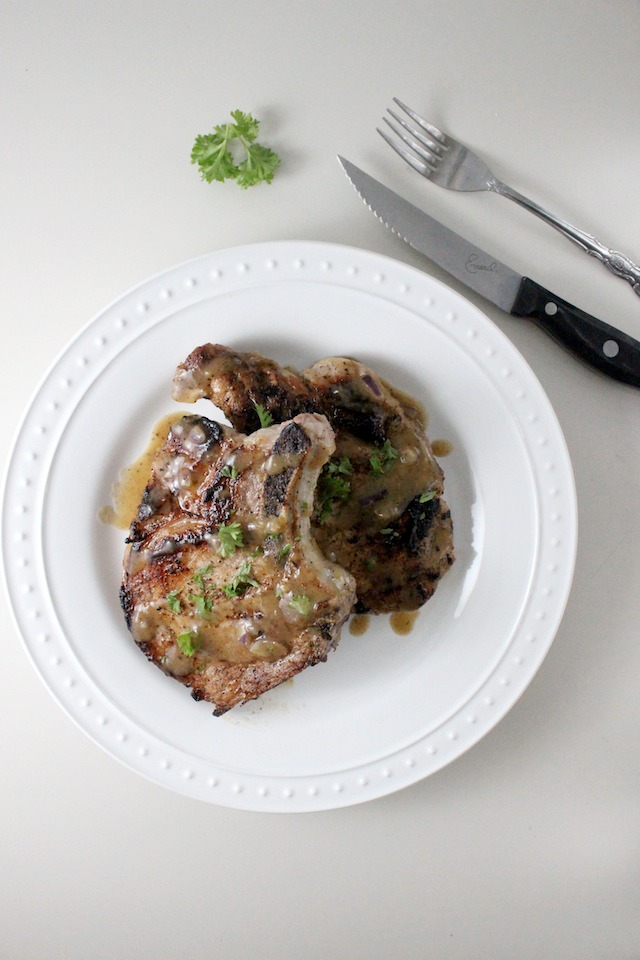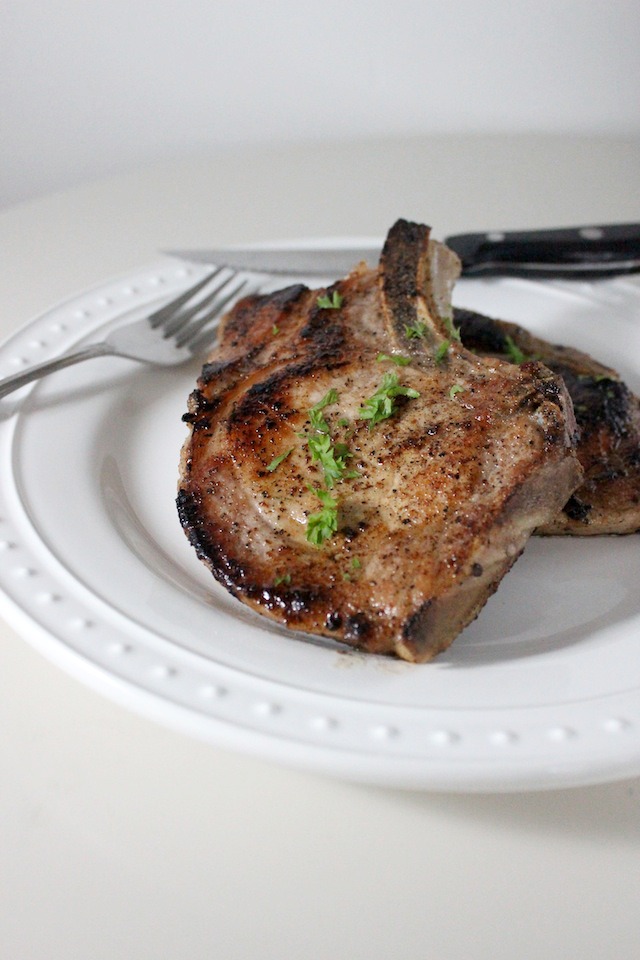 As an end to this post, I want to share a link to donate to my sister Lindsay and brother-in-law Dan. Yesterday morning part of their New York City apartment caught on fire and many of their belongings were ruined, including baby gear for their twins which are due in just six weeks. Any little bit helps and if you'd like to donate just click here. Thank you in advance and have a happy and safe 4th of July!