The moment the temperature hits the 60s, I immediately want to get on my bike and go for a cruise around D.C. One of my favorite places to bike to is the Southwest Fish Market. It's only a few miles from my apartment, and the selection of fresh fish and seafood is amazing. I leave my local grocery store so uninspired after perusing their fish options, but that has never happened at the fish market.
I always like asking where the fish is from, because for one, it's fun to get a conversation going with the fishmonger, and two, I need to know where my fish is from. My mom says Bryan and I are neurotic about this and that we read too much into it, but hey, if I can take small steps to know where my fish is from then I'm gonna do it!
Moving onto the recipe…when I made this dish, Bryan said, "This is really good," MULTIPLE times. This is something that rarely happens when I make fish. I'm convinced the cucumber crunchiness with the succulent fish sold him, but either way, he really enjoyed it. My point is that I think you will enjoy it too and so will the picky eaters in your family. Rainbow trout is pretty mild, so it will take on any flavors and seasonings that you like and the cucumber salsa? Well I almost ate it all by the spoonful because it was so refreshing and crunchy. I smell many more recipes with cucumber salsa coming at ya, get ready!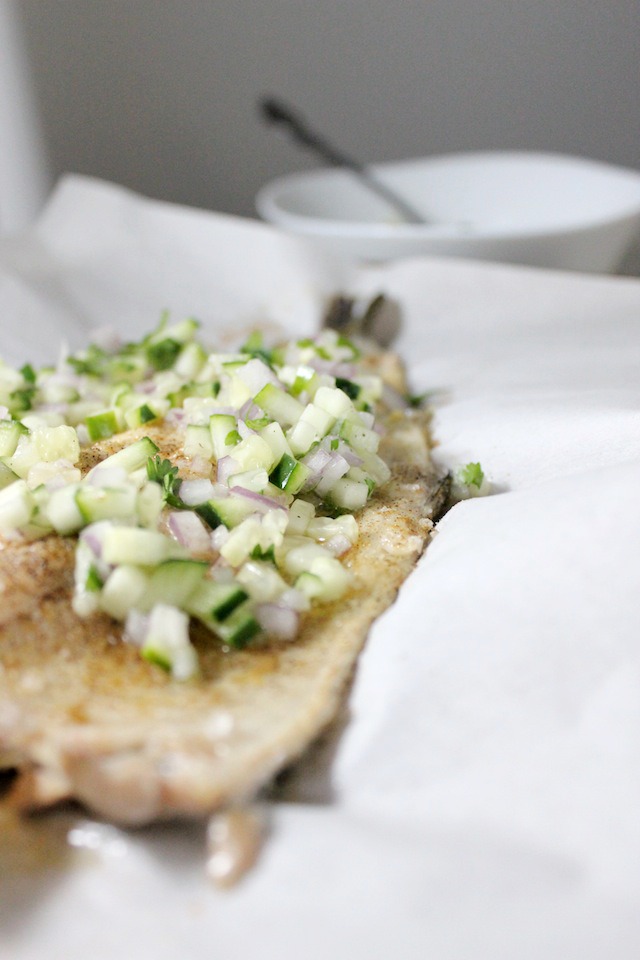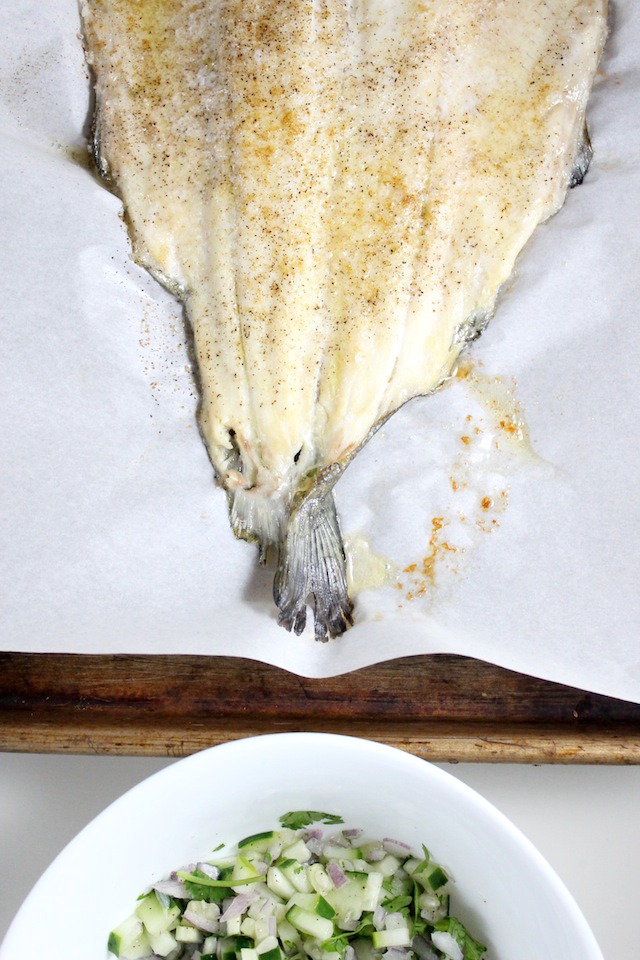 Rainbow Trout with Cucumber Cilantro Salsa
Author:
Keys to the Cucina
Ingredients
1 whole rainbow trout (or two filets)
Dash of extra virgin olive oil
¼ tsp salt
¼ tsp black pepper
¼ tsp garlic powder
¼ tsp cumin


Cucumber Salsa
½ cucumber, finely diced
3 tbs fresh cilantro, chopped
2 tbs red onion, diced
1 tsp fresh lime juice
Dash of salt and pepper
Instructions
Preheat oven to 350.
Place fish on a sheet pan lined with parchment paper. Lay the fish flat on the pan and drizzle with evoo. Season the fish with salt, pepper, garlic powder and cumin. Bake for 20-25 minutes or until flaky.
In a separate bowl, combine all ingredients for the cucumber salsa and set aside.
To serve, top each filet with a couple tablespoons of the cucumber salsa.
Enjoy!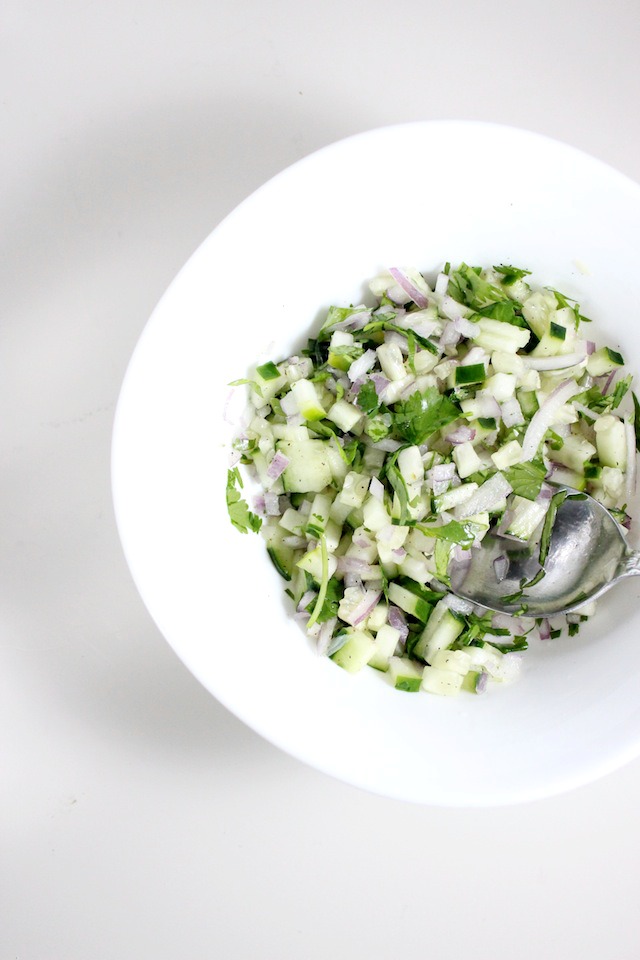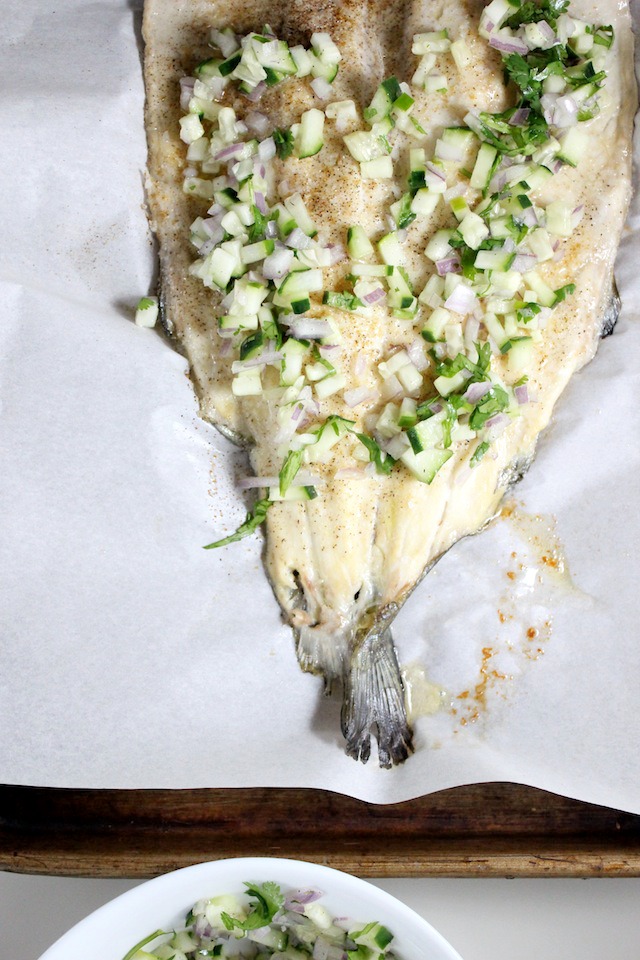 This weekend I'm going to see Brendan James in concert in Baltimore! I've been a huge fan of him since I discovered him on MySpace six years ago. I also just realized that I haven't typed "MySpace" since 2006. Any way, his piano driven songs are beautiful and his lyrics are some of the best out there. Every lyric he writes is well thought out which is so refreshing with all the crap on the radio these days. Enjoy, "Tied To You" off his latest album, "Simplify."