Rainbow Trout with Cucumber Cilantro Salsa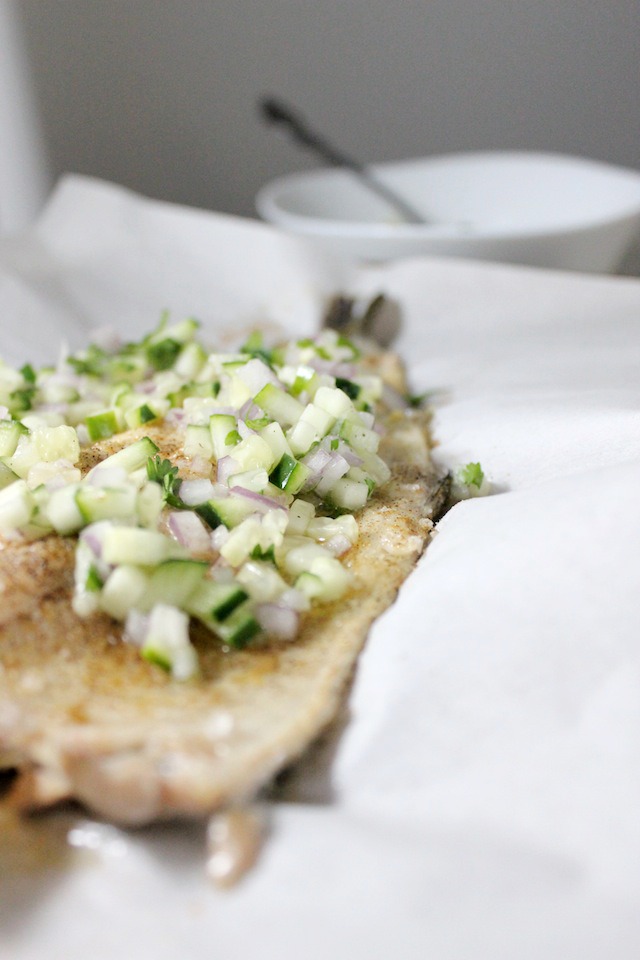 Author:
Keys to the Cucina
1 whole rainbow trout (or two filets)
Dash of extra virgin olive oil
¼ tsp salt
¼ tsp black pepper
¼ tsp garlic powder
¼ tsp cumin
Cucumber Salsa
½ cucumber, finely diced
3 tbs fresh cilantro, chopped
2 tbs red onion, diced
1 tsp fresh lime juice
Dash of salt and pepper
Preheat oven to 350.
Place fish on a sheet pan lined with parchment paper. Lay the fish flat on the pan and drizzle with evoo. Season the fish with salt, pepper, garlic powder and cumin. Bake for 20-25 minutes or until flaky.
In a separate bowl, combine all ingredients for the cucumber salsa and set aside.
To serve, top each filet with a couple tablespoons of the cucumber salsa.
Enjoy!
Recipe by
Keys to the Cucina
at https://keystothecucina.com/2014/04/03/rainbow-trout-with-cucumber-cilantro-salsa/