Howdy! This summer has been a bit quiet on the blog but have you checked out my new series highlighting local products and entrepreneurs? I think you'll enjoy it, I sure am welcoming a change of pace and varied posts that aren't just all about my recipes. Time to spread the love ya know?
Anyway, grilled steak and summer have a forever relationship in my mind. Sadly it is late August and I finally just got a chance to grill something on my rooftop. Flank and skirt steak are pretty much my go-to's in the store and occasionally I'll order a rib eye when I'm out to dinner. That said, there's something about a quick cooking steak that doesn't compromise on flavor that makes me one happy camper.
Oh and this zucchini corn salad is the most no-fuss thing I've ever made. Everything in it is raw and crunchy and full of late summer goodness. Fresh basil and lime bring it all home and the combo-bite with a piece of steak is what dreams are made of.
This entire recipe takes about 30 minutes to get to your plate and leaves me with a pro-tip that I'm dying to share with you, read up below to check it out and make this recipe like now.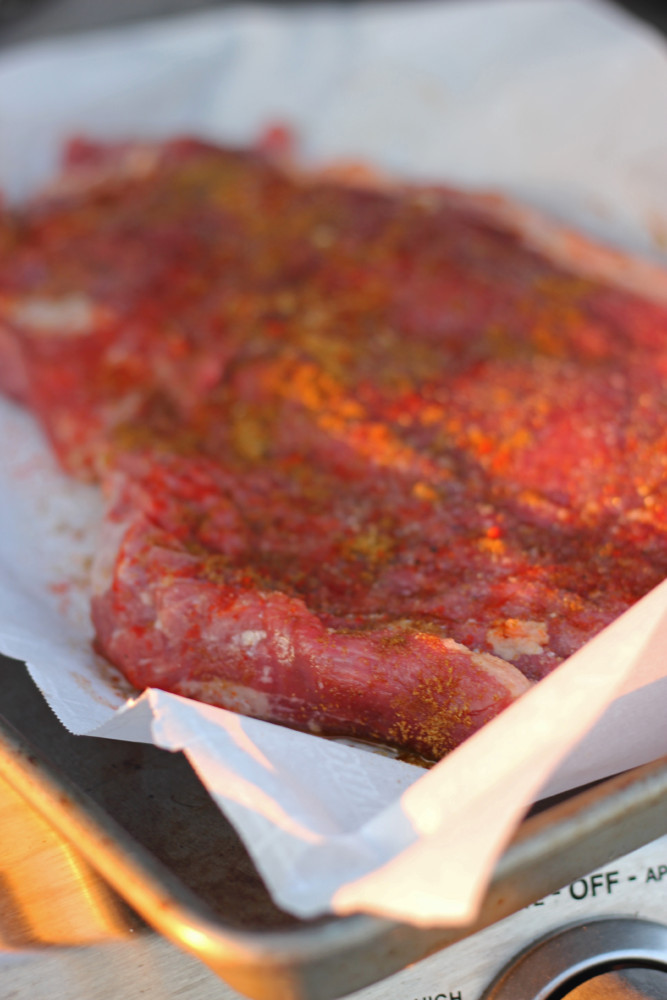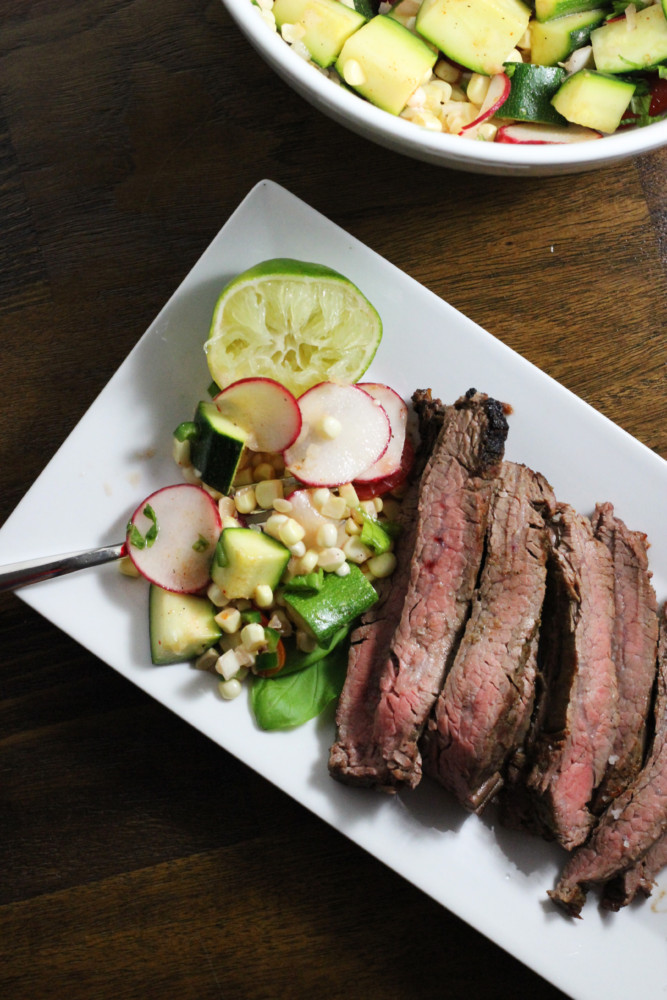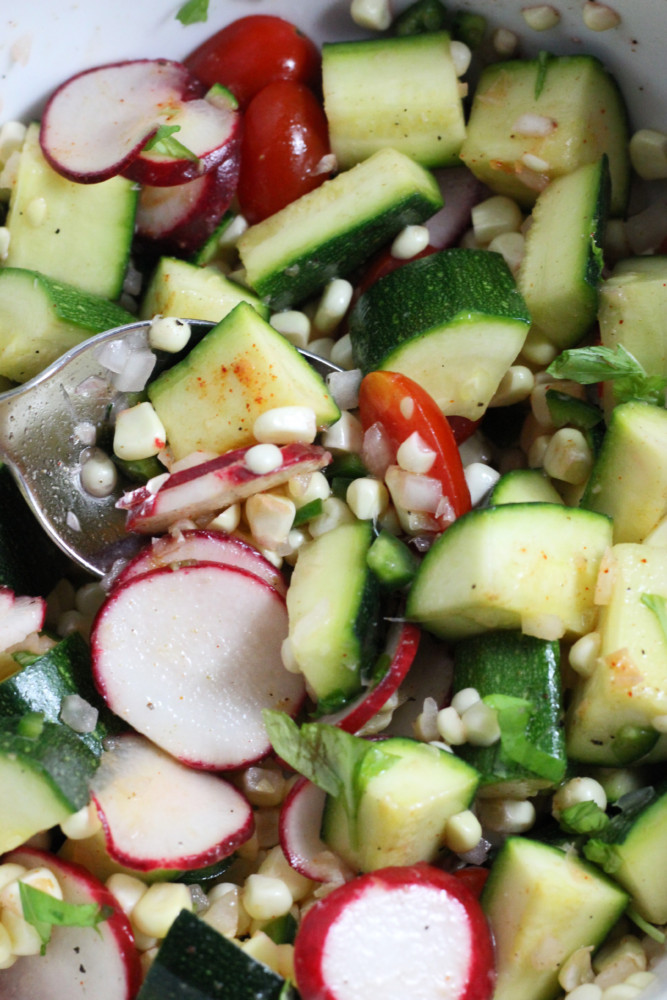 Flank Steak with Mexican Corn Zucchini Salad
Author:
Keys to the Cucina
Ingredients
1 flank steak
1 tsp salt
1 tsp garlic powder
1 tsp cumin
½ tsp black pepper
¼ tsp cayenne


2 zucchinis, chopped
2 ears of corn
1 jalapeño
¼ onion, finely diced
5 radishes, thinly sliced
5 cherry tomatoes, halved
4 basil leaves, finely chopped
1 Tbs extra virgin olive oil
Juice of 1 lime
½ tsp salt
½ tsp black pepper
¼ tsp cumin
Instructions
Pat the flank steak dry and coat it with a little evoo on both sides. Combine the salt to the cayenne to make a seasoning mixture. Season both sides of the steak and set aside for 20 minutes before cooking it.
To assemble the salad, combine all ingredients from the zucchini to the basil. Toss with the olive oil and lime juice then season with the salt, black pepper and cumin.
Preheat your grill to 400 degrees. While on high, sear each side of the steak for 4 minutes. Turn down the grill to low and cook the steak for an additional 2 minutes. Let rest for 3 minutes before slicing on the bias into thin pieces.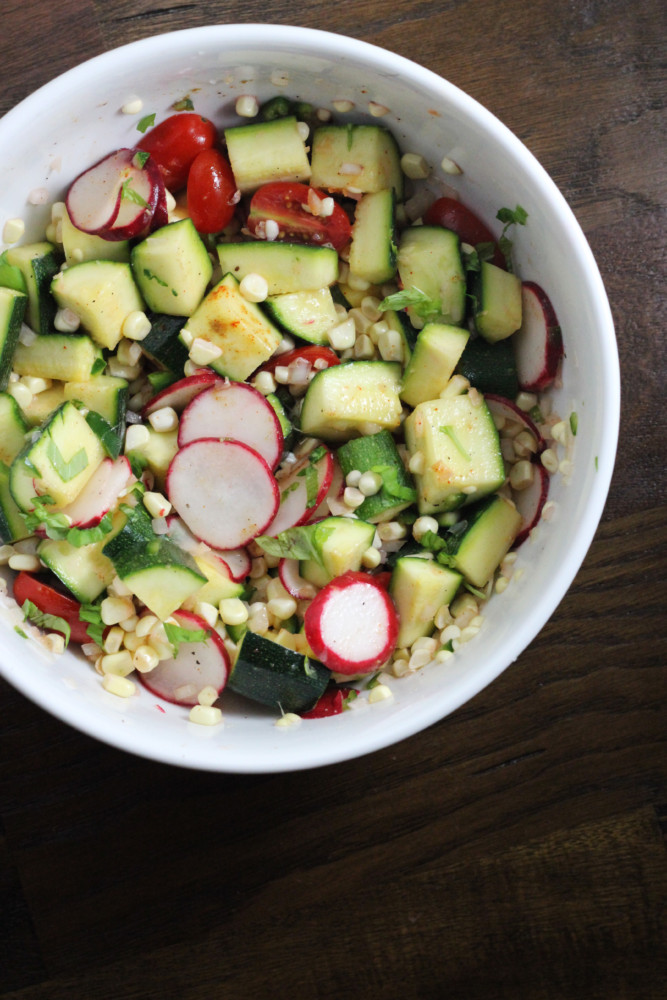 PRO-TIP: Squeeze lime juice on the steak and finish with flaky sea salt after the meat rests and before you cut into it. GAME-CHANGER I tell you.
I haven't heard this song since I was little but my fave Lousiana born and bred singer does it real justice. Enjoy this motown fave.