I'm a firm believer that the best part of Thanksgiving is stuffing. And it's not just any stuffing, but my mom's famous parmesan herb stuffing. A handful of parmesan is basically magic dust to any lame tasting stuffing and I encourage you to add some into your recipe this year because you'll taste the difference right away! Press play to watch it come together and pin the recipe below!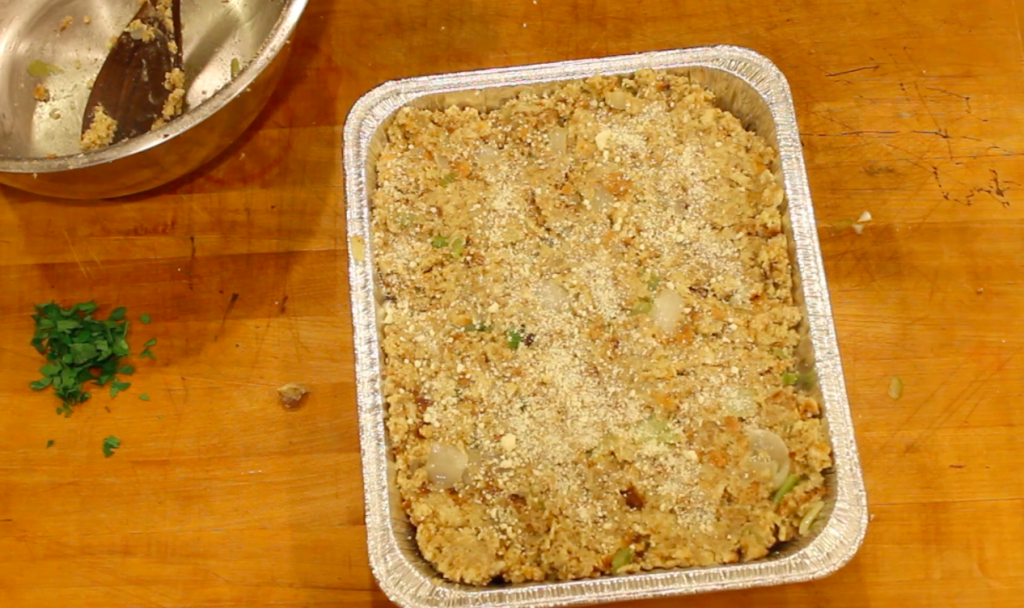 Parmesan Herb Thanksgiving Stuffing
Author:
Keys to the Cucina
Ingredients
1 stick unsalted butter
3 celery hearts, chopped
1 onion, chopped
1 tsp salt
1 tsp pepper
1 tsp sage
1 tsp poultry seasoning
2 16 oz. bags herbed stuffing mix/croutons
32 oz. vegetable stock
½ c water
4 eggs, beaten
1 handful parmesan cheese
parsley for garnish
Instructions
Preheat oven to 350.
In a large saute pan, melt one stick of butter on medium heat and add in the celery and onions. Cook for 5 minutes until softened.
Season with salt, pepper, sage and poultry seasoning and set aside.
In a large mixing bowl, combine the herbed croutons, vegetable stock, water and eggs. Mix until the the liquid is absorbed into the croutons.
Add in the celery and onion mixture and a handful of parmesan cheese and mix until well incorporated.
Bake for 35 minutes until golden brown and top with fresh chopped parsley for garnish. Enjoy immediately.