As much as I love grocery shopping, if I don't go armed with a list and a plan of attack, I get super overwhelmed. Case in point – one time last winter I was going to make this exact dish, I went to the market and brought home what I thought was spaghetti squash but it turned out being butternut squash. Nothing worse than splitting open the hardest vegetable ever to cut only to realize you had a serious brain fart in the produce aisle ha! I just reread this line and it sounds semi disgusting but that "f" word always makes me laugh so let's roll with it k?
Spaghetti squash is a total blank slate and will take on the flavors of anything you put on it. I used one half of a large squash for this recipe and used the rest for another spaghetti-like concoction of squash, olives and anchovy paste the next week. Feel free to substitute proteins here if shrimp isn't your thing and definitely don't forget the parsley, it brightens up the entire dish!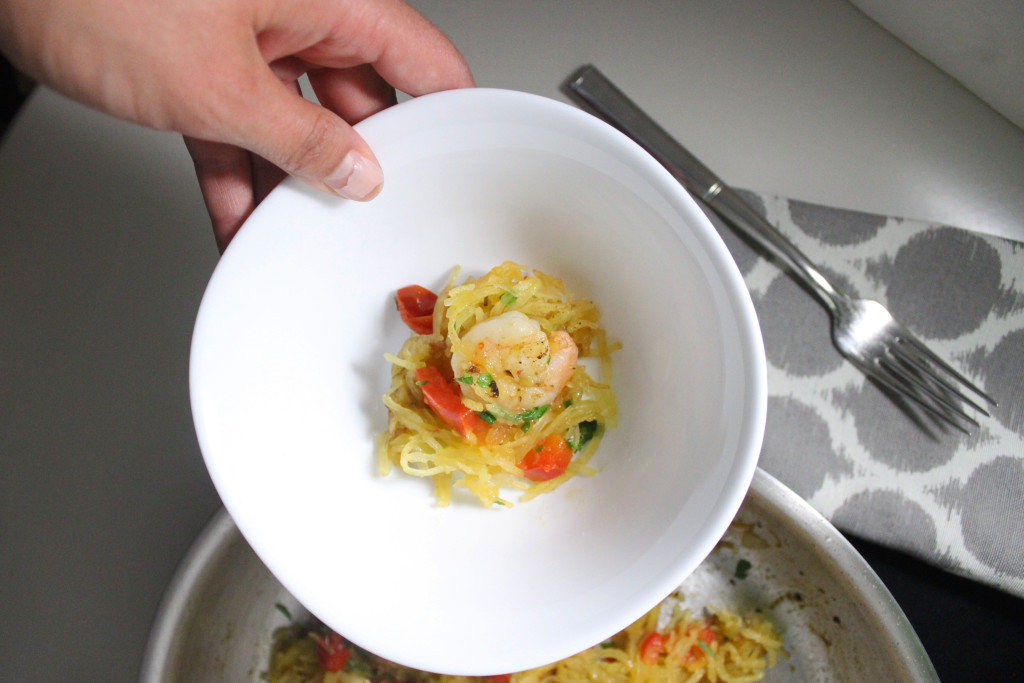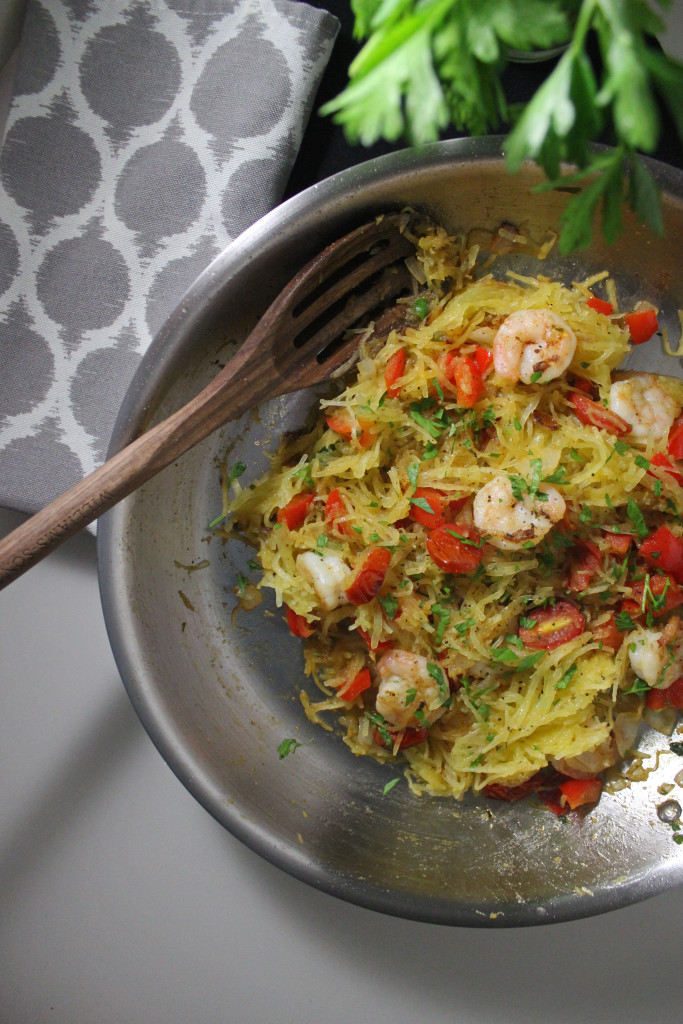 Roasted Spaghetti Squash Pasta with Shrimp and Red Peppers
Author:
Keys to the Cucina
Ingredients
½ large spaghetti squash
8 shrimp, peeled and deveined
2 Tbs extra virgin olive oil
½ small onion, chopped
¼ red bell pepper, chopped
1 handful cherry tomatoes, halved
¾ tsp salt
½ tsp crushed red pepper
1 handful fresh parsley, chopped
Instructions
Preheat oven to 400.
Pierce the flesh of the squash with a fork and nuke it for 20 seconds - this will help to get the skin soft and make it easier to cut.
Slice the squash in half long ways and scoop out the seeds and innards. Place both halves cut side down and roast for 40-45 minutes, or until the flesh is tender enough for a fork to pierce it easily.
Once cooked, carefully fork out strings of "spaghetti" and set aside in a bowl.
Season the shrimp with a pinch of salt and pepper.
In a large saute pan, add evoo and and cook onions with peppers on medium heat for 3 minutes. Add in the tomatoes, salt and crushed pepper and cook for 5 minutes, until the tomatoes soften and start to release their juices.
Turn the heat up to medium high and move the onion mixture to one side of the pan. On the other side add the shrimp and cook for 90 seconds per side.
Add in the spaghetti squash you set aside and mix all ingredients together on medium until well incorporated.
Finish with a dusting of fresh parsley and enjoy!