Happy Fat Tuesday y'all! How about some jambalaya in your life on this lovely day? I made it yesterday during our snow day, and it fed seven people, including five boys, with just a little left to spare. It's also ready in about an hour, and takes only one pot to cook it in.
To make sure I was staying true to the main flavors of jambalaya, I took some ingredient ideas from Ina Garten's fabulous recipe here, and also swapped out some things. For one, I didn't use andouille sausage, rather I had some turkey kelbasa on hand that was the perfect substitute. I also used arborio rice since I had a huge bag that I bought for this recipe. Since arborio contains a lot of starch, it thickened up the jambalaya so quickly and made it taste like it was simmering on the stove all day long. I served it with some toasted bread, which I topped with evoo, salt, pepper and rubbed with a fresh clove of garlic while it was still hot. Throw on your beads and make this dish, it will not disappoint!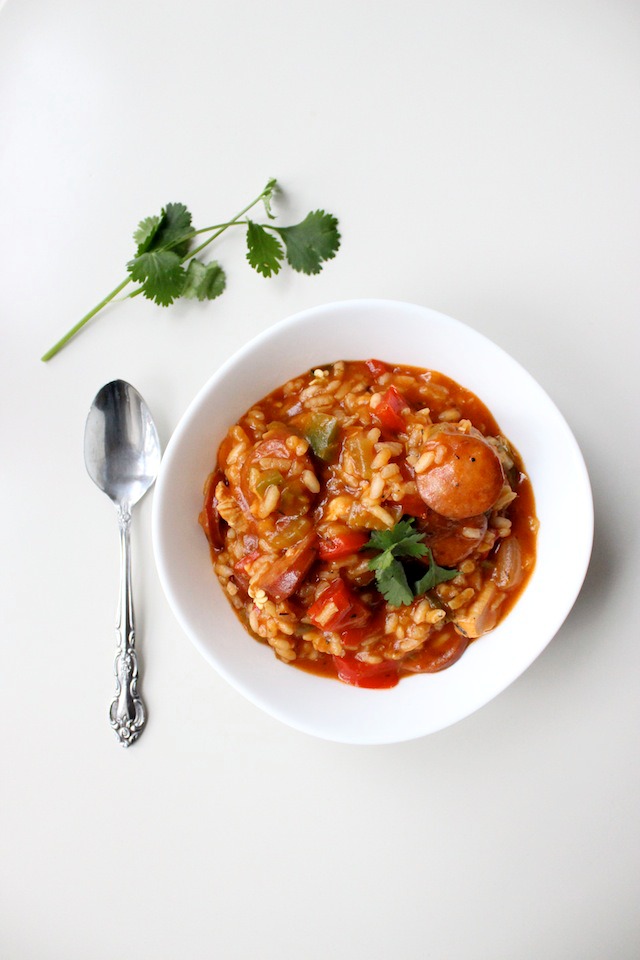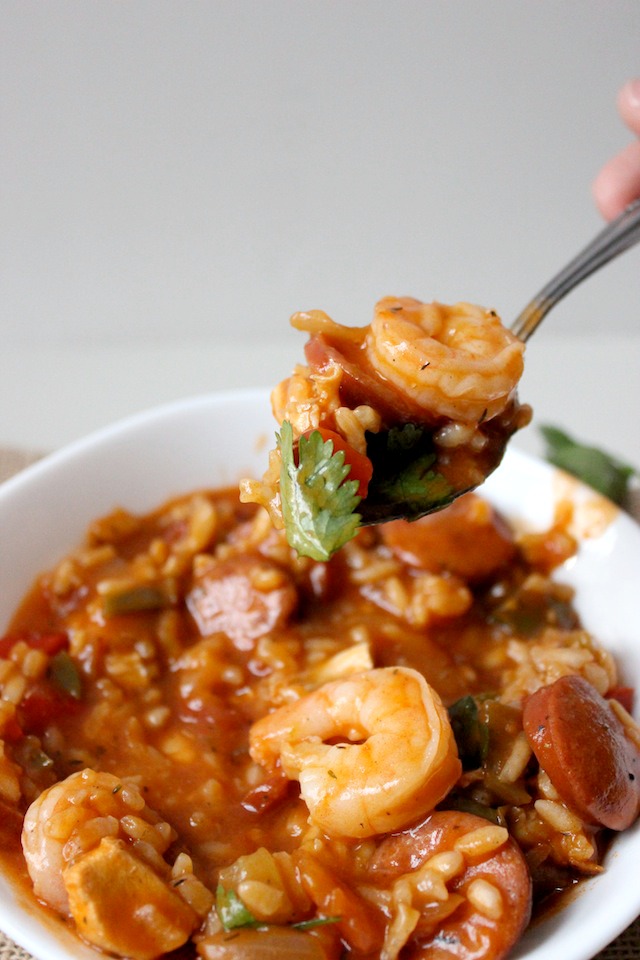 Jambalaya with Turkey Kelbasa, Chicken and Shrimp
Author:
Keys to the Cucina
Ingredients
14 oz turkey kelbasa, sliced thin
2 chicken breasts
2 tbs evoo
1 yellow onion, diced
2 stalks celery, diced
1 green bell pepper, chopped
1 red bell pepper, chopped
2 jalapenos, finely diced
2 tsp salt
1 tsp thyme
1 tsp oregano
1 c white wine
1 bay leaf
1 14.5 oz can of diced tomatoes
1 6 oz can tomato paste
4½ c chicken stock
1½ c arborrio rice
20-25 shrimp, peeled and deveined
Hot sauce for topping
Instructions
In a pot, place 1 tbs evoo and brown kelbasa on medium heat for 10 minutes. Remove from pot with slotted spoon and set aside.
Add 1 tbs evoo, salt and pepper the chicken breasts and place them in the pan. Brown for five minutes on each side then set aside.
Toss the onion, celery, and all the peppers in the pot and add salt, thyme, and oregano. Cook on medium to medium low for 10 minutes.
Deglaze pan with white wine and cook for about two minutes. Add bay leaf, diced tomatoes, and tomato paste.
Cook for an additional two minutes on medium. Cut up chicken breasts into bite size pieces, add kelbasa, chicken stock and rice and bring to boil.
Once boiling, cover and simmer on low for 20 minutes.
Toss in the shrimp during the last few minutes of cooking right before serving.
Top with fresh parsley to serve and enjoy!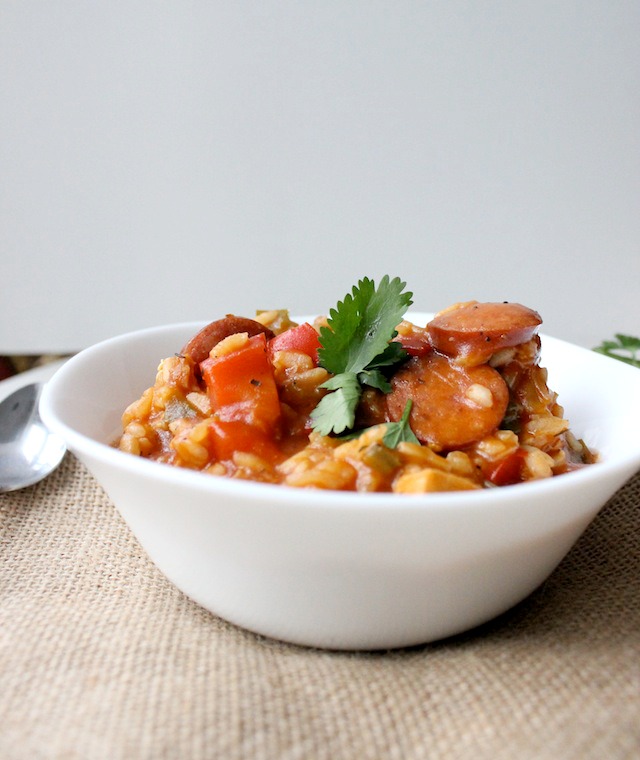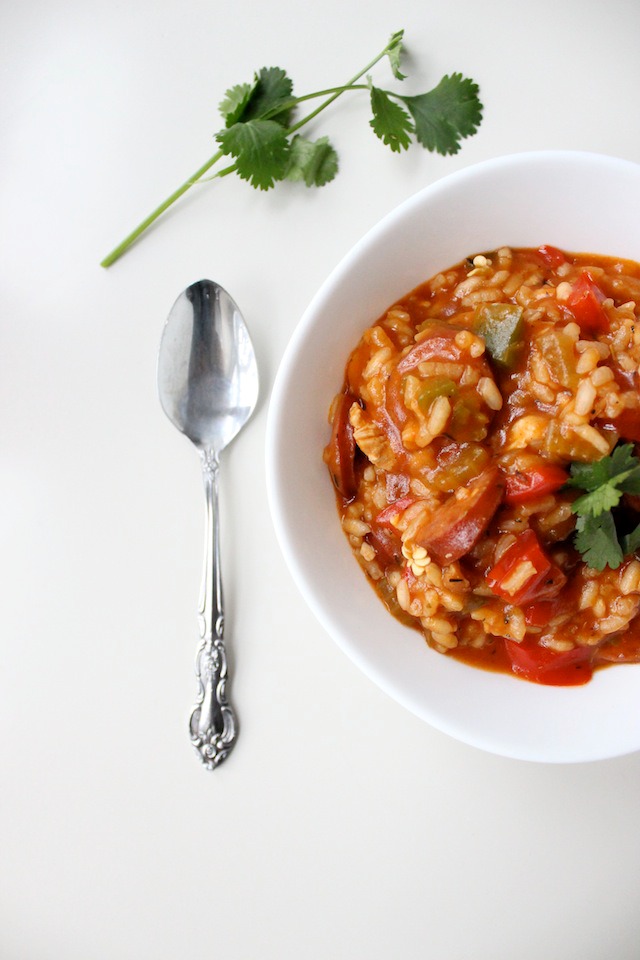 Since this recipe originated in New Orleans, I thought pairing some Marc Broussard would make for the perfect addition. He was born and raised in Louisiana and his voice just oozes pure soul. His album and this particular track were in heavy rotation for me back in the summer of 2005. He's making it out to D.C. on April 12th, check out tickets here if you dig his sound!