Beets are definitely a newbie in my kitchen. My earliest memory of them was that they came in a can and my Mom would occasionally top them on her salads. I was always so turned off by them being in a can, and the color and texture threw me for a loop. Queue Thanksgiving 2010, when I first tried fresh beets, hot and roasted out of the oven. Initially I thought they tasted like dirt, but over time I've grown to love them and embrace their earthy flavor. The color is also to die for, but be careful, your fingers may or may not look like you just performed open heart surgery on your cutting board after removing the skin off of them.
I picked up these beautiful beets from Eastern Market, and they came fresh out of Knopp's Farm in Severn, Maryland. I cooked them up one day and used the beet greens for a side dish (coming soon to the blog!), and roasted the beets themselves for this app. I had some delicious Toscano Parmesean Cheese in my fridge that I got from Trader Joe's, and it was the perfect salty and creamy pairing with the beets. I topped some Rosemary and Raisin crackers with a slice of cheese, a sliced beet, and honey. I've been dying to try honey drizzled over cheese because of that Target commercial. You know, the one where the girl is prepping her house for a party, and then she adorns a cheese platter with drizzles of honey?!
Well, Target is definitely onto something with that honey, because the flavor combination is so delicious, I housed all eight of these pretty crackers after the photo shoot was complete! These would be great to make for a Christmas party since the red beets can be quite festive, or any party for that matter, they're that good.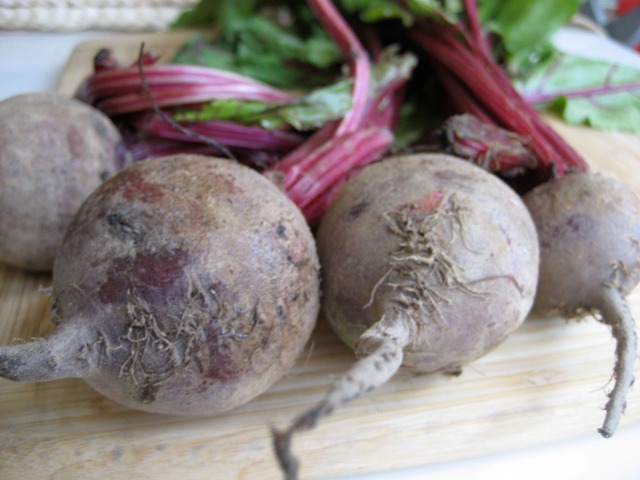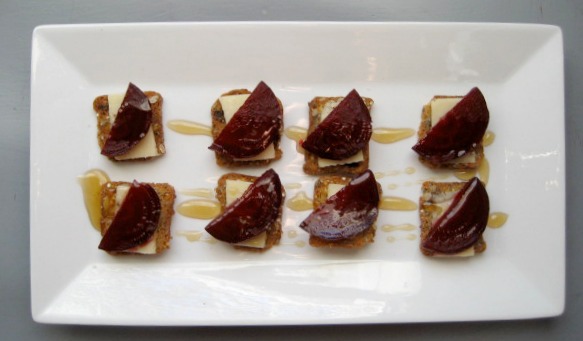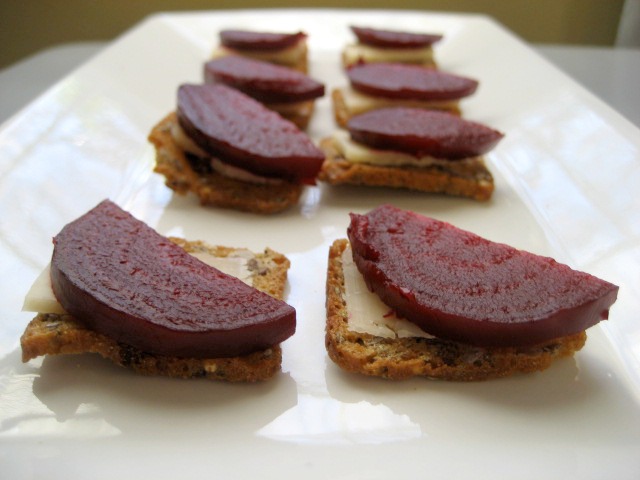 Crackers with Roasted Beets, Parmesean Cheese and Honey
Author:
Keys to the Cucina
Ingredients
20 of your favorite crackers
6 oz. Toscano cheese (you may substitute parmesean or any other salty cheese here)
2 beets, roasted and peeled
1 tbs extra virgin olive oil
Honey for drizzling
Instructions
Preheat oven to 400.
To prepare the beets, cut off the greens and wipe down the beets to remove any excess dirt.
In a piece of foil, combine the beets and drizzle with olive oil.
Wrap the foil tightly around the beets and roast for 45 minutes to 1 hour.
Let the beets cool and remove the skin with paper towel (it should easily slide right off of the beets).
Slice the beets thinly into half moon shapes.
To prepare appetizer crackers, lay one slice of cheese, a beet, and drizzle with honey right before serving.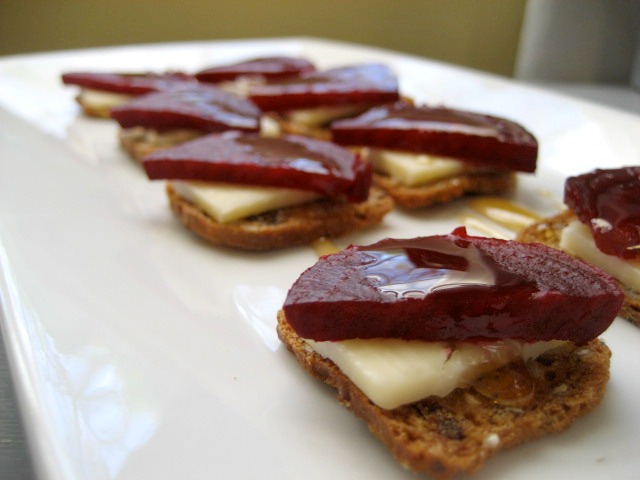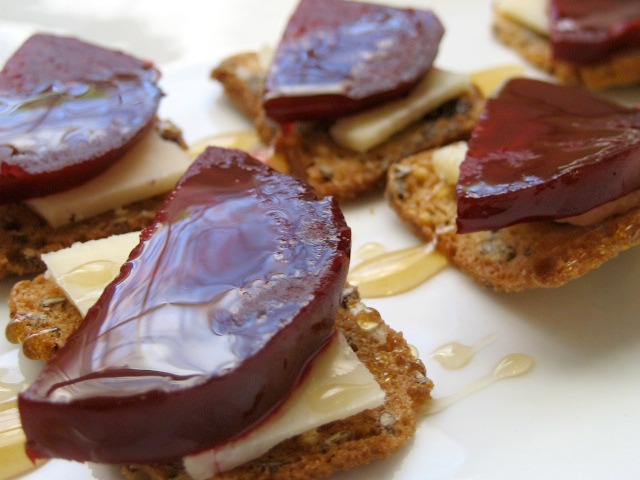 Give a listen to "Levon" by Elton John below. I saw him last Thursday here in DC for the fourth time. I've never heard him play this album cut and I was so excited to hear it live.