This recipe is just one of the most simple and delicious things I've ever eaten. It's so genius that I can't take the credit for it and I have to give props to my Aunt Kate. You know her, she's the maker of this famous pepperoni bread and the queen of all tasty appetizers. I swear every time Bryan knows Aunt Kate is coming to a get together, he asks of she's making her pepperoni bread or this zucchini filled buttery goodness of a pie.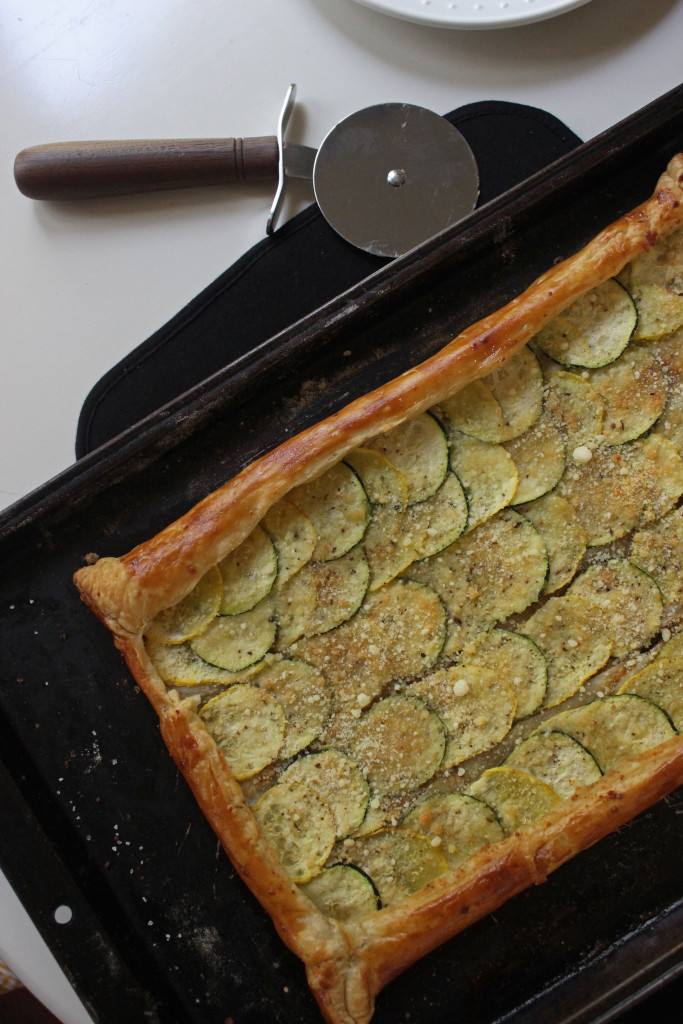 Traditionally, Kate makes her zucchini pie with you guessed it, pie crust. I had some left over frozen puffed pastry in my freezer  to use up so I did a quick little substitute for this recipe. Also, Bryan proceeded to buy tons of vegetables at Eastern Market last week so this appetizer was made out of necessity and maybe a dash of craving it? Feel free to mix any kind of squash or zucchini you have on hand, you really can't go wrong with anything baked on a bed of puffed pastry!

Zucchini and Squash Pie with Puffed Pastry
Author:
Keys to the Cucina
Ingredients
1 sheet frozen puffed pastry
½ zucchini, sliced ⅛ in thick
½ yellow squash, sliced ⅛ in thick
½ tsp salt
¼ tsp pepper
¼ tsp dried oregano
¼ c parmesan cheese
1 egg for egg wash
Instructions
Preheat oven to 350.
Thaw out the puffed pastry according to the package directions. Roll out the dough on a floured surface to a large rectangle.
Use a mandolin or slice the zucchini and squash into ⅛ inch thick slices.
Layer the zucchini and squash like shingles on the pastry, leaving a one inch border of dough. There should be enough zucchini and squash for four rows of shingles.
Sprinkle on salt, pepper, oregano and a handful of parmesan cheese.
Fold the sides of the pastry to complete the border around the vegetables and brush the sides of the dough with the egg wash.
Bake for 20 minutes then place foil around the outer edges and finish in the oven for 5 minutes until golden.
This song reminds me of a little bit of Motown mixed with a guitar lick from the movie, "La Bamba." Weird, I know, but it's an easy breezy listen and perfect to play while preparing this simple recipe.
---
Sign up and subscribe HERE to Keys to the Cucina and receive notifications when a new post goes live!