I've been dying to post this recipe as it is delicious and one of the most indulgent things I've published here. You should know by now that I like to keep it real with fresh whole vegetables and quick recipes, however I came home on a winter night back in December after a long day at work and I needed some stick-to-your-ribs comfort food. I got the orechiette from World Market (my fave store ever!) because I knew the tiny little depressions in the pasta would work beautifully to soak up all of the parmesan cheese saucy goodness, and the caramelized onions were just the cherry on top of this dish.
I served the mac and cheese in dishes from my Nana and they rounded out my night of comforting flavors perfectly. By the way, orechiette means little ears in Italian – pick some up for yourself and you'll see why 🙂
What are your favorite comfort foods to cook in the winter?
Orechiette Mac & Cheese with Caramelized Onions
Author:
Keys to the Cucina
Ingredients
½ large onion, sliced thin
3 Tbs butter
1 tsp sugar
1 tsp thyme
Dash of salt


1lb dried orechiette pasta
4 Tbs butter
3 Tbs flour
2 c milk
¾ c grated parmesan
1 handful shredded mozzarella cheese
1 tsp dried thyme
¾ tsp salt
½ tsp black pepper
Pinch of ground nutmeg
Instructions
In a large saute pan, melt the butter on low. Once melted, add in the onions and coat with the butter. Sprinkle in the sugar, thyme and salt and stir low and slow for about 30 minutes. Add a pinch more butter if needed to make sure the onions are caramelizing. They will smell sweet and begin to turn a golden color and shrink once they are caramelized. Set aside.
Bring a large pot of water to a boil and salt the water for the orechiette. Once cooked drain the pasta and set aside.
Meanwhile, in a large sauce pan add the butter and flour and cook on medium heat. Stir constantly until the flour absorbs the butter and turns a light golden color, this should take 2-3 minutes.
Lower the heat to medium low and slowly whisk in about ½ c of milk at a time, stirring to make sure there are no lumps. Once the milk is incorporated, add more milk whisking constantly until all of it has been added. Keep in mind that the mixture will thicken up as you add the milk so it is important to keep stirring to keep the sauce silky and smooth.
Toss in the parmesan and mozzarella cheese, stirring lightly to melt it into the sauce. Add the thyme, salt, pepper and a pinch of nutmeg.
Coat the pasta with the cheese sauce and stir in half of the caramelized onions. Serve immediately and garnish with more onions and a pinch of thyme.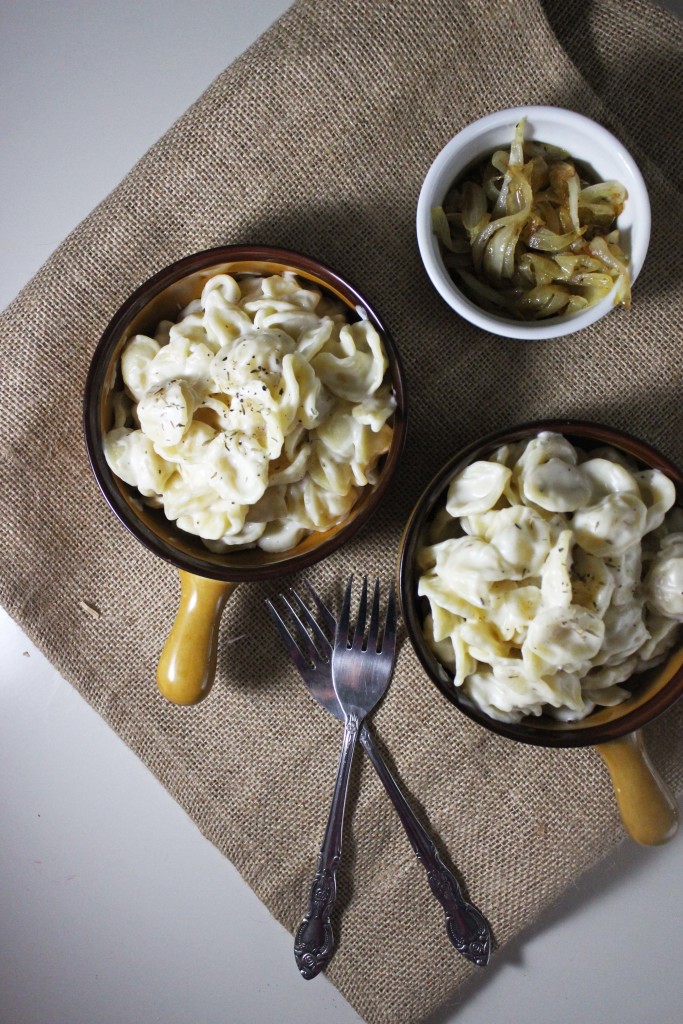 Bryan introduced me to this artist, James Bay. Have you heard of him? This song has gotten 11 million plays on Spotify so apparently may people have heard of him…I think this is his strongest song on the album, check it out below!