This is the first time I've posted a steak recipe on the blog and I can't believe it's taken me this long! Growing up, we ate steak and some sort of potato every single Sunday evening. Between activities, sports and jobs, it was tough for my family of six to sit down eat together each night, so Sundays were special and the only day of the week when we all sat at the table for dinner. This is a tradition I hope to start when Bryan and I have a family one day!
Sunday dinners would start around 7pm and maybe even later during the summers, and the routine pretty much went like this: My dad would queue up this CD of the score of West Side Story, turn it up a little too loud for my mom's liking, my mom would complain for him to turn it down, then he would sing the songs in a big operatic voice throughout the dinner while we all ate. He still does this sometimes though he has changed up his music choice these days 🙂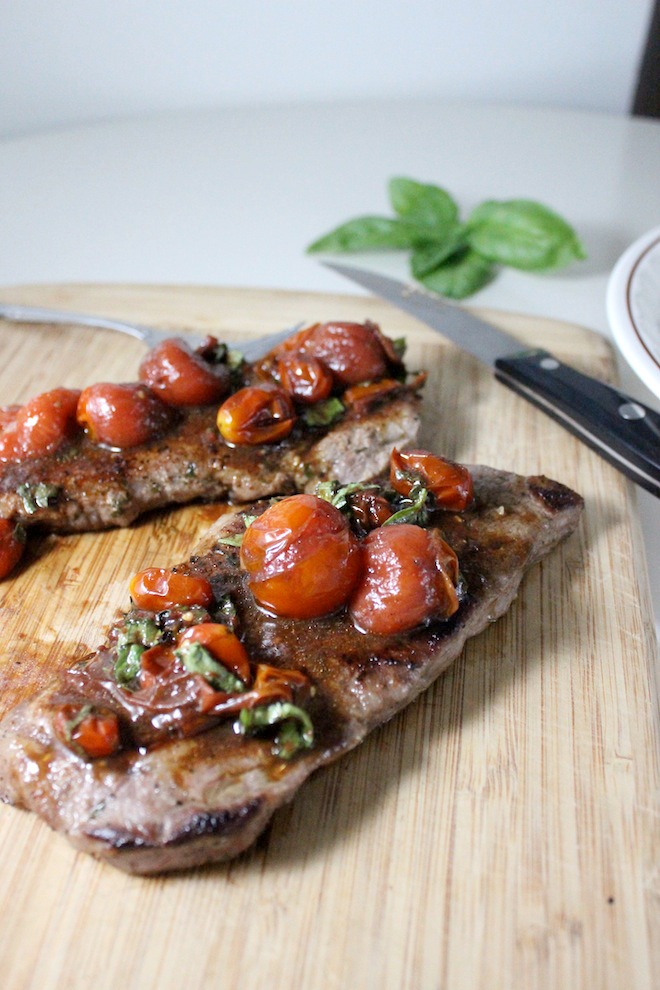 The balsamic cherry tomato sauce is my favorite part about this dish and I think you will agree too. As if New York strip could get any more delicious, the sauce brings with it a bright flavor with the juicy tomatoes and the balsamic gets sweet and caramelized in the oven. Mmm mm. I think I might try this sauce on every protein moving forward or even on it's own, it tastes fancy and slow cooked but roasts up in the oven in just about 20 minutes!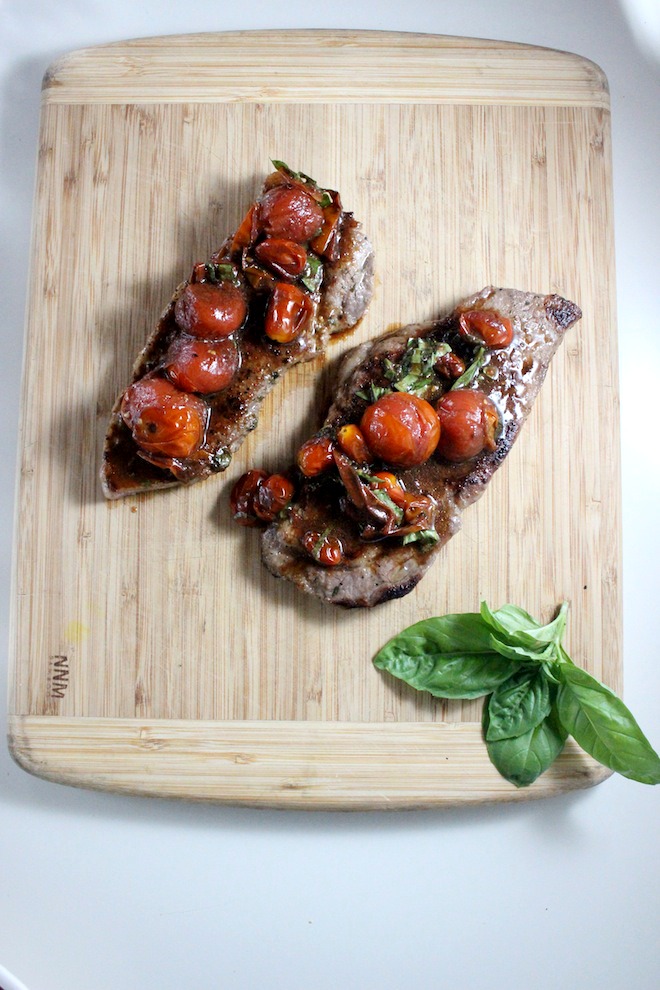 Pan Seared Steak with Balsamic and Basil Cherry Tomatoes
Author:
Keys to the Cucina
Ingredients
2 c cherry tomatoes
3 tbs good balsamic vinegar
1 handful fresh basil, chopped
2 New York Strip steaks
½ tsp salt
½ tsp black pepper
½ tsp garlic powder
Extra virgin olive oil
Instructions
Preheat oven to 400. In a bowl, add tomatoes, a 1 tablespoon of evoo, the balsamic vinegar and a generous 1 tsp of salt and pepper. Place on a sheet pan and roast for 20 minutes until the tomatoes just burst.
Once cooked, place in a glass bowl to cool, add in the chopped basil and set aside.
Season both sides of the steaks with the salt, black pepper and garlic powder.
In a saute pan, cover the bottom of it with a thin layer of evoo (about 2 teaspoons). Heat the pan on high, until it begins to smoke. Once it begins to smoke, reduce heat to medium high and place steaks in, do not touch them until you're ready to flip them. Depending on thickness, they should take 2-4 minutes per side. Mine were about ½ inch thick so I cooked for 2 minutes per side and then I let them rest for 10 minutes.
Once the steaks are rested, spoon the balsamic cherry tomato mixture over them and serve immediately.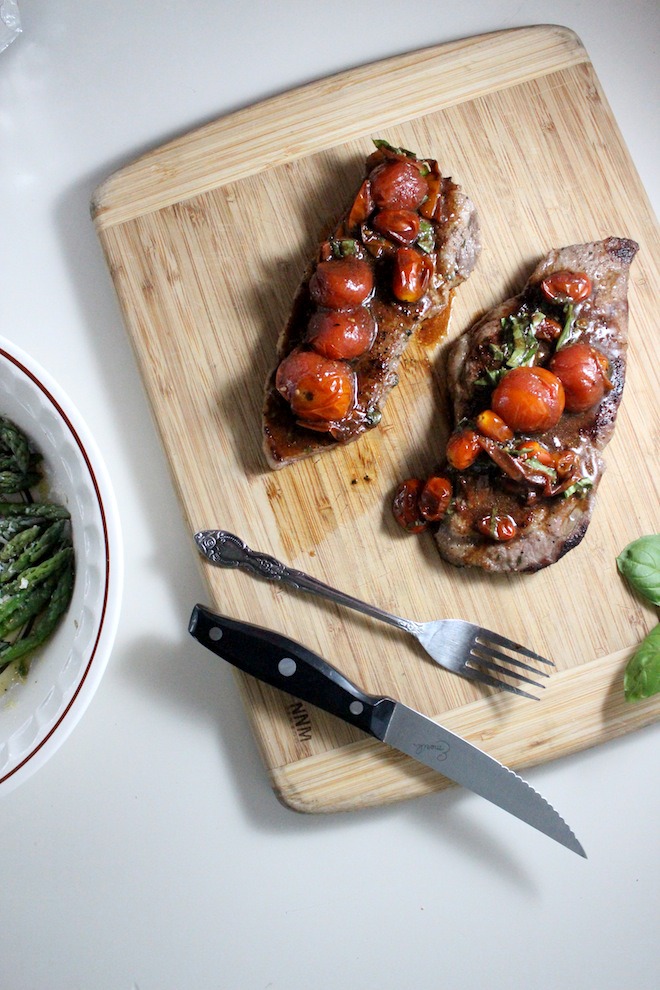 Naturally, I had to feature a song from "West Side Story" with this recipe. Listening to "Somewhere," my dad's favorite song from the musical, transports me right back to sitting at our antique kitchen table where I ate each and every Sunday steak dinner.
---
This healthy mashed cauliflower pairs perfectly with this steak…