This recipe is inspired by a delicious dish at Cava Mezze, one of my favorite restaurants on Capitol Hill. In 2011, Bryan and I celebrated a pre-Christmas dinner at Cava where we OD'd on their spicy harissa spread with endless pita bread, and indulged in their gyros which had french fries tucked inside with charred meat and tsatziki goodness.
Although Cava's gryos are made with lamb, I recreated them at home with some marinated thin sliced chicken breasts, fresh tsatziki, feta cheese, kalamata olives, and homemade shoe string french fries. I could have dipped the french fries in tsatziki for days because the cool creaminess complimented the crisp fries in the best way. Not only is tsatziki tasty, but it is a great healthy substitute for those of you who like to dip your fries into aioli. This spread would also be a great dinner party idea, sort of like taco night but with Greek prepared items and accoutrements!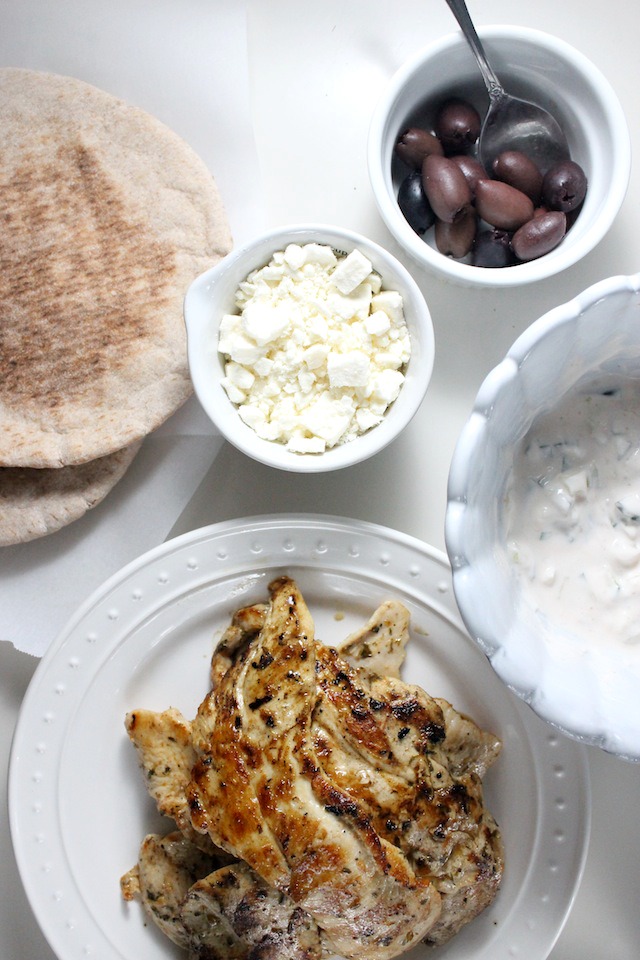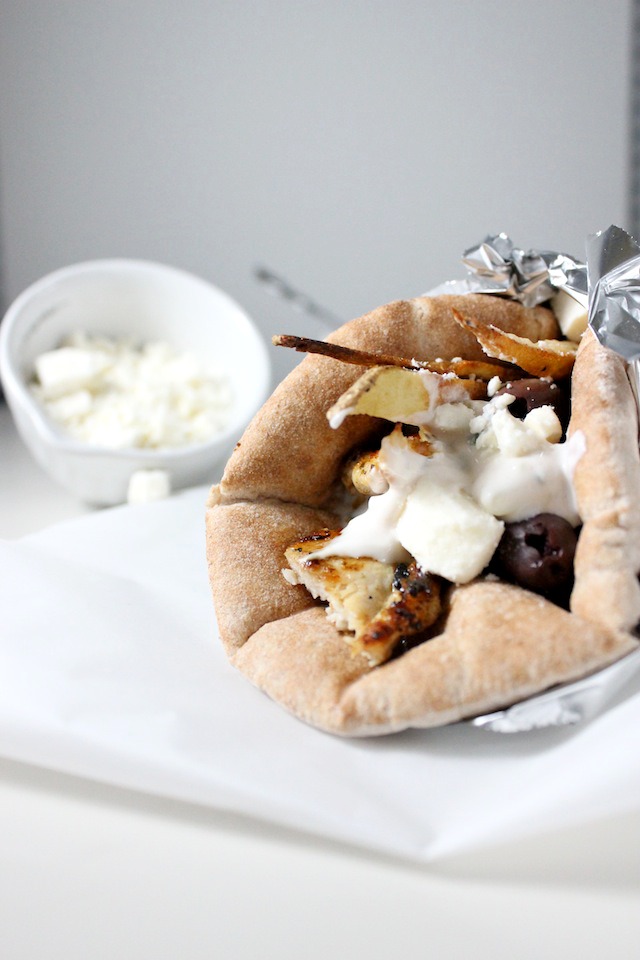 Chicken Gyros with French Fries, Tsatziki Sauce & Feta Cheese
Author:
Keys to the Cucina
Ingredients
Chicken
8 thin sliced boneless skinless chicken breasts
1 tsp salt
1 tsp oregano
1 tsp basil
½ tsp pepper
½ tsp smoked paprika
1 large garlic clove, minced
1 tbs extra virgin olive oil


Tsatziki
3.5 oz Greek yogurt
3 tbs minced cucumer
½ tsp lemon juice
Dash of salt
Dash of hot sauce


French Fries
1 russet potato, sliced thin into shoestring fries
2 tbs evoo
½ tsp salt


4 pieces whole wheat pita bread
Instructions
In a small bowl, combine all of the spices from the salt to the smoked paprika.
Place chicken in a large ziploc bag, pour evoo and minced garlic over it.
Sprinkle the seasoning mixture over the chicken and massage it into the meat through the ziploc bag.
Refrigerate for 2-4 hours to marinate.
For tsatziki, combine all ingredients in a bowl and mix thoroughly, set aside.
Preheat oven to 450.
Slice potato long ways and make thin shoe string pieces out of it.
On sheet pan, spread 2 tbs of evoo then place potatoes on it in one layer.
Cook for 35-40 minutes or until desired crunch level. Finish with a sprinkling of salt and set aside.
On a cast iron grill pan, heat on medium and brush with evoo.
Scrape off pieces of garlic so that they don't burn, and place chicken breasts on it and cook for 3 minutes per side.
To assemble gyro, spread pita bread with tsatziki sauce, layer with sliced chicken breasts, add french fries, olives and garnish with feta cheese.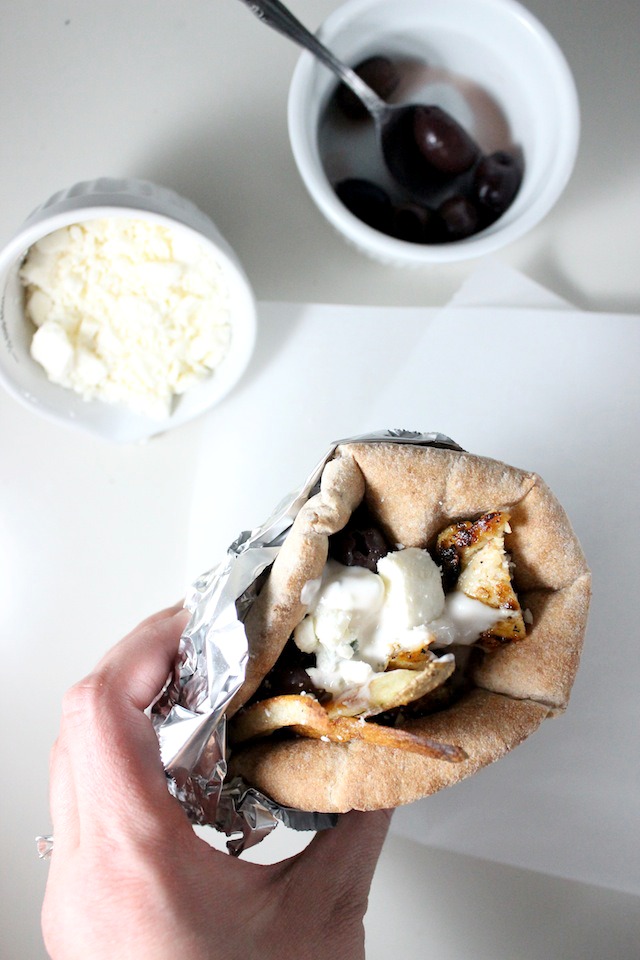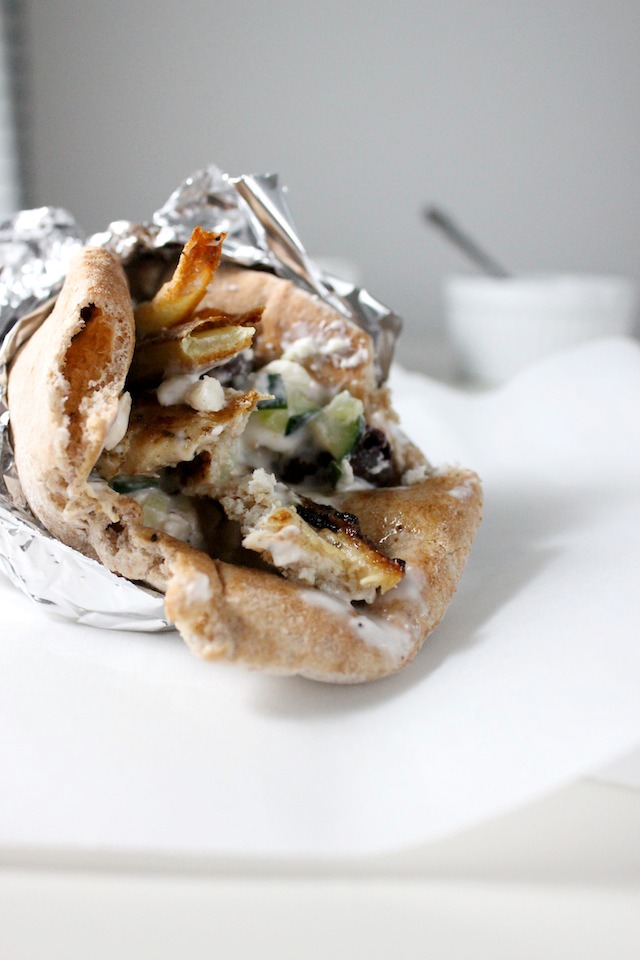 Van Morrison radio on Pandora or Spotify a great way to unwind and get yourself ready for the week ahead. I set the radio on his station Sunday night and settled into the kitchen with this song serenading me in the background.
---
Make this Sun Dried Tomato Hummus with these gyros!