This quiche has been a long time coming on Keys to the Cucina, and I can't wait to share it with you. It also comes during a week where I know tons of you will be brunching/nursing hangovers from New Years Eve, so I figured why not share it with y'all?
In the summer I craved quiche and would satisfy many cravings at Le Pain Quotidien, but alas I found the time to make this homemade version! I had some feta on hand from making chicken souvlaki a few weeks back, so that drove me to a make a Greek inspired quiche. Throw in some spinach, onion, and tomato and you've got yourself a vegetarian quiche filled with enough protein to get you through the rest of 2013.
I never really grew up eating quiche, and my only memory of it is that my Dad would always recite the quote, "Real men don't eat quiche." After a little wikapedia-ing, I found that that quote is actually the title of a book that satirizes stereotypes of masculinity. I promise, there will be no stereotyping here, just an eggy-licious bite for all to enjoy. The heavy cream makes the eggs rich but fluffy, and the veggies sauteed in crushed pepper make for the perfect breakfast bite with a little kick.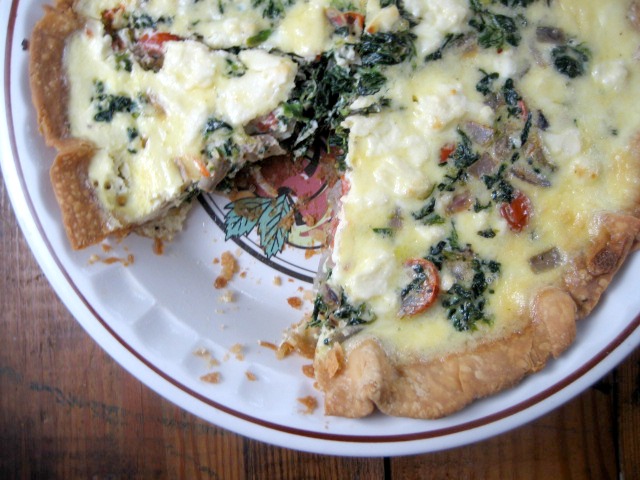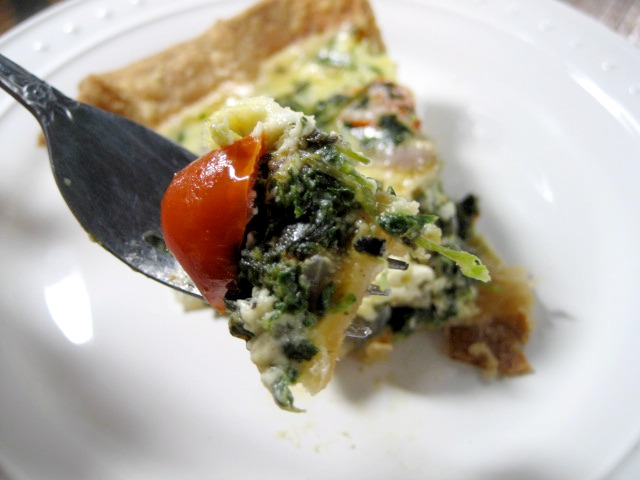 Quiche with Spinach, Feta and Tomato
Author:
Keys to the Cucina
Ingredients
1 9 inch pie dough
4 eggs
1½ c heavy cream, ( you can substitue milk or half and half)
½ onion, diced
1 box frozen spinach, drained
10 cherry tomatoes, sliced thin
1 handful of feta cheese
1 tsp salt
1 tsp pepper
½ tsp crushed pepper
Instructions
Blind bake pie dough on 350 for 30 minutes. Lay a piece of parchment paper over the dough and fill with dried beans to weigh it down. Once golden brown, remove from the oven and set aside.
Keep oven on for you will be putting the quiche in at the same temperature after you follow these steps.
In a bowl, whisk together the eggs and heavy cream. Add a pinch of salt and pepper and set aside.
In a saute pan, combine evoo, the onions, spinach, and tomatoes.
Season with salt, pepper, and crushed pepper, and saute for 5 minutes.
Once sauteed, lay the spinach mixture in the bottom of the pie shell then pour the egg mixture over it.
Press a generous handful of feta cheese into the top of the quiche.
Arrange foil around the edges of the crust to prevent it from burning while baking.
Bake for 35-40 minutes or until a toothpick comes out clean.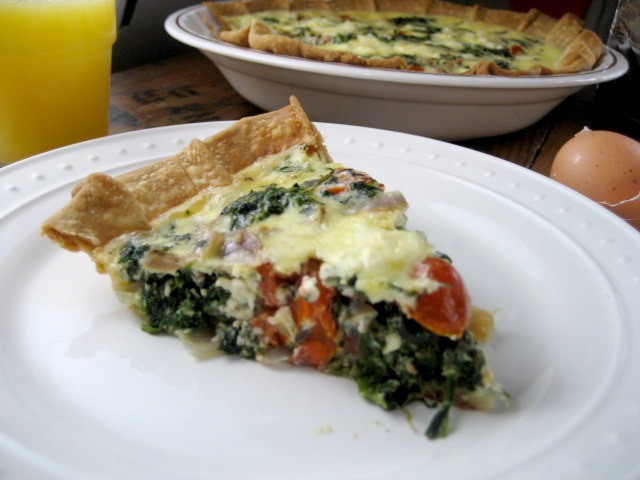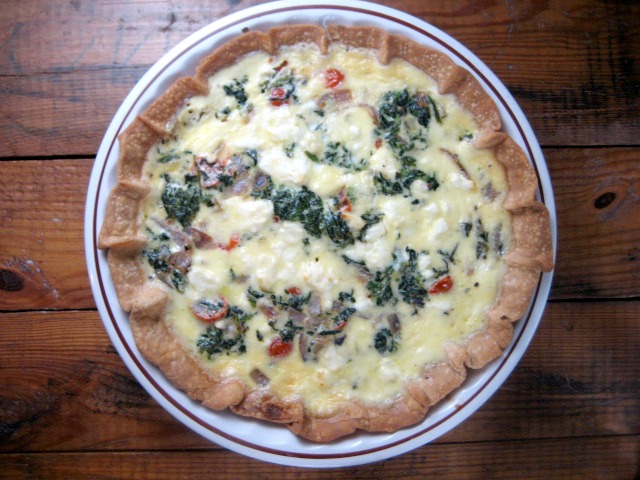 I recently sang "Frosty the Snowman" in the style of The Ronnette's at a Christmas show. I listened to it non stop last week so that I could memorize the whole thing, and with the year ending, I figured Frosty's time to shine was now. Enjoy and I'll catch you tomorrow with some 2013 highlights of Keys to the Cucina.