I love sharing salads with you since the permutations of ingredients are practically endless. Kale is a fabulous canvas to work with since the leaves don't wilt once they are dressed and I love that big bag of pre-cut and pre-washed kale that Whole Foods carries so it's a major salad win!
Oh and true story, I totally meant to make this salad with quinoa or farro but when I went to make it this weekend that thought totally slipped my mind. But all is okay, because the sweet potato definitely makes it hearty and filling.
Now, let this burnt orange, vibrant green salad dotted with crumbled goat cheese whisk your taste buds away to an autumnal vacation…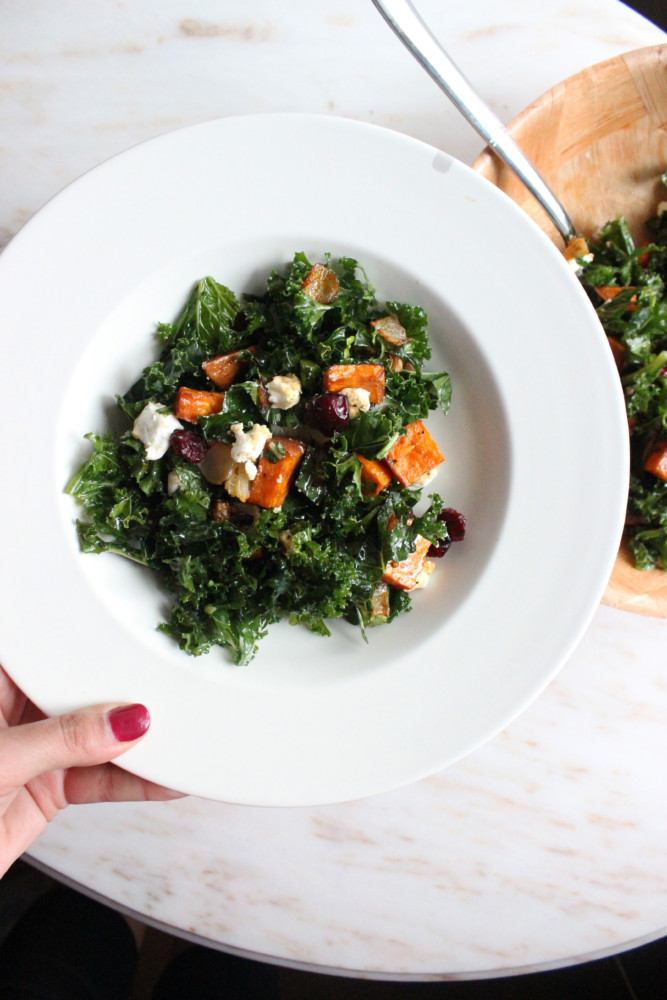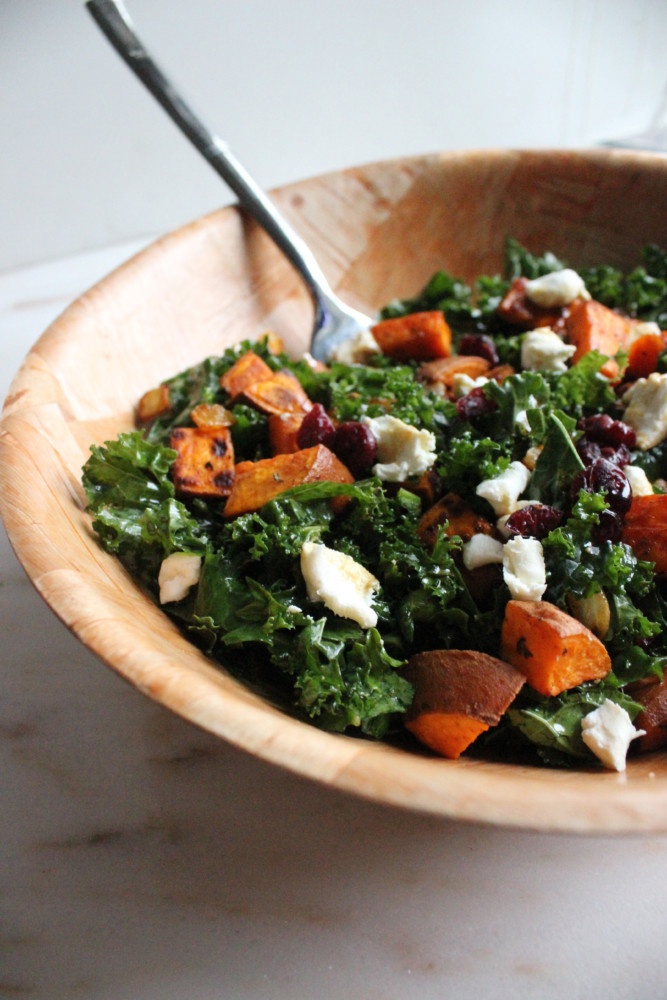 Roasted Sweet Potato and Kale Salad with Goat Cheese
Author:
Keys to the Cucina
Ingredients
1 bunch of kale, cut into thin strips
1 sweet potato, cut into 1 inch cubes
½ onion, cut into 1 inch chunks
1 Tbs extra virgin olive oil
1 tsp salt
1 tsp black pepper
½ tsp dried parsley
Pinch of cayenne pepper
1 tsp balsamic vinegar
½ tsp honey
½ c extra virgin olive oil
Pinch of salt and pepper
3 Tbs crumbled goat cheese
½ dried cranberries
Instructions
Preheat oven to 400 and drizzle sweet potatoes and onion with the evoo. Sprinkle on the salt, pepper, parsley and cayenne pepper then bake for 28 minutes, turning once halfway through.
Grab a small bowl and whisk the balsamic vinegar and honey together until well incorporated. Drizzle in the evoo and set aside.
To assemble, drizzle a couple of teaspoons of dressing over the kale and massage it into the salad. Let sit for 3 minutes.
Add in the sweet potato and onion mixture and more dressing until well coated.
Garnish with goat cheese and cranberries and serve warm or room temperature.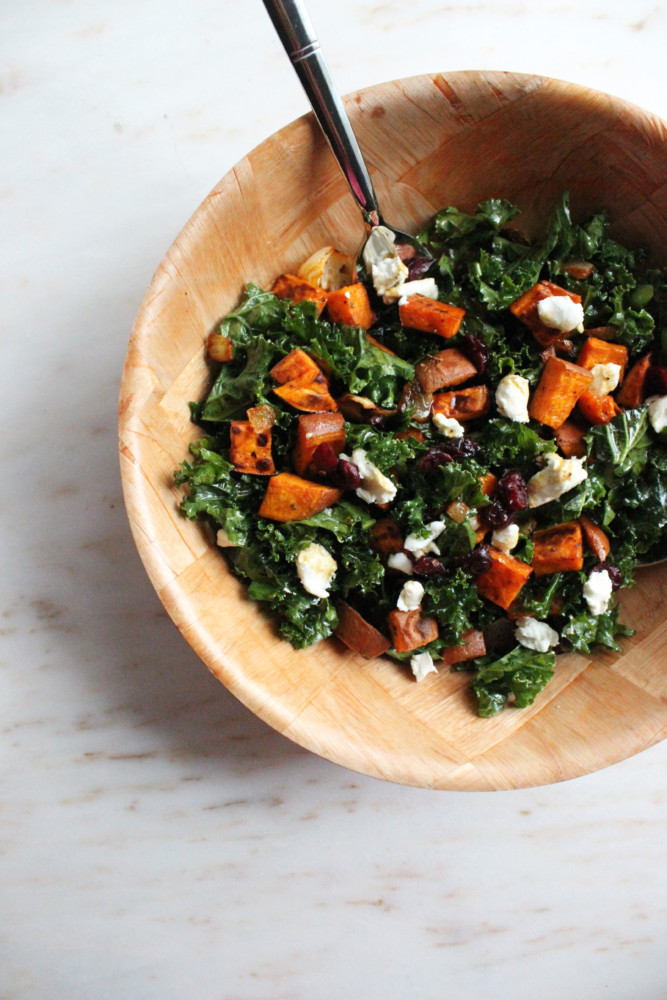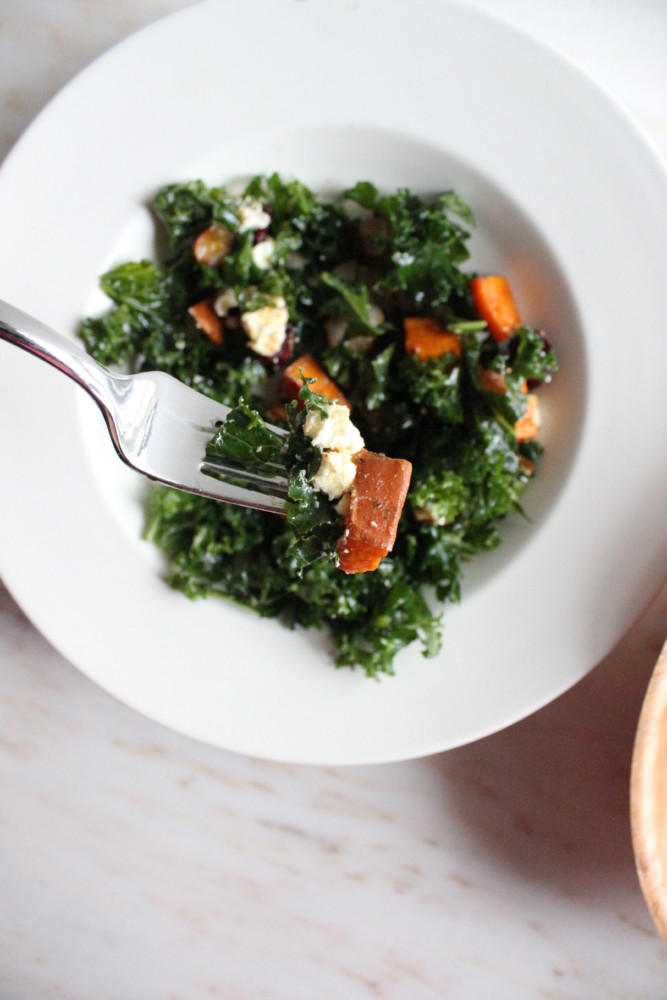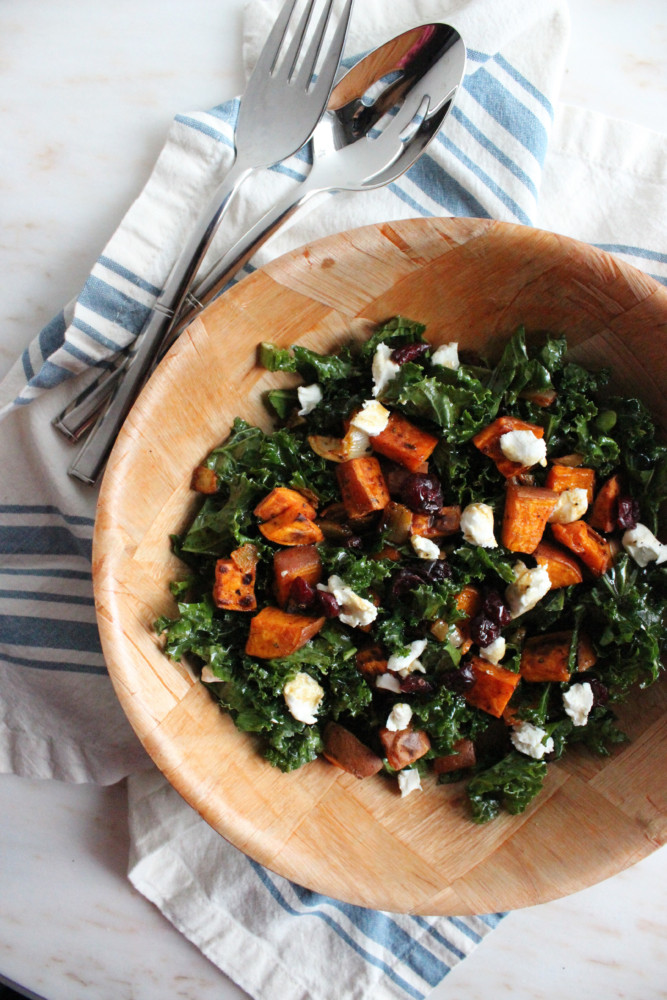 This song makes me want to curl up in a blanket with some tea and just relax the day away and the strings remind me of a song from the 70's that my dad used to play around the house.
---
Sign up and subscribe HERE to Keys to the Cucina and receive notifications when a new post goes live!