I have spent many a night perfecting my chimichurri sauce and we have enjoyed it so much so that I find myself craving it on a juicy piece of red meat every couple weeks. Chimichurri is a classic Argentinian condiment made with parsley, garlic, red wine vinegar, really good olive oil and some spices. I like to call it an Argentinian pesto. We enjoyed some super authentic chimichurri on our honeymoon and it was so good we went back to the same restaurant a few days in a row to get our fix. If you're ever in Tamarindo, Costa Rica, head to Patagonia to get in on some legit Argentinian fare!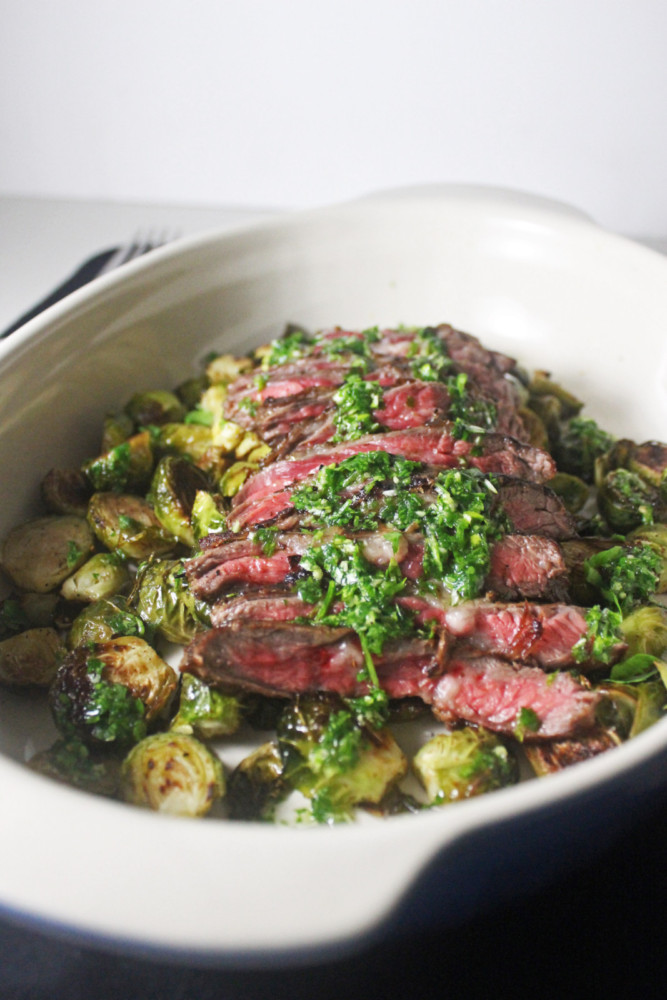 Now, onto the main event. The most important part of achieving tremendous chimichurri flavor is marinating the steak over night. That's right, plan ahead and get in on marination nation, it imparts the best flavor and your steak will be perfectly kissed with herby garlic deliciousness and grill flavor. It is also crucial to food process all of the ingredients so that they are smooth and when you go to grill it on high there won't be huge chunks of garlic ready to be burned to a bitter crisp. I guarantee this will be the most flavorful steak you will eat and I must attribute that sentiment to the red wine vinegar because it helps to tenderize the steak while it it marinates leaving the softest juiciest texture ever. Trust me and try this one out!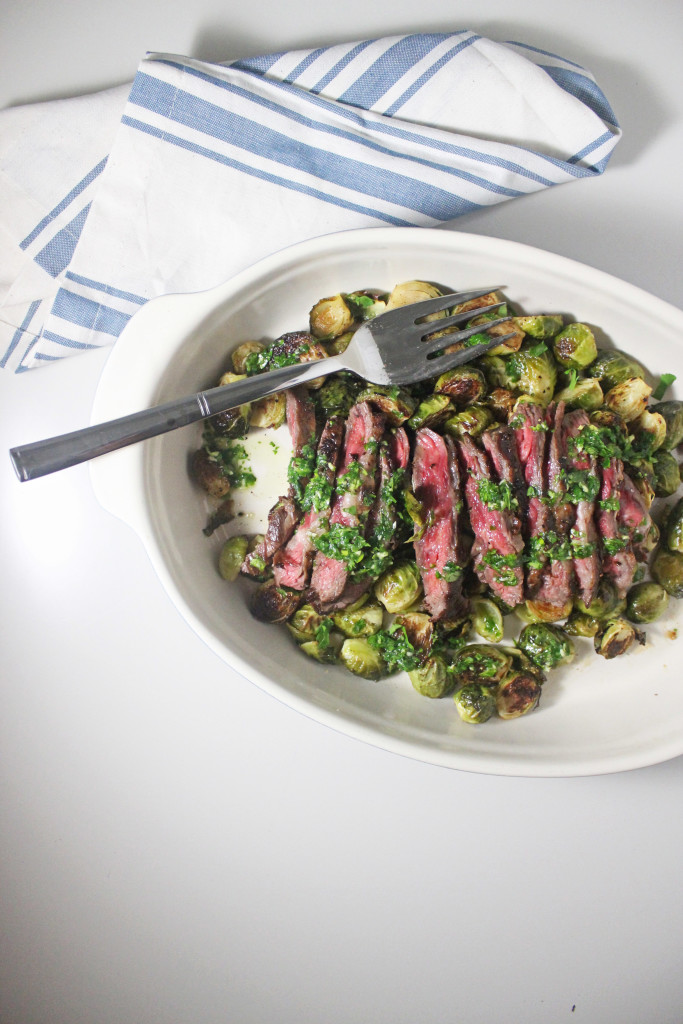 Skirt Steak Marinated with Chimichurri
Author:
Keys to the Cucina
Ingredients
1 lb skirt steak
1 c flat leaf parsley
4 garlic cloves
1 Tbs red wine vinegar
1 tsp salt
1 tsp pepper
Juice of ½ lime
½ c extra virgin olive oil
Instructions
Season both sides of the skirt steak with a pinch of kosher salt and black pepper.
In a food processor, combine parsley, garlic, red wine vinegar, salt, pepper and lime. Process until finely chopped.
Stream in the evoo as the herb mixture processes. Remove from processor and set aside in a bowl.
Spoon on the chimichurri mixture to both sides of the steak. Rub in well then place in a large pyrex dish overnight to marinate. You should have about ¼ c of chimichurri left for more topping after it's cooked.
The next day remove steak from the fridge and let sit on the counter for 15-20 min to come to room temperature.
Rub vegetable oil on cast iron grill pan and place on high heat. When it starts to smoke, place the steak top side down and cook for 2 minutes a side (for rare) or 3 minutes a side (for medium rare).
Let the steak rest in foil for 10 minutes to redistribute the juices and keep optimal flavor.
Slice across the grain and served with a side salad or your favorite roasted vegetables (brussel sprouts featured here).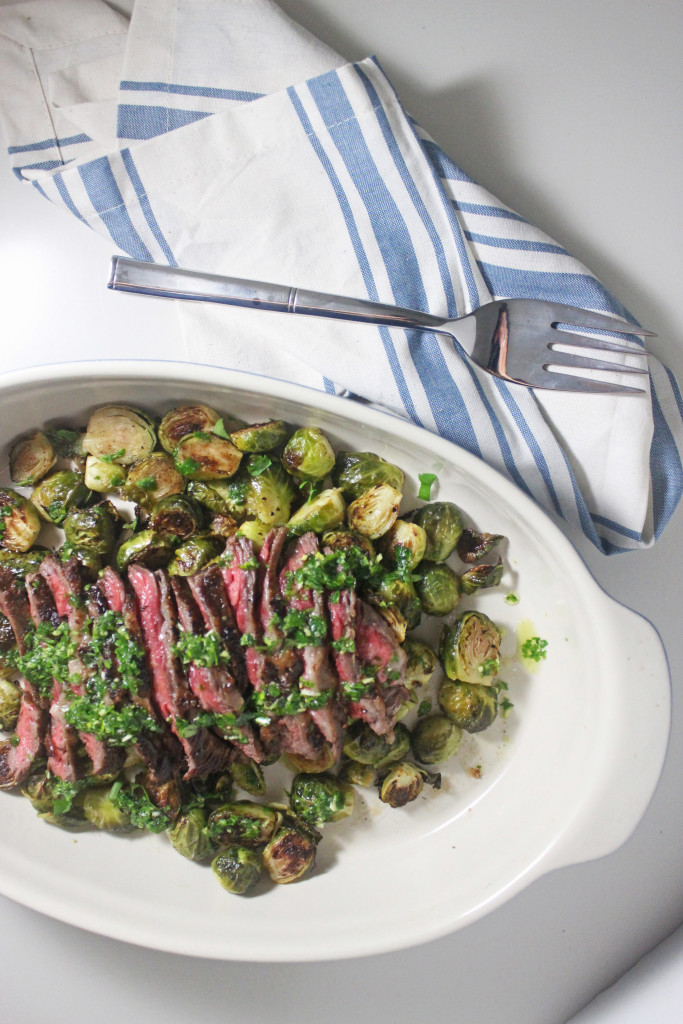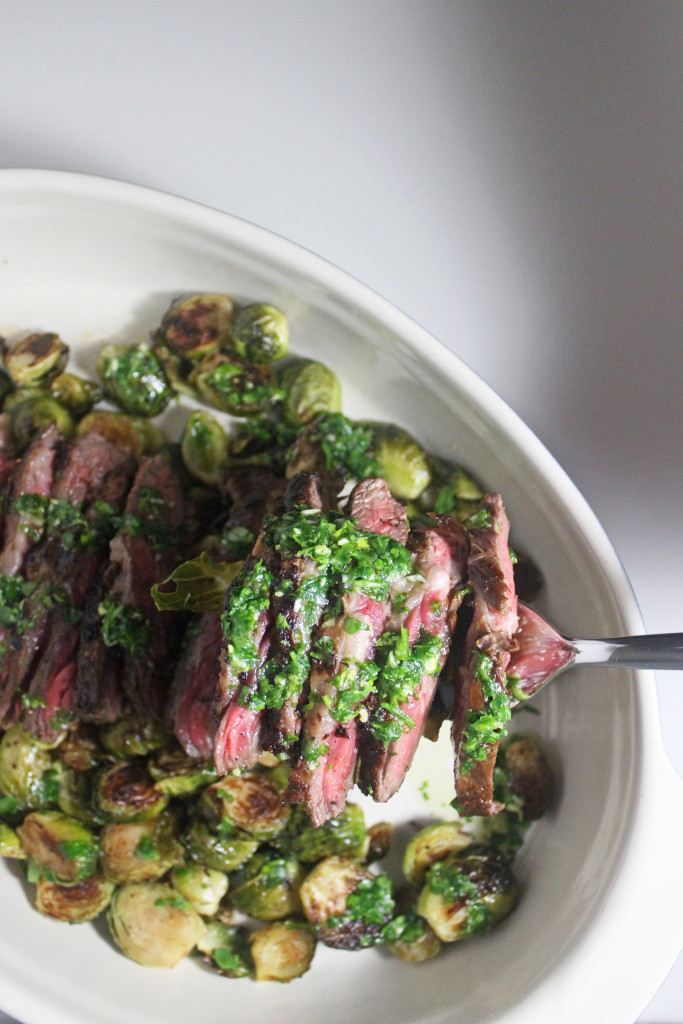 In honor of 4th of July week, what's more American than a good old country tune? Check out Thomas Rhett to see what I'm talking about!
---
Sign up and subscribe HERE to Keys to the Cucina and receive notifications when a new post goes live!