Happy Friday! I want to share with you some of my go to kitchen tools to give you a little glimpse into how I make all the food on this blog. I use most of these items weekly, while a couple of them are perfect for a specific job. Read below to find out my faves, and to see if we share any of them in common!
I love using this thing. From grating fresh ginger, lemon zest, to cloves of garlic, this is my go to tool.
True life: I have two food processors in my kitchen, both handed down to me from my mom. The first one was probably made in the late 80s or early 90s, but I just can't seem to part with it. I have so many memories of making pesto with my mom in that processor, and giving it away would be like letting a stranger have my memories and I just can't do it. The second one, my mom gifted to me about a year ago. It's much sleeker, matches our stainless steel appliances and does the same job as the older one. One day I will part with the older one, but for now I'll keep them both will on my counter, side by side.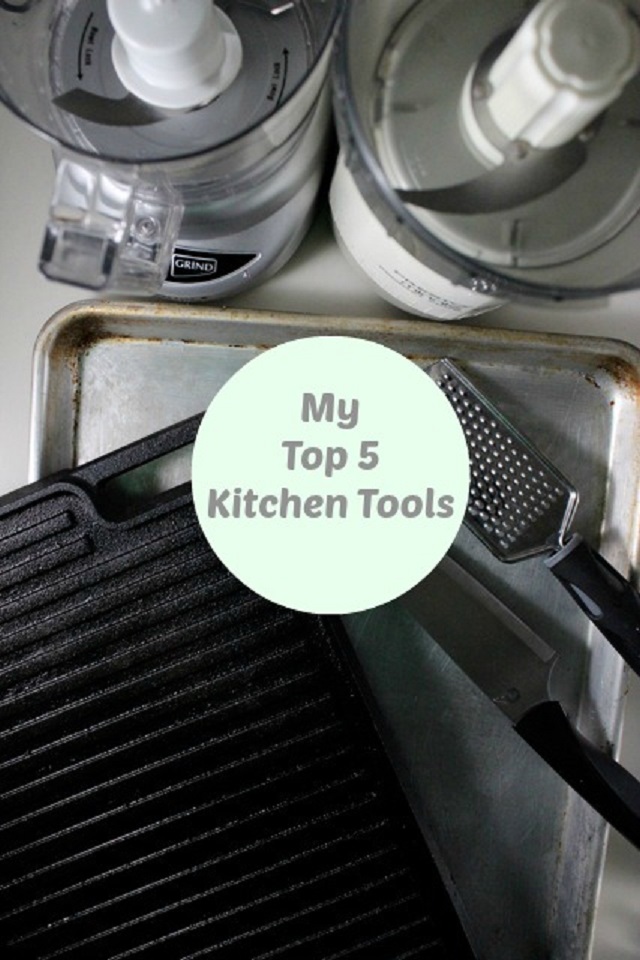 A good kitchen knife is so hard to come by. One year I even invested in a Cutco chef's knife for my mom and it was so lousy, I'm still mad about the money I paid for it. Just like the two food processors, we have two knife sets. But, the knife that I use the most isn't from either of those sets, rather it was a gift from my family friend Rita. It is made by Richardson Sheffield, a company based in the UK. Rita gifted the knife to me when I was making this recipe at the beach last year. It's sharp, cuts effortlessly and is light weight. I love it!
I scooped up one of these at World Market a few months back, and I love love the flavor it gives my food. In the winter, when it can be too cold to go outside and grill, this pan does the trick. The sear and smokey flavor it gives makes eating this dish taste like it was fresh off of a charcoal grill!
From Pepperoni Bread, to Kale Chips and French Fries, my sheet pans sure get a lot of oven time. They're even great as a backdrop for food photos too, that's a win win right there!