I recently prepared this appetizer for a birthday celebration for my Dad. Much like writing music, this recipe came to me the way a melody flies into my head while I'm in the shower. Instead of my songwriting book, I reached for my phone to quickly type out the ingredients. I believe this is why I've always been drawn to food,  as I'm constantly reminded of it's similarities to music and performing every time I step in my kitchen. Also, my musical side comes from my Dad, so it was only fitting that this new recipe made it's debut during his birthday celebration last week.
You will often find ricotta cheese in lasagna, cannolis, or even on a white pizza and it provides a great blank canvas to season as you please. I seasoned the cheese with salt, pepper, and garlic and topped it on my favorite crackers. The torn basil is straight from my garden, and I picked up this beautiful yellow heirloom tomato at the farmers market. I enjoy making appetizers that people can just grab and go so when I assembled these at sister's house, they flew off the serving dish in no time.
The song of the recipe is "Wouldn't It Be Nice" by the Beach Boys. Every time I hear a Beach Boys song, I am immediately reminded of my Dad jamming out to them in the car on our way to family vacation at the shore. To this day, he can still hit those high harmonies like a champ, which is always fun to sing along with.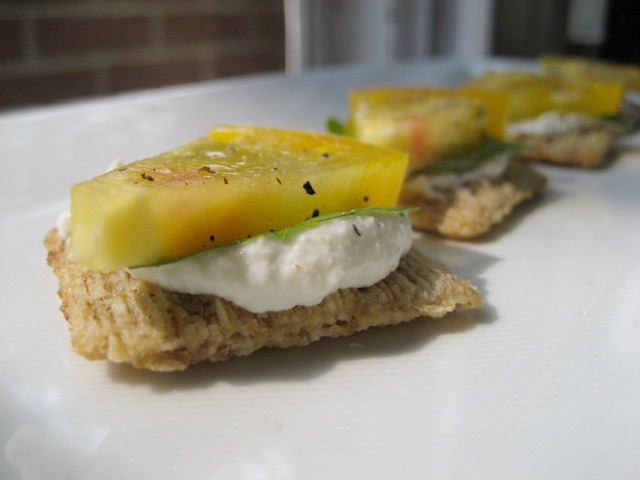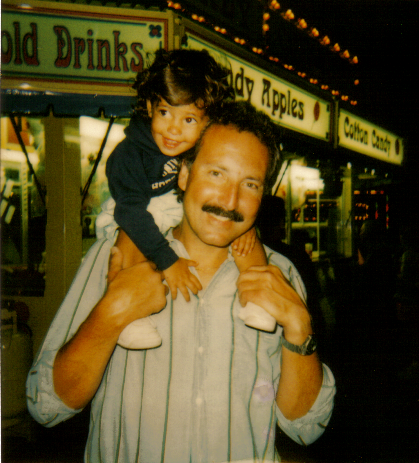 My Dad and I, circa 1991-ish!
Ricotta Bites with Heirloom Tomatoes and Torn Basil
Author:
Keys to the Cucina
Serves:
Makes 30 crackers
Ingredients
8oz ricotta cheese
1 large heirloom tomato, sliced in triangles
10 pieces of basil, torn
30 Triscuits
1 tsp salt
1 tsp pepper
½ tsp garlic
Instructions
In a small bowl, combine cheese, salt, pepper and garlic and mix until well incorporated.
To serve, spread about one teaspoon of cheese mixture on a cracker, top with a piece of basil, and a piece of tomato.
Sprinkle a dash more of salt and pepper on the top just before serving.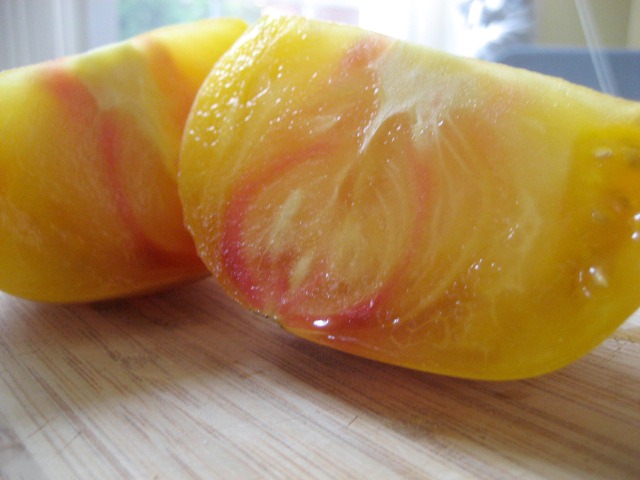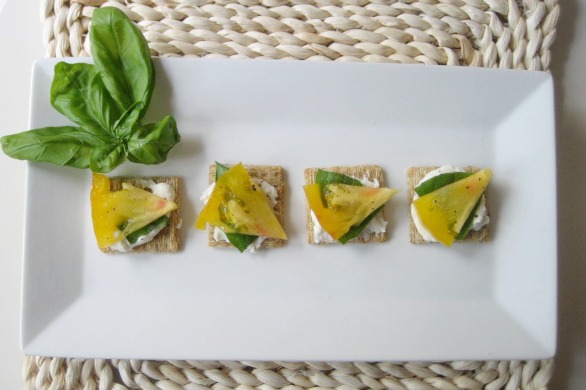 What are your favorite quick and easy appetizers to make for a large group?