Last week Chef switched up our usual lecture/practical structure and we participated on the first of two mystery market basket nights! If you've ever watched Chopped on Food Network (back in 2012 watching new episodes of this show was somewhat of a ritual in our house!) the structure was very similar however our ingredients weren't as nearly as exotic and we had two hours to prepare two dishes!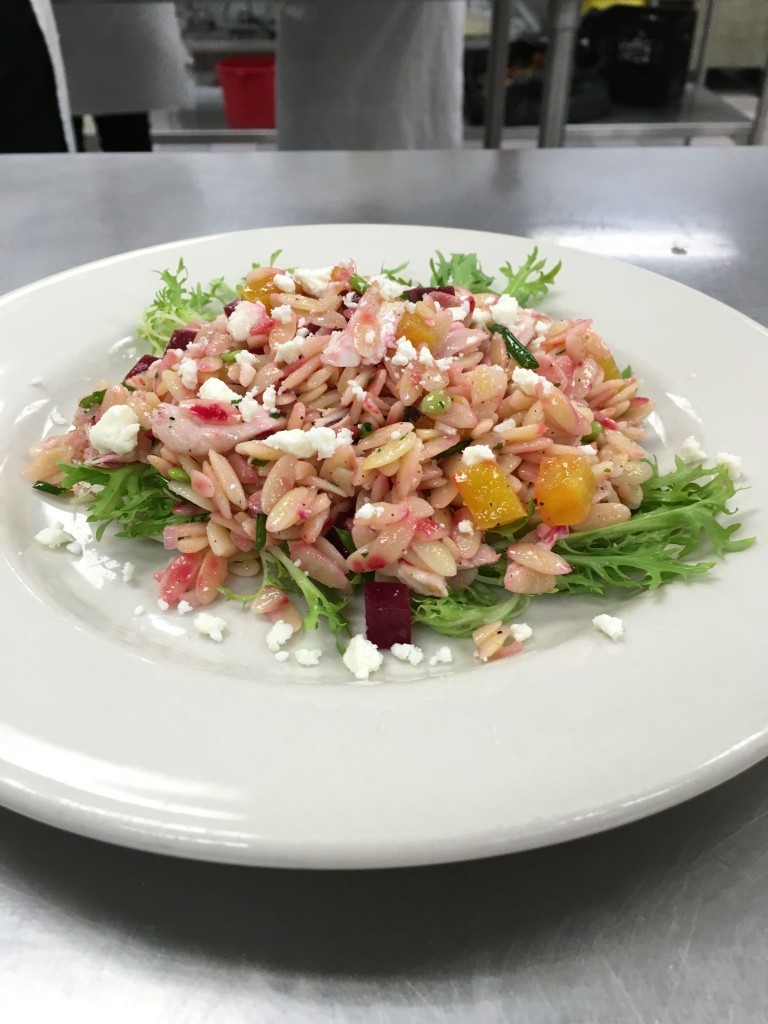 The anticipation of this night was palpable and as we all entered the classroom you could feel the nerves dancing off of us. Thankfully Chef reassured us as to why we are in the class in the first place and to just relax and have fun. With that, my partner Teresa and I entered the kitchen and were dealt a whole raw chicken, mangoes, beets, orzo, snap peas, and toasted walnuts in our baskets. We had 15 minutes to formulate a plan of attack and decided to do a cold orzo salad and a mango rice pudding!
We combined whole milk and coconut milk and the pudding was as creamy as ever. The mangoes we had were very under ripe and tart so we made a quick sauce out of them with sugar and water and folded it into the pudding. We topped with fresh mango and toasted walnuts and voila, kitchen creativity at it's finest 🙂
I took the lead on the cold orzo salad. We blanched the snap peas, roasted the beets and chicken and added some supplementary ingredients to make it really stand out. A red wine vinaigrette with shallots, feta cheese, lemon juice and crunchy frisée made the salad really come together and got us some points on presentation as well!
This was one of the most enjoyable classes yet and it really solidified my confidence in the kitchen. Most weeknights after work I'm pulling together ingredients that I have on hand to make a quick and delicious meal and this exercise was very similar to that weeknight scramble. It was also a great opportunity to flex our new found knowledge of culinary techniques and use presentation as a way to engage people with our food. Chef Brian tasted all 10 teams creations, spending 5 solid minutes with each of us sharing the pits and peaks of our offerings. The orzo salad need a little more olive oil and the pudding needed some more acid but other than that the feedback was extremely positive!
Up next is steak night so be sure to subscribe here to catch the next culinary class update!