The midway point of cooking class was met last Thursday and I wanted to touch on a comment that frequently comes up in conversation when people ask me about the twenty week course. I tell people why I'm taking it and how it's four hours after work every Thursday and their response is immediately, "Wow, that's a long day!" You know what, it is a long day. I wake up at 7:30, work from 9-5, drive an hour to class then I get home around 11:15PM. While just typing all of that is exhausting, the magical part about it is that I don't even care how long my day is because I am enjoying every single second of it.
It's crazy what happens when you go back to school for something you truly love. We often get caught up in the monotony of every day, working a desk job and forgetting to be curious and continue learning and furthering our passions so if you ever get an inkling to try something out follow your gut! So let's chat beef now that I've gotten awkwardly introspective on you…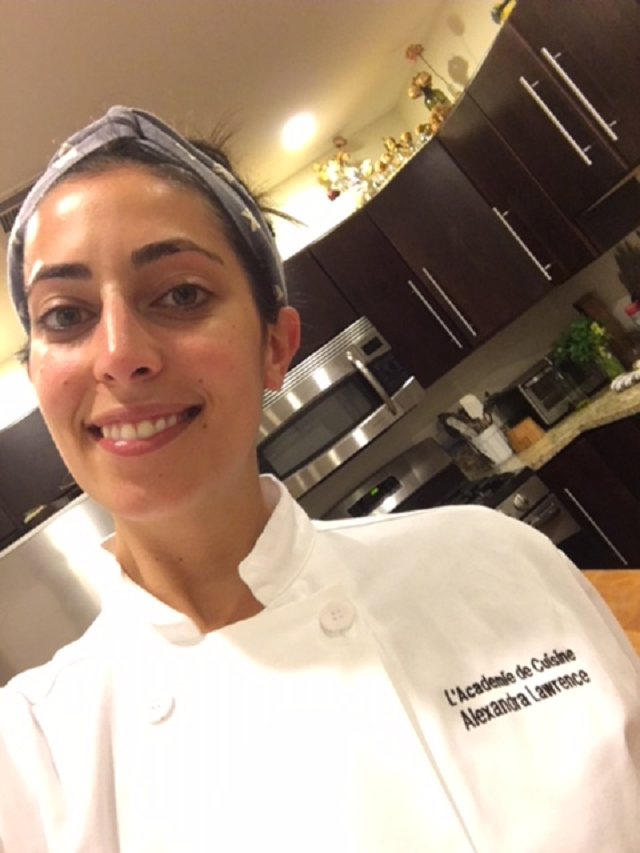 Two words can sum it up and they are Beef Bourguignon. BB is a rich a hearty French stew made with red wine and garnished with bacon and mushrooms and is simply di-vine. Chef also whipped up a beef brisket the morning of class at 7AM and let it cook for twelve slow and low hours and it was literally the best piece of beef brisket I have ever eaten. Brisket comes from the spot between the front two legs of the cow so it can be very fatty and tough. The more a muscle is used in a cow the more tough the meat will be and will require a slow cooking method to break down the fibers.
Chef also prepared flank steak with two different sauces, a diable and a bordelaise sauce. I was partial to the bordelaise since it had red wine. Jk, but really. The red wine, veal stock and shallots reduce to make a sumptuous sauce. I could have eaten it on it's own like soup, it was that good!
I will leave you with a couple of tips for cooking beef perfectly at home:
Cook a steak for 10 minutes/inch of thickness.
Rest your meat for 1/3 of the total cooking time.