Growing up in Northern Virginia and having lived in D.C. the past three years have exposed me to a lot of amazing people and experiences. My high school was full of intelligent driven kids, and now that I'm older I realize how growing up in an environment like that shaped me into the worker and dreamer that I am today.
That said, I've had the pleasure of meeting so many amazing people with bright ideas and the balls to go out there and pursue them so I wanted to share a few with you. From my little neighborhood in Fairfax to the conference rooms of start ups, I'm lucky to have met some inspiring people who left their full time jobs to go out and fulfill their dreams. Read below to read up on some amazing companies!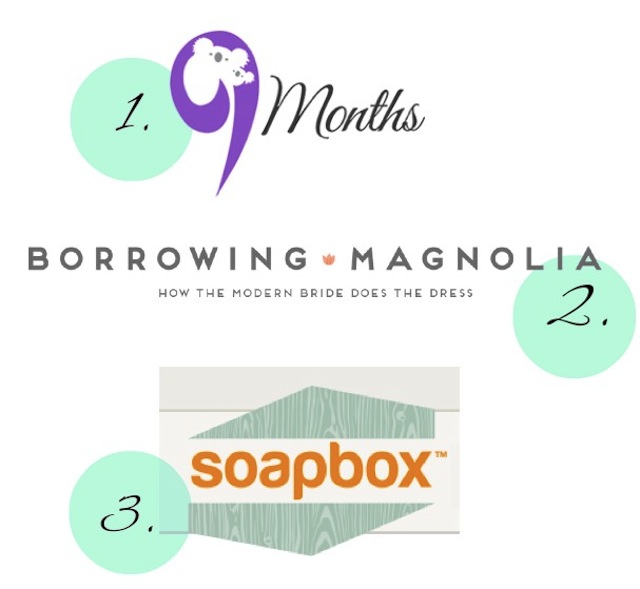 9months – This one is near and dear to my heart, since a neighborhood friend founded it. Carrie has been a supporter of this blog from the begining, her brother was my 12th grade English teacher, and she is a music lover, so all of this makes her super cool. Carrie's product is genius, as she developed a non-alcoholic sparkling wine for pregnant women so that they could celebrate and enjoy the party along with the rest of the crowd. Plus, she donates a portion of her proceeds to March of Dimes which makes this purchase a feel good one. Check out her offerings here for your next baby shower, it'll make the perfect gift, I promise!
Borrowing Magnolia – While working at LivingSocial, I had the pleasure of working with one of this company's co-founders, Stephanie Olvey, and I could not be more into her new venture. Since I work here and have helped to plan three of my sister's weddings, I know all too well how expensive wedding dresses can be, and Borrowing Magnolia affords people like you and me to wear their dream designer dress for a fraction of the cost. They simply rent wedding dresses for one time use, you pay a fee much less than if you were to buy the dress outright, then you send it back after your wedding, easy as pie!
Soapbox Soaps – This company has been on my radar since 2012, when my old colleague, Dan, left LivingSocial to set out on this venture with a friend. For every bar of soap sold they donate either water, vitamin supplements or soap to a child in need, which is another do good feel good type purchase much like 9months. They recently started selling their product at select Target stores so the future is definitely looking bright for this company. Read more about their movement here.
*The opinions in this post are my own and I did not receive compensation for writing about these companies. I think that it's important to support people and businesses that are doing great things so that is why I wanted to share them with you.