Every time December rolls around, I find myself reminiscing back to the time when my three sisters and my Mom would go on Christmas cookie baking sprees. We'd make everything from sugar cookies and Italian wedding cakes to snicker doodles. Though all of those are delicious in their own right, the acorn cookies we made every year stand out in my mind. The dough is formed into balls then pinched one end of it to make it look like an acorn, which is pretty damn cute. As for the taste, picture a buttery shortbread dough, dipped in chocolate then rolled in pecans.
Out of all of us, my sister Lindsay would have to be the biggest cookie monster/fan of these cookies. I recently told Lindsay I made this batch before Thanksgiving, she asked if I had saved any for her and when I said no, the disappointment in her voice was heard around the world. Lesson learned, save some acorn cookies for Linz when I know she's coming to town! I guarantee these cookies will be a hit at your next holiday party and feel free to mix it up with walnuts, almonds, or even white chocolate.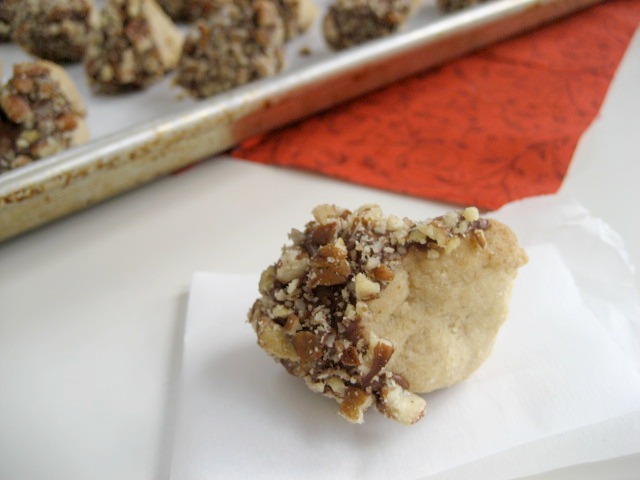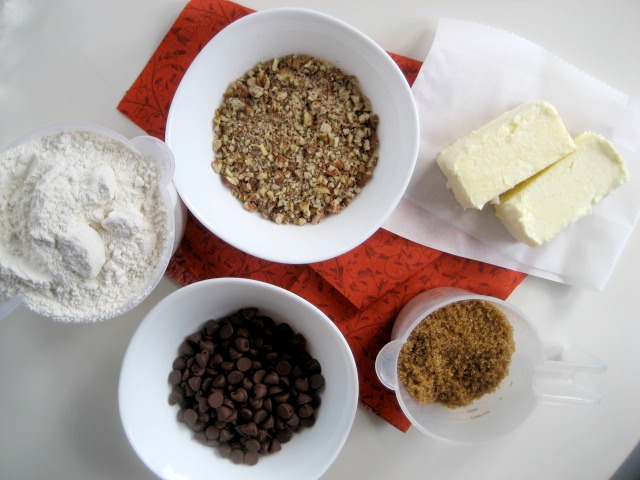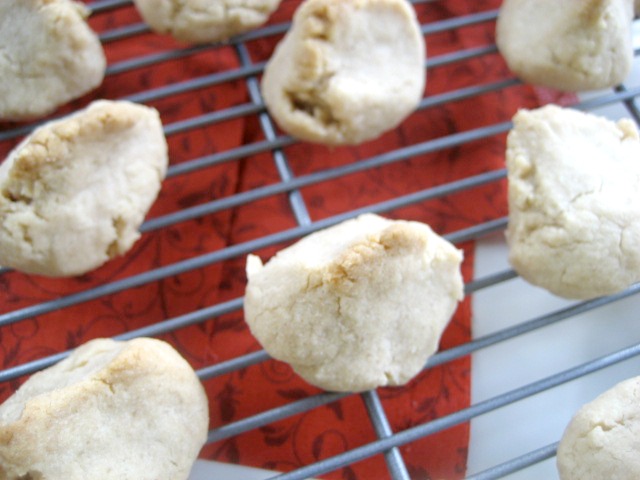 Acorn Cookies with Chocolate and Pecans
Author:
Keys to the Cucina
Ingredients
Acorn Cookies
1 c butter, softened
¾ c packed brown sugar
1 tsp vanilla extract
2¾ c flour
1½ tsp baking powder
6 oz milk chocolate chips
1 c finely chopped pecans
Instructions
Cream the butter, and brown sugar together. Add the vanilla.
In a separate bowl, mix the flour and baking powder.
Slowly add the flour mixture to the butter mixture.
The dough should start to come together but it will be dry.
Pile the dough on to plastic wrap and put in fridge for 1 hour.
Shape rounded teaspoonfuls off dough into balls and pinch to a rounded point on one end to resemble an acorn.
Place upright on cookie sheet and bake for 18-20 minutes on 350.
While they are baking, melt chocolate and place pecans into a bowl.
Once the cookies have cooled, dip one end into chocolate then roll into pecans.
Dough makes 36 cookies.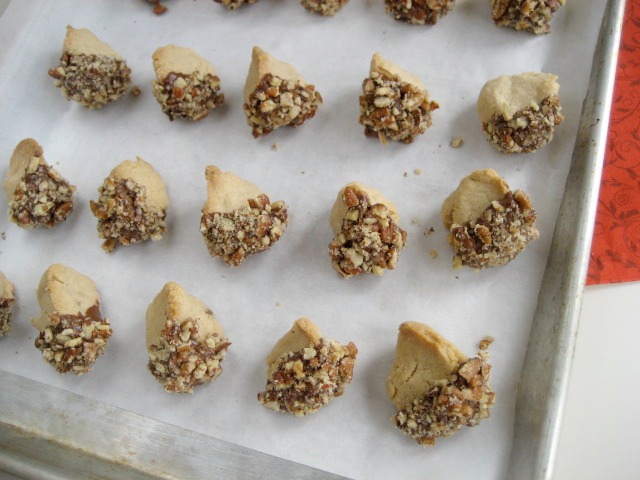 This song will always remind me of Lindsay. As a musical family, it's not unusual to find us singing and dancing to our favorite songs. I specifically remember singing to this one on Christmas morning a few years ago. We had just opened presents and were killing time until we had to get ready for dinner, and we were harmonizing to this song and singing into our hairbrushes. Maybe Roy Orbison 2.0 will debut this Christmas morning?