Ever since I started this little blog, I find myself  pushing the limits of my cooking and brainstorming recipes and flavor combos 24/7. With pumpkin spice latte's lining every city block and pumpkins showing up on my neighbor's porches, I dug deep to make up a recipe with pumpkin that wasn't sweet. I said to myself, "if pumpkin is in the squash family, and squash tastes good with savory flavors, then I should be able to whip something up." Annnnd I think I just used the "If Then" statement to hypothesize this, props to 4th grade science class! Anyway, what you have here is a memorable bite with sweet pumpkin, spicy nutmeg, and a hint of black pepper.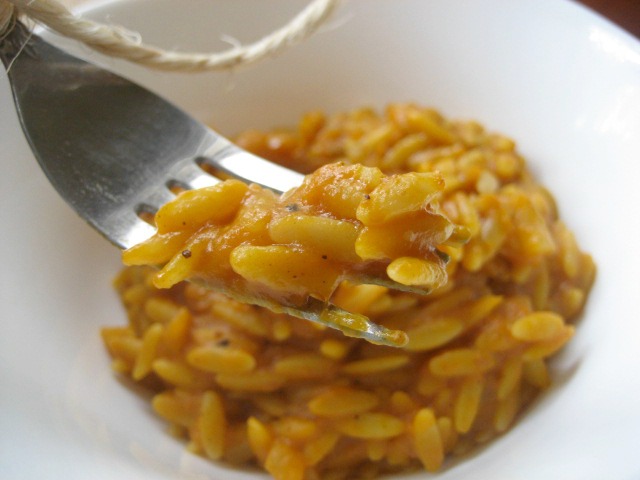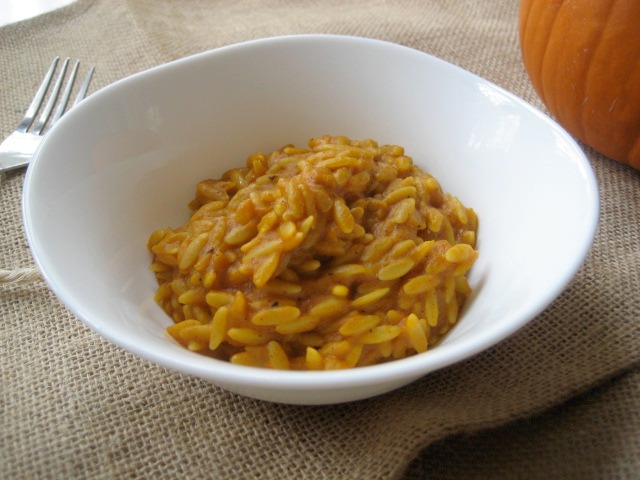 As you may or may not know, the key to a successful risotto is that you must keep stirring it. Though this dish requires a little babysitting, the end result is so worth it. I have fond memories of being asked to stand in and stir my Mom's risotto while she was busy preparing other parts of dinner and although I don't have a kid to help stir, I know I will one day! The song of the recipe is "You Can Be All Kinds of Emotional" by The Lone Bellow. This song is cozy and comforting just like this dish, so I thought it'd be a perfect pairing.

Pumpkin Risotto
A classic risotto is made with aborrio rice, but my Mom always made it with orzo growing up, so we're sticking with that pasta!
Author:
Keys to the Cucina
Ingredients
1 c orzo
½ onion chopped
4 tbs butter
3½ c vegetable stock
4 tbs pumpkin puree
2 tsp salt
1 tsp pepper
¼ tsp nutmeg
⅛ tsp cinnamon
Instructions
In a high-wall saute pan, combine onions and butter on medium heat. Cook for 4 minutes and stir constantly.
Add the orzo, and coat it with the onion and butter mixture. Toast the orzo in this mixture for 1-2 minutes.
Lower the heat just a little bit, and start to pour in a couple tablespoons of stock at a time. As soon as the liquid is absorbed, pour in additional stock.
The mixture will bubble wildly but keep stirring. Whatever you do, don't stop stirring.
After 10 minutes, stir in the pumpkin and all of the spices.
Continue to pour in the stock and stir until the stock is all gone (usually takes about 25 minutes to fully cook the orzo).
Once it's cooked serve immediately. I paired it with a roasted pork chop and it was delish!