Pumpkin Risotto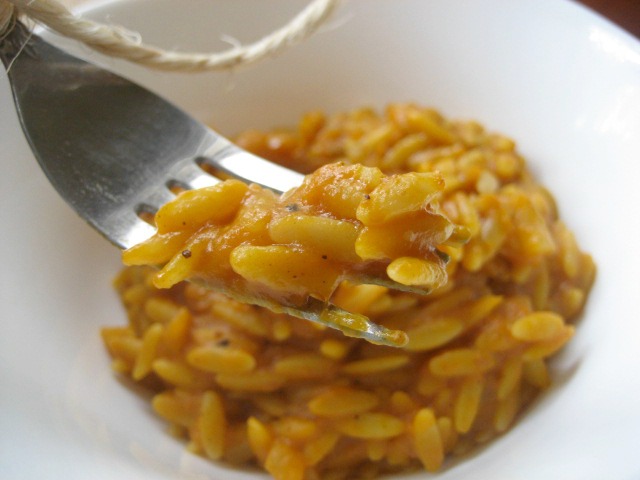 Author:
Keys to the Cucina
1 c orzo
½ onion chopped
4 tbs butter
3½ c vegetable stock
4 tbs pumpkin puree
2 tsp salt
1 tsp pepper
¼ tsp nutmeg
⅛ tsp cinnamon
In a high-wall saute pan, combine onions and butter on medium heat. Cook for 4 minutes and stir constantly.
Add the orzo, and coat it with the onion and butter mixture. Toast the orzo in this mixture for 1-2 minutes.
Lower the heat just a little bit, and start to pour in a couple tablespoons of stock at a time. As soon as the liquid is absorbed, pour in additional stock.
The mixture will bubble wildly but keep stirring. Whatever you do, don't stop stirring.
After 10 minutes, stir in the pumpkin and all of the spices.
Continue to pour in the stock and stir until the stock is all gone (usually takes about 25 minutes to fully cook the orzo).
Once it's cooked serve immediately. I paired it with a roasted pork chop and it was delish!