For the second edition of Valentine's Day "in" this week, I made homemade heart-shaped ravioli with my new pasta machine that I got for Christmas.  The machine works the pasta beautifully and I was able to get it to the perfect thickness for my liking. Holler to mama for the great gift! To mimic some Valentine's Day colors, I stuffed it with some red Swiss chard sauteed in evoo, salt and pepper, and added in creamy ricotta cheese to complete the filling.
For the sauce, I was really lucky to obtain this fabulous recipe from local chef and restauranteur, Aaron Silverman. He recently opened Rose's Luxury and has received critical acclaim for his inventive dishes and farm fresh ingredients.Thanks to Tim over at The Hill is Home for hooking me up with Aaron and this fabulous tomato sauce. I would have never thought to combine strawberries and tomatoes, but it really works, and the sweetness is balanced out perfectly by the hint of chili flakes and black pepper.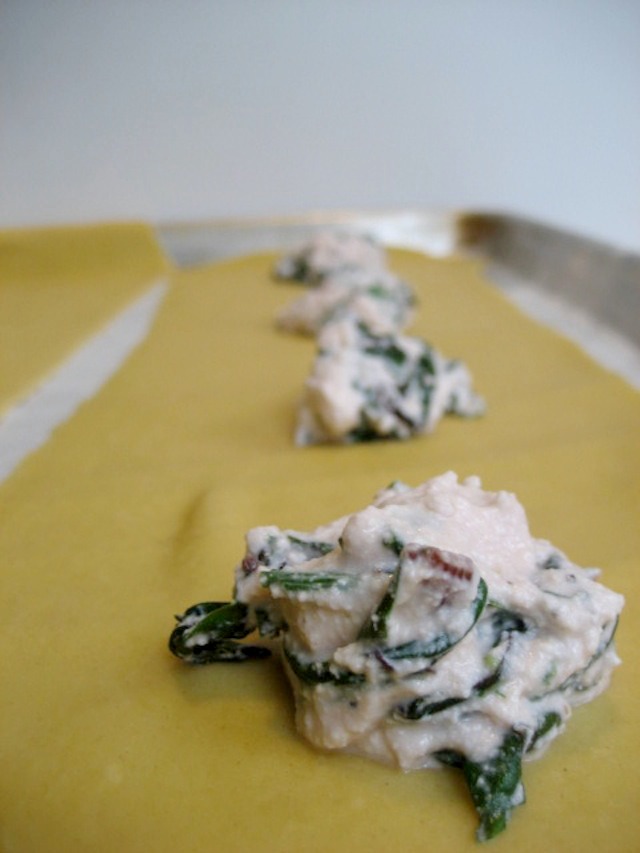 I've also got Alison from Bon Vivant DC  back with another wine pairing this week! Here's her recommendation for what to pair with this meal:
"I would recommend Tasca D'Amerita Lamùri. Nero D'Avola (also known as Calabrese) is the most widely planted varietal on the southern Italian island of Sicily and a classic pairing with pasta and other southern Italian fare.  The wine's medium body has velvety tannins, refreshing acidity and fruit forward notes of dark cherry and blackberry on the palette. The name of this wine, "Lamùri", means love in the Sicilian dialect, making this both a tasty accompaniment to the pasta, as well as an appropriately named wine for celebrating Valentine's Day!"
Be sure to follow Alison here to stay up to speed on all of the latest happenings in the wine world!
Homemade Ravioli Stuffed with Ricotta Cheese and Red Swiss Chard & Strawberry Tomato Sauce
Author:
Keys to the Cucina
Ingredients
Strawberry Tomato Sauce:
1 can San Marzano tomatoes
1 pint strawberries
¾ tsp salt
½ tsp crushed chili flake
Pinch of sugar
Big splash olive oil
½ tsp fresh cracked pepper
Ravioli:
3½ c flour
5 eggs
1 bunch red Swiss chard, finely chopped
1 tbs evoo
½ tsp salt
½ tsp pepper
½ c ricotta cheese
Instructions
Pour flour on cutting board and make a well.
Crack all five eggs into the well and with a fork, start to stir the eggs, slowly pulling in flour and working to bring it together.
Once mostly incorporated, use your hands to further incorporate and knead the dough for 10 minutes.
Set aside for 30 minutes to let rest.
In a pot, stew together tomatoes and strawberries for about 30 minutes on medium-low, until reduced a little.
Add salt, crushed chili flake, pinch of sugar and big splash of olive oil.
Blend slightly with immersion blender and finish with fresh cracked pepper.
In a saute pan, place evoo and chopped Swiss chard. Cook for 5 minute on low until wilted.
Combine with ricotta cheese and season with salt and pepper. Set aside.
With your pasta maker, take ¼ of the dough and feed it through the maker on setting #1.
Once out, fold over and feed through again. Do this 5-6 times.
Adjust setting to #2-#7, feeding pasta through one time at each of these levels.
Repeat steps 10-12 with all of the dough you have. It should make four sheets about 18 inches long.
On a cookie sheet and place about 1 teaspoon of ricotta filling on one pasta sheet, spacing about two inches apart.
Dip your finger in some water and dab water around the perimeter of the ravioli, then place the second pasta sheet over the ravioli, pressing down to remove any air bubbles. Do this with the other two past sheets until you have filled eight ravioli.
Cut out a heart shape with a paring knife and crimp the edges with the tines of a fork.
Dust with flour and and place in freezer for about 30 minutes.
To cook, place ravioli in boiling water and cook for 3-4 minutes, or until all ravioli float to the top.
Serve immediately with the strawberry tomato sauce and bon appetit!
Notes
If you don't wish to make ravioli, you can substitute wonton wrappers, or simply top this sauce on spaghetti and finish with a dollop of ricotta.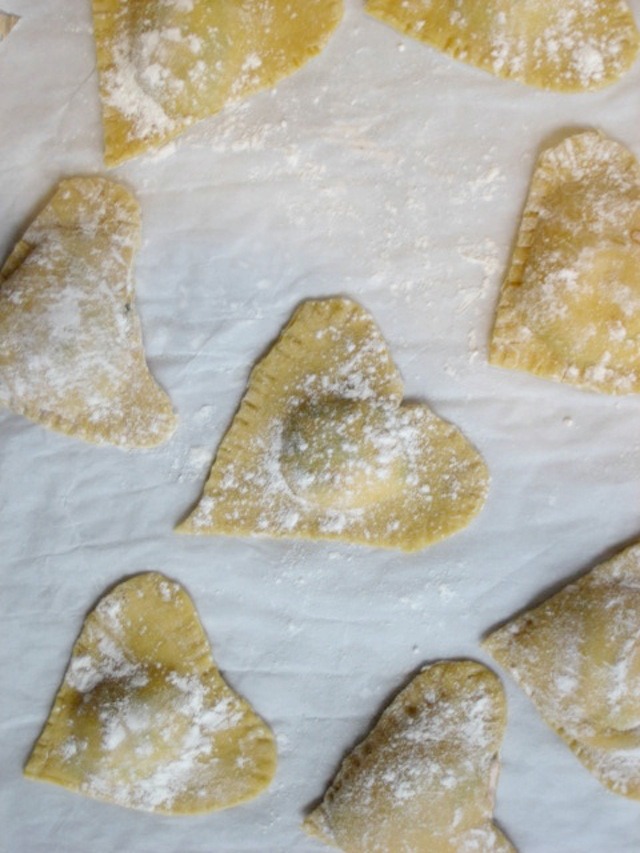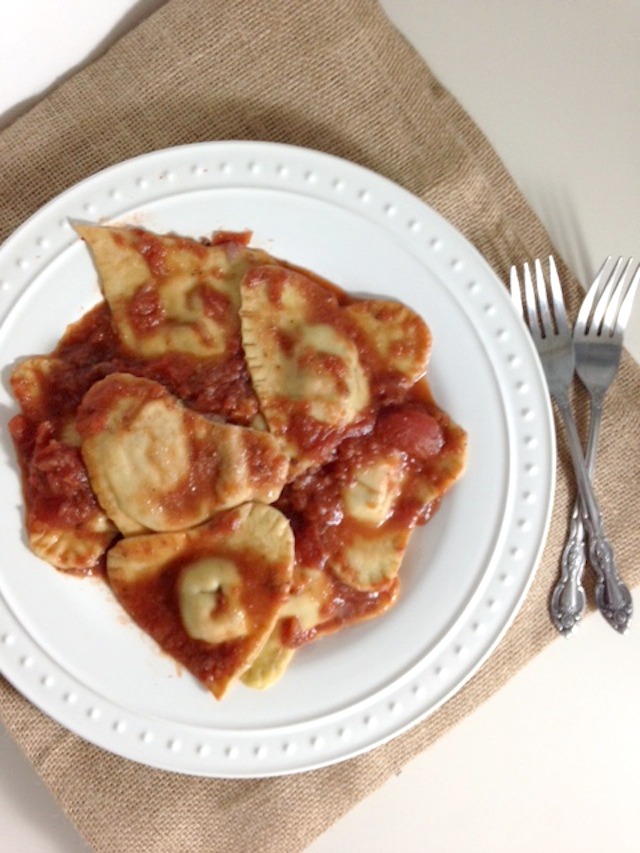 To continue with the love theme this week, enjoy Elton John's "Love Song" off of his album Tumbleweed Connection.